Pedestrian Accident Attorney in Atlanta GA
---
We Serve Clients Throughout Georgia & The Southeast
Billions of Dollars Recovered for Accident Victims*
Fighting Hard & Winning CasesTM Since 1984
Atlanta residents and people all over Georgia travel throughout the streets of our crowded cities as cars, truck and SUVs fly by, rarely stopping to consider how much risk is involved in simply crossing the street or walking through a parking lot. Though walking is a regular part of our daily life, every time we walk to the grocery store or through a shopping mall parking lot or with our children to school, we face a significant risk of being involved in a pedestrian auto accident. Anyone who regularly walks or jogs through the streets of the greater Atlanta area knows how frequently pedestrians are confronted with distracted drivers or speeding motorists who disregard basic traffic safety laws. Our sometimes casual attitude toward the dangers posed to pedestrians throughout the Atlanta metro area and elsewhere in Georgia belies the fact that Atlanta has been rated amongst the ten most dangerous cities in the U.S. for pedestrians. In a typical day, cars, trucks and SUVs strike three pedestrians just in Atlanta metro area counties. A collision between a pedestrian and a motor vehicle is rarely a minor accident. The human body was simply not designed to withstand the impact of being struck by a mass of steel moving at high rates of speed.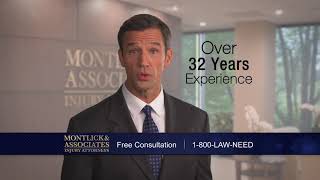 Why Choose Montlick & Associates for Your Pedestrian Accident Case
The experienced pedestrian accident attorneys at Montlick and Associates, Attorneys at Law, have been representing those throughout Georgia & the Southeast who have been seriously injured or killed in pedestrian collisions with cars, trucks, motorcycles, buses and SUVs. Our knowledgeable and compassionate team of attorneys and staff will carefully investigate your pedestrian accident, and aggressively pursue the maximum compensation to which you are entitled under Georgia law. Depending on the specific circumstances of your pedestrian accident case, you may be entitled to recover medical costs, lost wages, pain and suffering, permanent disability and decreased earning ability, disfigurement, loss of consortium (loss of companionship or services of spouse or sometimes a child) and even punitive damages. Call us today for your free consultation, and so we can advise you regarding your rights to money damages.
How Common Are Pedestrian Car Accidents?
There are over 110,000 pedestrian accidents per year in the U.S., resulting in over 59,000 people being injured and over 4,000 people being killed. An accident between a pedestrian occurs every 8 minutes with a pedestrian being killed in a collision with a motor vehicle every 111 minutes. An average of sixteen pedestrian fatalities occurs annually in each of the three largest Georgia counties of Cobb, Fulton and DeKalb. Pedestrians are over-represented in fatality crash data, accounting for more than 12 percent of fatalities but only 10.9 percent of trips. Pedestrian accidents are particularly common in urban areas like the Atlanta metro area where over three-fourths of all pedestrian accidents occur. Regardless of whether one lives in Atlanta metro areas or in sparsely populated rural areas, no pedestrian is safe from the dangers of pedestrian collisions with vehicles. Because vehicles typically move at a higher rate of speed in sparsely populated rural areas, pedestrian accidents in these areas tend to have a higher fatality rate.
Our children and the elderly are at the greatest risk of being injured in a pedestrian accident. Based on population, children under the age of 16 years are most likely to be struck by motor vehicles. Pedestrian accidents account for almost one-third of all motor vehicles fatalities involving children under the age of 16 years of age. Elderly pedestrians, although struck less frequently than children, are more likely to die after being struck by a vehicle. This group accounts for 16 percent of all pedestrian fatalities and 6 percent of all pedestrian injuries. Montlick and Associates, Attorneys at Law have been protecting the rights of Georgia pedestrians involved in serious accidents, including children and the elderly, since 1984.
Types of Injuries
Pedestrian accidents often result in catastrophic injuries or wrongful death. The serious nature of a pedestrian accident typically means that the types of injuries suffered in a pedestrian accident often involve substantial medical costs, painful and extensive rehabilitative therapy and lifelong nursing care. Pedestrians' head, legs, and arms are the most vulnerable in an accident. Pedestrians often endure extreme bodily injuries including the following:
Broken bones
Herniated discs
Spinal cord injuries
Paraplegia
Quadriplegia
Traumatic brain injuries
Head and neck injuries
Internal organ damage
Coma
Most pedestrians are struck by the front of a passenger vehicle. Based on National Highway Traffic Safety Administration (NHTSA) data, 40 percent of pedestrian injuries resulted from contact with the vehicle, 32 percent from contact with the ground and 26 percent from contact with unknown objects. If you have suffered devastating injuries, permanent disability and overwhelming pain and suffering, Montlick and Associates, Attorneys at Law will use extensive experience representing Georgia pedestrian accident victims to help you obtain the financial compensation you deserve.
Common Causes of Pedestrian Accidents
Many innocent pedestrians are injured by the careless and inattentive actions of drivers of cars, trucks and SUVs. While there is virtually an unlimited number of causes of pedestrian accidents, some of the most common causes of pedestrian accident include the following:
Distracted Drivers: Many drivers are inattentive and pre-occupied with such activities as using mobile phones to call and text, reading documents and newspapers, applying makeup or other tasks that result in drivers devoting less than their full attention to the road.
Excessive Speed: Drivers who violate the speed limit or drive too fast for heavy traffic or adverse weather conditions cause many pedestrian accidents. A vehicle that is moving at a high rate of speed exponentially increases the likelihood of a pedestrian accident resulting in serious fatalities. At twenty miles per hour, there is only a 10 percent chance that a pedestrian will be killed in a collision. At forty miles per hour, the likelihood that a pedestrian will be killed increases to 90%.
Failure to Obey Traffic Signals: Intersections can be very dangerous for pedestrians who must enter the roadway. Drivers who are rushing or not paying attention can run stop signs or red lights and collide with pedestrians crossing the street in a crosswalk. Almost 24% of pedestrian accidents occur at intersections.
Poorly Designed Roadways: A governmental entity may be partially liable for a pedestrian accident resulting from poor roadway design or maintenance. Common examples of roadway design or maintenance issues that may contribute to a pedestrian accident include a lack of traffic signals, overhanging trees and vegetation reducing visibility, unsafe pedestrian crossings, school district negligence, inadequate warning signs and lax enforcement of traffic laws.
Failure to Check Behind Vehicle: Nearly half of all pedestrian accidents involving children ages 1 to 4 occur when a vehicle is backing up in the driveway. Approximately 50 children are injured or killed every week as a result of vehicles backing up.
Drunk Drivers: Drivers who are impaired by drugs or alcohol have slower response time and decreased judgment and decision making skills. This means they often do not respond quickly to pedestrians crossing the roadway.
Failure to Watch for Children: Many children are hurt in pedestrian accidents with vehicles that do not obey slower speed limits in school zones or heed flashing red lights on school buses.
This is merely a small sampling of some very common causes of pedestrian accidents in Georgia. If you are seriously injured in a pedestrian accident like these, Montlick and Associates can help you seek the compensation you deserve from the party whose careless and inattentive conduct caused your injuries. We work hard for our clients and are dedicated to providing exceptional service as part of our goal of being the best auto accident attorneys in Georgia.
Montlick and Associates, Attorneys has the knowledge and experience you need. We have an experienced qualified staff that is ready to fight for your rights. We tell our clients: "We want you to concentrate on the important things in life such as regaining your health and returning to your day-to-day life, while our experienced attorneys take care of the complicated legal issues and deal with the insurance company minefields."
Our experienced Georgia pedestrian auto accident attorneys are available to assist clients throughout all of Georgia and the Southeast, including but not limited to Albany, Athens, Atlanta, Augusta, Columbus, Gainesville, Macon, Marietta, Rome, Roswell, Savannah, Smyrna, Valdosta, Warner Robins and all smaller cities and rural areas in the state. No matter where you are located we are just a phone call away, and we will even come to you. Call us 24 hours a day/7 days a week for your Free Consultation at 1-800-LAW-NEED (1-800-529-6333). You can also visit us online at www.montlick.com and use our Free Case Evaluation Form or 24 hour Live Online Chat.
Our attorneys and staff will work hard to protect your interests and get you the compensation you deserve.
---