Serving Veterans Denied Their Benefits Nationwide
Carving a Clear Path Forward with Montlick
After years of faithful service to your country, it's time for your country to take care of you. But now, you're running into obstacles and red tape. 
Due to the VA's three criteria – being a veteran, having an existing current disability, and proving that disability is service-related – many veterans have an extremely difficult time successfully filing their veteran's disability claim. The process is extremely confusing and can keep you from receiving the benefits you've earned.
Fighting for You.
If you or your loved one needs assistance obtaining veterans' disability benefits, contact Montlick today. Our veterans' benefits lawyers are available to assist clients throughout the entire nation, even the smaller cities and rural areas. Call us today for your free consultation at 1-800-LAW-NEED
Real Montlick Reviews
What an amazing team to have taken my case! Attorney Sara Root and her team(Chris & Kahn) were very professional and made sure my family and I were top priorities. I felt like I gained a family.Every case is personal and I felt they understand the hardship any injury imposed on an individual. I would definitely recommend this prestige organization--fighting for not only justice but for the all people.They have exceeded my expectations and Im pleased with the outcome. Thank you Montlick & Associates-Sara Root, Chris and Kahn.
This is from Terri Dodd a friend of mine and client of Motlick and Associates. She would like to express her sincere appreciation to Scott Patterson and his team for their remarkable work on her personal injury case. They have given 100% attention to her needs and concerns, and their work has been exemplary. She and I both highly recommend anyone and everyone searching for legal assistance to contact Montlick and Associates.
SEE IF YOU QUALIFY
Do you have a case?
After you've selflessly served our nation, you're entitled to your veteran benefits.

SEE IF YOU QUALIFY
Do you have a case?

Unrivaled results. Unmatched compassion.
We'll analyze your case at no cost to you 
We'll evaluate your situation and advise you how to best protect your rights, at no charge to you. We invite you to call us 24 hours a day, including weekends and holidays to request a free consultation with one of our experienced personal injury lawyers. Or use our 24/7 online chat right here on our website.
We work extremely hard to get you all the compensation and benefits you deserve 
There's always a lot at stake after a serious injury, especially when it was sustained in service to our nation. When our clients rely on us for help, we never take that situation lightly. We work extremely hard, and we will always do the right thing when it comes to our clients.
Montlick Prides Itself on Being:
There for you when you need us most
Clear and concise in our communication
Compassionate at every step of your process
Ruthless in our pursuit of your benefits
Proudly Serving Veterans in Benefits Denial Cases Nationwide
We Fight for All of Your Rights
Veteran's Disability Benefits are different from Social Security Disability Insurance claims. You may be eligible for Veterans Benefits even if you are receiving Social Security or if you are still working. These two benefits and the claims for both are completely separate. This can be complicated to do alone. Having Montlick on your side can help you get your claim filed, and help you get the money you need and deserve for your injuries.
While many military veterans are entitled to veteran's disability benefits, every year the government rejects or denies thousands of these claims. During your service in the military, you may have been exposed to war zones or other hazardous conditions that are only now affecting your health. Veteran's disability benefits were designed to help you through these difficult experiences.
You guys fight for the little people. With God and Montlick there's always a promise of positive change. Thoroughly satisfied.
We Take Your Serious Injuries Seriously
Contact Montlick
Montlick has attorneys available with the knowledge and experience you need who are ready to fight for your rights. Contact us today for your free consultation.
Contact Us
Our country's fighting men and women suffer from a tremendous range of physical and mental health problems, which can include:
Post Traumatic Stress Syndrome
Exposure to Toxic Chemicals
Gulf War Syndrome
Traumatic Brain Injuries
Spinal Cord Injuries
Depression
Cancer
Diabetes
Severe Lacerations
Orthopedic Back and neck Problems
Heart Disease
Immunity Issues
Severe Burns
Chronic Obstructive Pulmonary Disease
Various Other Illnesses
According to United States Department of Veterans Affairs, approximately 20% of the U.S. population is made up of veterans, survivors of deceased veterans, and dependants of living veterans. As this accounts for over 60 million people, the number of rejected, denied and reduced veteran's benefit claims is shocking.
We'll Fight Hard to Get You All the Veterans Benefits You Deserve
In order to receive Veteran's Benefits, one must complete a complicated and difficult process. Often, the detailed paperwork and waiting time period can be extremely frustrating. Many find that dealing with government bureaucracies and agencies can be overwhelming, especially when you are sick and hurting. Sometimes the process can take years, only to find out that your claim has been denied. Here at Montlick, we want to help you through this burdensome process and get you the money you deserve.
Contact Montlick Now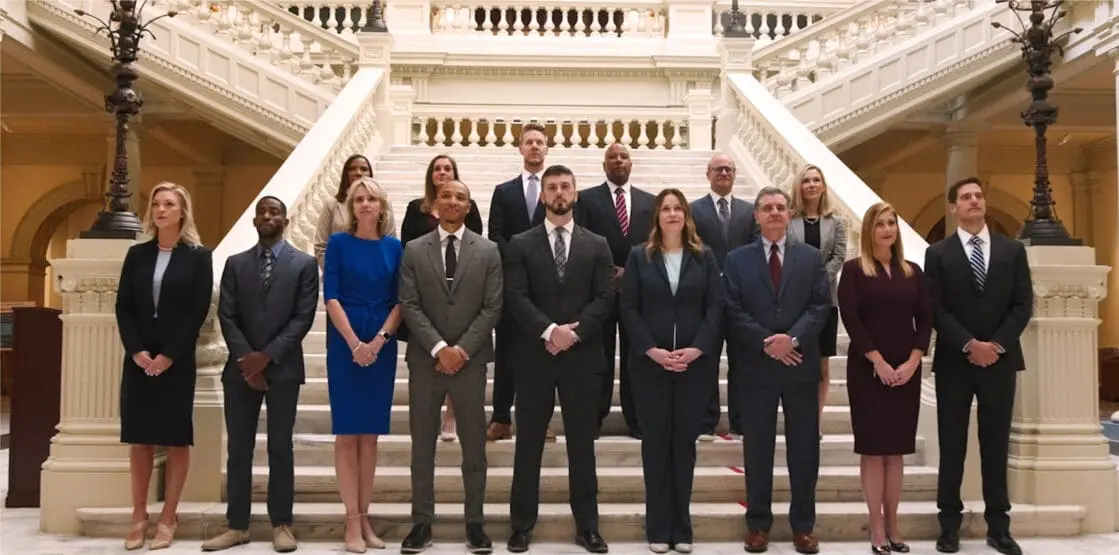 Because we can't stop accidents from happening, we do what we can to help minimize their long-term impact. We put more money in your pocket, where it belongs.