Top-Rated Car Crash Injury Attorneys 
Don't Make a Costly Mistake After an Auto Accident
Call Montlick First.
Right now, you're likely facing a series of injustices. You're in pain, your medical bills are piling up, and you're unsure how to move forward. You already have enough obstacles to deal with. Battling with unhelpful insurance companies for the money you need shouldn't be one.
As for-profit businesses, insurance companies are never eager to pay out to deserving auto accident victims. They have designated attorneys who may already be working to minimize your payout.
When you're hurt, overwhelmed, and unsure where to start, call us. Recovery is never easy, but we help make it possible.
We Know What it Takes to Win® Auto Accidents of all Types
SEE IF YOU QUALIFY
Do you have a case?
We have recovered billions* for our clients–with billions more to come. 

SEE IF YOU QUALIFY
Do you have a case?

We don't settle for less. Neither should you.
We get results. You get paid.
With over 39 years of experience and billions of dollars won for our clients, you can count on Montlick to get you the money you deserve.
A Winning Reputation
Unlike most big firms, we don't have a one-size-fits-all approach to personal injury. We give each client and case the individualized attention they deserve. Your circumstances are unique, and we treat them that way.
We handle all types of accident cases caused by negligence, including:
Car and motorcycle crashes
Commercial truck collisions
Pedestrian hit-by-car accidents
Distracted driving wrecks
Drunk or intoxicated drivers
Rear-end crashes
Defective vehicles or components
Fatal collisions
Car Crash Injury Attorneys Nationwide
A Car Wreck Can Change Your Life
Most people don't understand how a car accident can upend your life until they experience one firsthand. The emotional and physical pain following an accident can be devastating and taxing. There are endless logistics to figure out, and your physical pain might be affecting your daily life. Recovery might feel like a long way off. On top of that stress, the financial burden of an accident and any accompanying medical bills can be daunting and demoralizing.
To minimize your frustration and forge a path forward, you need a law firm that cares, and one that can add real financial value to your case. You need Montlick.
Nationwide Injury Lawyers for Car Wreck Victims
We Protect You From Powerful Insurance Companies
The insurance companies have lawyers. Why wouldn't you? 
Some people assume that they can deal directly with the insurance companies themselves and don't need to get a lawyer involved. But remember, an insurance adjuster's job is to protect the interest of the insurance company, and they do this by paying you as little as possible or even nothing at all.
The insurance company will have a team of investigators, experts and attorneys at their disposal whose goals are to find a justification for denying an injury victim's claim or to pay the absolute minimum. When a car accident victim attempts to negotiate with insurance company adjusters without legal representation, their personal injury claim can be undermined by damaging statements and strategic mistakes.
When you hire us, we protect your rights and make sure your are in the best position to receive the money you need and deserve after your accident.
What Does Negligence Look Like in a Car Crash?
The legal basis for pursuing compensation in a car accident is generally negligence, which in this context essentially refers to the failure of a driver or another party to exercise ordinary care to prevent foreseeable injury to others in car accidents. The most common forms of unsafe driving that often constitute negligent driving include:
DUI/DWI
Speeding
Tailgating
Distracted driving (which includes texting while driving, talking on a cell phone, changing the radio station, using the car's GPS or other electronics, eating, fixing one's hair, etc).
39 Years of Winning
Montlick has a team of agile and aggressive auto accident lawyers. Our firm has been dealing with insurance companies and protecting the legal rights of accident victims in all types of motor vehicle collision lawsuits for decades. We understand the strategies and tactics employed by insurance carriers to deny legitimate claims and to prevent victims from obtaining a full recovery.
Our legal team researches the law in relation to the unique facts of your specific situation to maximize your case value. This can involve working with medical experts, crash reconstruction experts, investigators and/or other experts to pursue a positive outcome for our clients.
We tailor our approach to the facts and circumstances of your case. While some car accident cases settle in as short a time period as a few months, we are prepared to do whatever it takes including fighting fiercely at trial when it is in the best interest of our client.
The Impact of a Crash
The force of impact in any motor vehicle collision can cause severe injury or permanent disability. Although some injuries can eventually heal, traumatic brain injuries (TBIs), spinal cord injuries and other forms of injury may result in long-term cognitive and physical impairment. Some of the type of injuries which may be experienced by a driver, passenger, motorcyclists, bicyclist or pedestrian in cases that we handle include:
Joint injuries of the shoulder or knee
Whiplash
Head and neck injuries
Disfigurement
Internal organ damage
Decapitation
Amputation
Spinal cord injuries (paraplegia or quadriplegia)
Brain damage impacting cognitive functioning
Dislocations and hyper-extensions
Wrongful death
If you or a loved one is injured in an auto collision, there are strict deadlines that must be met to avoid compromising your right to financial recovery. The statute of limitations prohibits bringing a legal case after a certain period of time following one's accident or injury. Shorter time deadlines will apply if you are suing a public entity such as for a dangerous roadway, and their may be reporting requirements and other deadlines in insurance policies. There could be exceptions that affect your outcome. In all instances, it is critical to contact a lawyer as soon as possible to find out your legal options.
Our powerhouse firm has been representing those injured in motor vehicle collisions and recovering valuable compensation for our clients for over 39 years. While the precise value of your auto collision claim and the types of available damages will depend on the specific facts and circumstances of you case, some of the types of damages that might be available include:
Cost of medical bills and hospitalization
Vehicle damage
Pain and suffering
Lost income and impaired future earning ability
Loss of consortium
Costs of burial (wrongful death)
Punitive damages
Our Results
Our Accident & Injury Case Results
Your Questions Answered
Car Accident Legal FAQs
If the accident wasn't my fault, do I need a lawyer?
In our experience, the worst thing a person injured after an auto accident that was not their fault can do is try to negotiate on their own with the insurance companies involved. The insurance companies have lawyers fighting for their best interest, and so should you. Insurance companies are experts at fighting these kinds of cases and may use the information you provide to justify denying your claim or minimize the amount of your recovery. You should never sign anything or talk to representatives from the insurance company until you have obtained advice from an experienced auto accident lawyer who can help you level the playing field.
Contact Montlick Now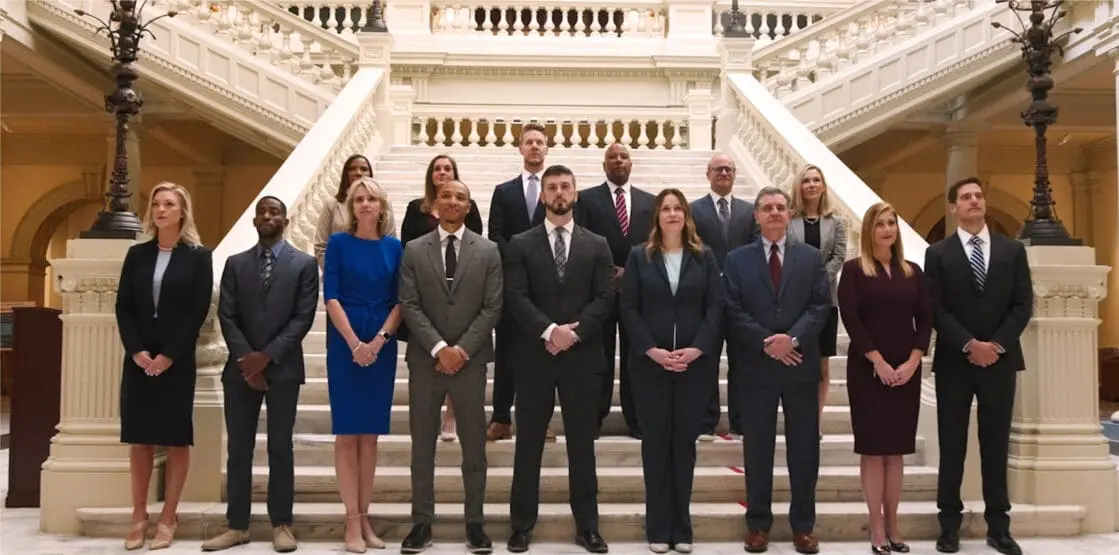 Because we can't stop accidents from happening, we do what we can to help minimize their long-term impact. We put more money in your pocket, where it belongs.