The Personal Injury Lawyer Jonesboro Relies On
The Advocates You Need, the Money You Deserve
When an accident disrupts your life, financial uncertainty is the last injustice you need. We fight to put more money in your pocket, where it belongs.
No one ever expects to be injured by the negligent, reckless, or intentional acts of another. Right now, the shock of your circumstances, plus the physical pain and overwhelming uncertainty of what you should do next, may feel like too much to bear. Fortunately, you don't have to fight alone. Montlick Injury Attorneys have decades of experience helping good people in difficult situations just like yours. When you choose us to be your advocate, we never forget what we're working for: your peace of mind.
Why Choose Montlick Injury Attorneys in Jonesboro?
You don't pay unless we win.
We work on what's called a "contingency fee" basis. That means there is absolutely no upfront cost to you. We believe that excellent legal representation is a right, not a privilege, and we want to make sure our exceptional services are accessible to everyone, no matter their financial circumstances. That means we
We treat our clients with respect. Always.
You don't need a law firm that adds even more stress and chaos to your life after an injury. You need one that cares. For over 39 years, Montlick has set the industry standard for client care and compassion.
Common Searches in Jonesboro, GA
SEE IF YOU QUALIFY
Do you have a case?

SEE IF YOU QUALIFY
Do you have a case?

Our Jonesboro, Georgia Personal Injury Areas of Practice
"My attorney has been extremely helpful - super nice person!"
When life throws you a curveball, you need to know you have someone in your corner. Accidents can be devastating, both physically and financially. That's why Montlick's Jonesboro Injury Attorneys are dedicated to fighting for our clients' rights and providing them with the agile legal representation they need to get back on their feet. Whether you've been in a car accident, truck accident, suffered a work-related injury, or experienced the wrongful death of a loved one, our experienced attorneys are here to help.
Jonesboro Car Accident Lawyer
Our firm's attorneys have a thorough understanding of Georgia state laws related to motor vehicle accidents, as well as federal laws regarding automobile safety standards and product liability cases involving defective products or faulty repairs. We will provide valuable advice and guidance throughout your case, from filing a claim to pursuing an appeal if necessary.
Jonesboro Truck Accident Lawyer
Truck accidents can be devastating, especially when someone you love has been injured or killed as a result of it. Our team of dedicated lawyers understands the immense emotional distress that comes with this type of tragedy. We know how to take on powerful trucking companies and fight for the full value of your settlement.
Jonesboro Workers Compensation Lawyer
When you're injured on the job, your sole focus should be your health. However, with insurance carriers frequently denying legitimate claims, that becomes difficult. Our aggressive Jonesboro workers' compensation attorneys understand the tactics used by insurance companies to avoid paying the full value of your claim, and we work tirelessly to ensure your rights are protected and you get the benefits you're entitled to under the law.
Jonesboro Motorcycle Accident Lawyer
Insurance companies often exhibit "biker bias" and try to shift the blame for Jonesboro's motorcycle accidents onto bikers. We don't think that's fair. The injuries suffered in a collision can be devastating and permanently impact your mobility, verbal ability, cognitive skills, and other basic functions–we fight back against biker bias to pursue the money motorcycle accident victims need to rebuild their lives.
Jonesboro Wrongful Death Lawyer
The passing of a loved one due to another person's negligent or reckless behavior is an unbearable tragedy. Family members of the victim can experience immense grief and sorrow, as well as financial hardship due to medical bills, funeral costs, and lost wages. If you are dealing with such a loss in Jonesboro, GA, Montlick's wrongful death attorneys can help you seek justice.
Jonesboro Medical Malpractice Lawyer
When medical negligence causes you harm, you can seek justice through a medical malpractice claim. Our Jonesboro medical malpractice lawyers have extensive experience representing clients who have suffered from medical malpractice and other injuries due to the wrongdoing of healthcare providers. Our attorneys deeply understand Georgia laws related to medical malpractice cases and will fight to get our clients the compensation they deserve for their suffering.
Jonesboro Dog Bite Lawyer
When a dog attack leaves you with serious physical and emotional injuries, it can be challenging to know what to do next. Our Jonesboro dog bite attorneys are here to help. Our firm has been representing victims of dog bites for decades and provides our clients with compassionate legal representation and personalized attention every step of the way.
Don't miss the deadline–call Montlick for a cost-free case evaluation today.
1-800-LAW-NEED
Understanding Personal Injury Law in Jonesboro
What Constitutes a Personal Injury Case?
If someone did something negligent or careless to cause your injury, you could be a personal injury victim.
In order to bring a successful personal injury claim, four elements must be proven:
The defendant had a duty of care towards the plaintiff
The defendant breached their duty of care
This breach caused harm to the plaintiff
This harm caused damages (monetary loss)
Duty of care refers to an obligation on behalf of someone else to take reasonable steps in order to prevent foreseeable harm. For example, a manufacturer has a duty of care to the public to ensure their products are not unreasonably dangerous.
For someone's actions (or lack thereof) to qualify as negligent behavior, it must have been something that an ordinary person would not have done under similar circumstances. Negligent behavior can take many forms, including medical malpractice, product liability claims, premises liability claims, and car accidents that involve driver negligence.
Jonesboro's Statute of Limitations for Personal Injury Claims
In Jonesboro, GA, the statute of limitations for personal injury claims is generally two years from the date of the injury. This means that any claim must be filed within two years of the date the accident occurred to be valid in court. This timeline begins on the day of the accident and not when injuries are discovered or treatment begins. Additionally, if a minor was injured as a result of someone else's negligence, then their parents have until the child's 18th birthday to file a claim on their behalf.
Exceptions to this rule exist, such as cases involving medical malpractice or those with governmental entities involved. It's possible that these cases may have shorter or longer time limits and should be discussed with a Montlick injury attorney as soon as possible.
Do You Qualify?
Our legal services and support start with a free consultation. We will review the circumstances and facts of what happened and determine if you have a case and what we can do to maximize the value of that case.
What Damages are Available?
When it comes to recovering damages from a personal injury, there are multiple types of compensation available. Understanding the different types of damages and how they are calculated can help victims get the justice they deserve.
Economic Damages
Economic damages refer to any financial losses that can be directly tied to the injury suffered. This includes medical bills, lost wages, and other out-of-pocket costs associated with the injury. These can be calculated based on available records such as doctor's bills or pay stubs.
Non-economic Damages
Non-economic damages refer to more subjective losses experienced due to an injury. This includes pain and suffering, emotional distress, loss of enjoyment of life, and other intangible effects resulting from an injury.
Calculating these damages is often more complicated than economic damages because there is no set standard for determining them; they must be carefully argued by legal counsel for a victim to receive fair compensation for their non-economic losses.
Punitive Damages
Punitive damages are awarded when a defendant's actions were particularly egregious or intentional in causing harm. These awards are meant to punish wrongdoers for their behavior and serve as a deterrent against similar behavior in the future. Punitive damage awards must generally exceed what would normally be awarded in compensatory damages (economic + non-economic) and are not always awarded in personal injury cases.
Steps to Take After a Personal Injury in Jonesboro
After a personal injury, Montlick levels the playing field.
The moments after an accident are crucial. To ensure you're legal rights are protected, our Jonesboro attorneys recommend taking the following steps:
Seek Medical Attention
You must seek medical attention for your injury as soon as possible, even if the injury seems minor or not serious. Not only will this help you recover faster, but it also creates an official record of your injury and treatment that can be used as evidence in your case.
Document Your Injuries and Incident
Take photos of injuries to your body and property. Obtain copies of all police reports related to the incident and gather documentation such as medical bills, pay stubs, and correspondence from insurance companies or lawyers involved in the case. This evidence can help strengthen your claim and provide further proof of the extent of damage caused by the accident or negligence responsible for causing your injuries.
Get in Touch with Our Team of Jonesboro Personal Injury Lawyers
Insurance companies and other businesses have enormous financial resources, a stockpile of experts, and an experienced team of lawyers on their side—all with the express job of paying you as little as possible for your claim so they can increase their profits.
Contact Montlick Today
Legal tips, insights, and expertise–created for you
Helpful information for injury victims about their legal rights and remedies.
See All Posts
Auto Accidents
Foot Injuries That Lead to Permanent Damage
A sprained ankle, a broken toe, or a bruised ligament can certainly be painful. However, these minor foot injuries, among others, often do not require extensive medical treatment.
We Win More than Settlements.
We win the peace-of-mind you need to get your life back.
At Montlick, we believe comprehensive legal representation is a right, not a privilege. That's why we provide our services on a contingency fee basis. You only pay when we win.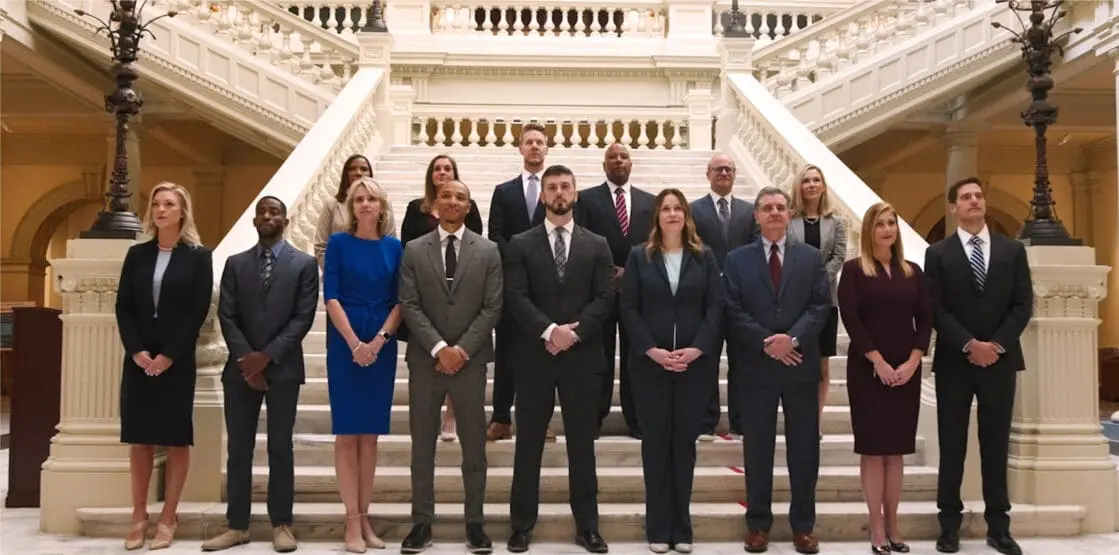 Because we can't stop accidents from happening, we do what we can to help minimize their long-term impact. We put more money in your pocket, where it belongs.