Personal Injury Lawyers Douglasville Trusts
A Name You Know. A Reputation You Can Trust.
Right now, an insurance company is likely working hard to pay you as little as possible.
They're armed with enormous financial resources, a stockpile of experts, and an experienced team of lawyers on their side–all to minimize your claim and line their own pockets. We don't think that's fair.
Knowing who to trust can be a challenge after someone else's negligence causes you physical, emotional, and financial harm. When our clients reach out to us for help, we take that seriously. We're here to level the playing field with the aggressive legal representation you need at a price you can afford. Our services are founded on the belief that exceptional legal representation is a right, not a privilege. That's why we will always offer our services on a contingency fee basis. You don't pay anything until we win your case, so you walk away with money in your pocket and justice for your accident, not a bill for every question you asked us along the way.
We fight hard and win
With nearly four decades of experience, Montlick Injury Attorneys have earned our reputation as a top-rated Georgia law firm. We have won billions of dollars for our clients, with billions more to come.
We communicate compassionately and frequently
We answer calls and questions promptly, and always keep you informed of the status of your case. You'll get to know your lawyer and legal team personally, and we'll never treat you as just a case number.
Common Searches in Douglasville, GA
SEE IF YOU QUALIFY
Do you have a case?

SEE IF YOU QUALIFY
Do you have a case?

Douglasville Personal Injury Lawyers' Practice Areas
Our attorneys empathize with the impact an injury can have on you and your family. Unable to work, shouldering high medical expenses, and trying to work through complicated emotions –– the burden quickly becomes too much to bear alone. That's where we come in. We handle all types of personal injury cases –and win.
Common personal injury cases we see in Douglasville include:
Douglasville Car Accident Lawyer
If a careless driver has injured you, you may be entitled to compensation for your accident-related losses. Our Douglasville car accident lawyers will evaluate the facts surrounding your crash and advise you on your legal rights and options.
Douglasville Truck Accident Lawyer
When you're involved in a collision with a commercial truck, a difficult battle to get the money you deserve lies ahead. The trucking companies have teams of lawyers and insurance partners whose jobs are to pay as little as possible to accident victims. You deserve more than that. You deserve Montlick.
Douglasville Slip and Fall Lawyer
We take slip-and-falls seriously. When you're injured on another person's or entity's property due to a dangerous condition, we can help you pursue compensation from the negligent owner. We take on slip and fall cases that occurred at retailers, apartment complexes, sidewalks, restaurants, grocery stores, hotels, and others.
Douglasville Medical Malpractice Lawyer
We rely on medical professionals to help us in our time of need, but not all doctors and staff meet the expectations of their trade. When the trust you've given a doctor, nurse, or other medical professional is broken, nothing can ever truly make it right. However, you may be able to collect the compensation to help with your medical bills and other financial needs.
Douglasville Motorcycle Accident Lawyer
Many insurance companies exhibit "biker bias" and try to shift the blame for Douglasville's motorcycle accidents onto bikers. Montlick's attorneys have seen motorcycle crashes' physical, emotional, and financial consequences. We believe our clients deserve the maximum compensation under the law for their injuries, and we fight fiercely to get you everything you deserve.
Douglasville Workplace Injury Lawyer
The workers' comp system is a complex minefield where insurance carriers frequently deny legitimate claims, stall paying, and even flat-out deny approval of essential medical care. Our experienced Douglasville workers' compensation attorneys understand the tactics used by insurance companies to avoid paying the full value of your claim, and we work tirelessly to ensure your rights are protected and you get the benefits you're entitled to under the law.
Personal Injury Law in Douglasville: Everything You Need to Know
What Constitutes a Personal Injury Case?
You hear the word "negligence" a lot in the realm of personal injury law. But what is negligence really?
A person or party may be considered negligent when their actions fall below the "standard of care," which measures whether or not the party acted reasonably under the circumstances surrounding the accident and injuries. However, it is not only the conduct that needs to be considered.
When you open a personal injury claim or case, you must also prove that the other person or party owed you a duty of care and breached that duty. For example, in the case of a car accident, motor vehicle operators owe a duty to everyone on the roads to drive safely. In regards to a medical malpractice claim, the doctor owes a duty of care to their patients.
In short, when a duty is owed, the duty is breached, and the breach of duty injures another person, the party that caused the accident can be found negligent and held responsible for compensating the injured victim.
The Statute of Limitations for Personal Injury Cases in Douglasville, GA
In Douglasville, GA, the statute of limitations for personal injury claims is generally two years from the date of the injury. This means that any claim must be filed within the applicable time period from the date the accident occurred to be valid in court. This timeline begins on the day of the accident and not when injuries are discovered or treatment begins. There are some exceptions to the two-year statute, for example, , if a minor was injured as a result of someone else's negligence, then their parents have until their child turns 18 to file a claim on their behalf.
There are other exceptions to this rule, such as cases involving medical malpractice or those with governmental entities involved. These cases typically have shorter time limits and should be discussed with a Montlick injury attorney as soon as possible.
What is the Dollar Value of My Claim?
The amount of damages a victim might recover is specific to the facts and circumstances of a given case. As such, every individual claim is unique. Predicting the precise dollar amount of compensation you and your family might receive from a claim is not possible at the beginning of your case, but our attorneys can advise our clients on the range of predicted case values once all of the evidence has been assembled, we know the extent and long term effects of the injury, we have reviewed all medical records and expenses, and have evaluated the applicable law and the strength of the evidence. If a lawyer contacts you and promises you a specific dollar amount for your case on your first call, you should not trust that attorney.
Steps to Take After a Personal Injury in Douglasville
You've just been involved in a frightening accident. What you do next means everything. 
Knowing what to do after a personal injury can ensure that your rights are protected and that you receive the compensation that you deserve.
The first step in this process is to seek medical attention right away. Even if you don't think your injuries are serious, it's best to go to a doctor or hospital as soon as possible so that all of your injuries can be properly diagnosed and treated. In addition, obtaining a medical record of your injuries will be helpful when filing a claim for damages later down the road.
Next, contact Montlick Injury Attorneys as soon as possible. Our empathetic attorneys will assess your case and advise on how best to proceed with filing a claim for damages related to the accident. We also ensure that all of our clients' necessary paperwork is filed correctly and on time so that your rights are fully protected throughout the legal process.
The Insurance Company Has a Lawyer. Shouldn't You?
Insurance companies are responsible for providing coverage to individuals who have been injured due to the negligence of another party. However, many times these companies look out for their own interests instead of those of the policyholder. The insurance company has teams of lawyers and adjusters whose job is to minimize or deny claims in order to protect the company's bottom line.
Having an experienced lawyer by your side also helps level the playing field when it comes time for negotiations with an insurance company. Insurance companies will do all they can to try and reduce their liability, but an aggressive attorney can ensure that you receive a fair settlement amount that covers all damages incurred due to the accident.
Contact Montlick Today
We Win More than Settlements.
We win the peace-of-mind you need to get your life back.
At Montlick, we believe comprehensive legal representation is a right, not a privilege. That's why we provide our services on a contingency fee basis. You only pay when we win.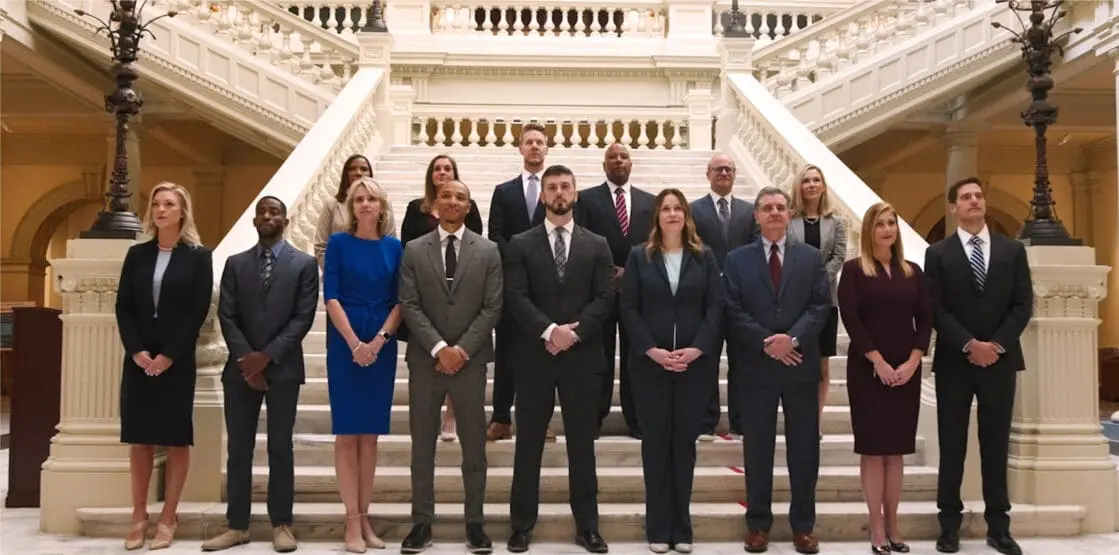 Because we can't stop accidents from happening, we do what we can to help minimize their long-term impact. We put more money in your pocket, where it belongs.