Fiercely Fighting For Our Clients
Justice for Your Injury
After a traumatic amputation, your whole life changes.
When a horrific accident upends your life, on top of the pain and uncertainty that comes with your injuries, a stressful battle for your financial compensation lies ahead. The insurance companies will work quickly to do everything in their power to minimize or even deny altogether payments for the injuries and pain you've suffered. Now is the time to focus on your wellbeing, not to fight with insurance companies for the money you need to heal. You deserve more than that. You deserve Montlick.
No injury is too severe and no case too complex for us to handle. We know that the outcome of your personal injury case will impact the rest of your life, and that's why we take our job as your advocate seriously. We've won billions of dollars for our personal injury clients, and have the experience needed to get you the money you deserve.
SEE IF YOU QUALIFY
Do you have a case?
Overwhelmed? Start Here.

The Law You Need, The Lawyers You Trust™
Experience counts
Over the last 39 years, our firm has recovered billions for our clients. The team at Montlick is experienced, knowledgeable, and well-equipped to handle your case.
Caring representation
We understand the physical, emotional, and financial toll these injuries take on the injured person and their family. We believe your focus should be on yourself and your family, not fighting with insurance companies about medical bills. Let us handle that burden for you.
MONTLICK TAKES CHARGE OF YOUR CASE. HERE'S HOW:
We work tirelessly to prove liability
We offer compassionate support
We handle all legal and insurance time deadlines
We take on huge corporations, and win
Trust Our Skilled Traumatic Amputation Attorneys
We Know What It Takes to Win®  
Every year in the United States, an average of 30,000 people suffer from traumatic amputation injuries. Many are caused because of others' negligence, and others occur in the workplace.
In addition to the overwhelming frustration, fear and emotional hardship associated with such catastrophic injuries, our lawyers understand that any traumatic loss of a limb irrevocably alters accident victims' lives, resulting in costly medical care, lost income, pain and suffering, and permanent disability.
Accident victims who endure traumatic amputation often require additional surgery, and extensive physical and occupational rehabilitation in order to learn to live with their substantial limitations. No amount of money can replace a lost arm or leg, but hiring a personal injury attorney can be a critical step for an injury victim to obtaining compensation from those responsible.
Traumatic Amputation Causes
According to John Hopkins Medicine, traumatic amputations account for 45% of all amputations. A variety of incidents have the potential to cause spinal cord injuries including:
High-speed or roll-over car crashes
Trucking and commercial vehicle accidents
Motorcycle wrecks
Pedestrian collisions
Bicycle crashes
Construction and other workplace accidents
Defective equipment or machinery
Medical malpractice
Complications After Amputation
Traumatic amputation victims endure profound consequences. In many cases, such injuries result in permanent disability, ending careers. In addition to the immense financial hardship associated with such injuries, victims can no longer perform tasks that many of us take for granted, such as putting their clothing on, writing, bathing, walking, holding and playing with their children, and others.
Advances in medicine may allow physicians and surgeons to reattach an amputated limb depending on the nature of the injury. Guillotine amputations, such as when a limb is "chopped off," have a greater chance of successful reattachment than a crushed limb, or an avulsion amputation (where the limb is sheared off). In addition to saving a traumatic amputee's life, surgical reattachment of a severed limb is of high importance immediately after an accident.
However, even when limbs are fortunately reattached following amputation, victims have a long road to recovery. Initially, there is often a high risk of infection, and in dire circumstances, sepsis. Victims often also have to endure physical therapy to re-learn how to use their reattached limbs as well, and often do not regain full functioning of the appendage.
Damages Available
A traumatic amputation will immensely change your life. If you've undergone such a trauma caused by someone else's negligence, you may be entitled to compensation. Compensation may cover:
Medical bills (past and present)
Lost income
Loss of earning capacity
Pain and suffering
Loss of enjoyment of life
Punitive damages
Loss of consortium
Emotional distress
Your Questions Answered
FAQs About Traumatic Amputation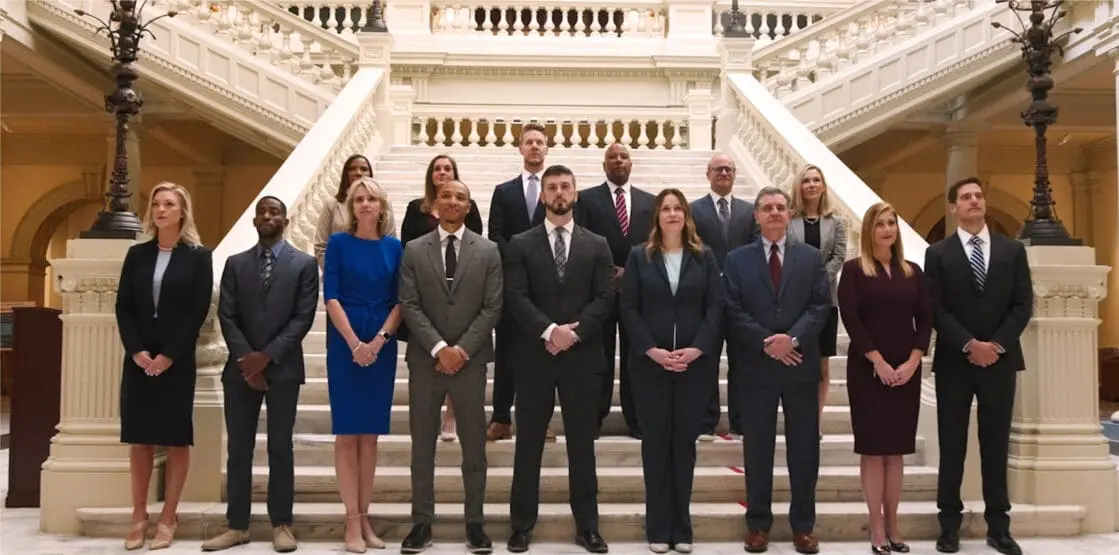 Because we can't stop accidents from happening, we do what we can to help minimize their long-term impact. We put more money in your pocket, where it belongs.