Personal Injury Attorneys Serving Conyers
Make Your First Call The Right Call. Make it Montlick.
Our trial-tested attorneys have won billions of dollars for people in difficult situations just like yours. When it comes to a personal injury case, it's more than a claim — it's your life. Call the firm that fights. 
You're here because you or someone you love suffered the ultimate injustice: an injury caused by someone else's carelessness. Now, mounting medical bills and unanswered questions are overwhelming you. Fortunately, there could be a path forward, and it starts with Montlick.
Montlick Injury Attorneys work hard for people who have been unfairly injured in Conyers, GA. When our clients trust us to pursue the full value of their claims, we work with compassion and precision to win. During life's most difficult moments, Montlick fights for your future.
Why Choose Montlick Injury Attorneys in Conyers?
We fight hard and win
With over 39 years of experience, Montlick Injury Attorneys has earned our reputation as Georgia's top-rated law firm. We have won billions for our clients, with billions more to come.
We communicate compassionately and frequently
We always keep you in the loop, responding to emails and phone calls in a timely manner. You'll get to know your attorney and legal team personally, and you'll never be left in the dark about what's going on with your case. We are here to minimize your stress, not add to it–and we take that seriously.
Common Searches in Conyers, GA
SEE IF YOU QUALIFY
Do you have a case?

SEE IF YOU QUALIFY
Do you have a case?

Our Conyers, Georgia Personal Injury Areas of Practice
You Don't Have to do this Alone
All injuries are inconvenient, but when an injury is caused by someone else's negligence, the physical, emotional, and financial hardships multiply. When you are overwhelmed, in pain, and feel you have nowhere to turn, Montlick is there. Our personal injury attorneys handle complex cases on a regular basis and provide free consultations to answer any questions injured victims and their loved ones have.
Our areas of practice include:
Conyers Car Accident Lawyer
A car accident can change your life forever. Don't trust your case to just anyone. Montlick takes on powerful insurance companies to protect the legal rights of accident victims in all types of motor vehicle collision wrecks. Car accident cases we handle include:
Rollover Crashes
Tractor-Trailer Accidents
Pedestrians Struck by Vehicles
Side Impact Crashes
Accidents on Dangerous Roads
Drunk Driving Collisions
Distracted Driving Accidents
T-Bone Intersection Crashes
Multi-Car Pileups
Road Departure Accidents
Rear Impact Crashes (Rear-Enders)
Car-Bicycle Accidents
Head-On Collisions
Crashes Caused by Vehicle Defects
Conyers Truck Accident Lawyer
Trucking companies are powerful. They often come armed with their own investigators and lawyers who know every trick in the book and have a reputation for compromising critical evidence that can help prove your case against them. After the emotional and physical trauma of a truck accident, the last injustice you need is to deal with unfair tactics from the trucking company. When you contact Montlick immediately after a truck accident, we will work to ensure the evidence you need to win is preserved, safeguarded, and leveraged.
Conyers Workers' Compensation Lawyer
When you're injured at your workplace or while performing your job, your sole focus should be recovery. But recovery plans change fast when complicated legal deadlines and aggressive insurance companies get involved. Instead of resting and receiving the care you deserve, you may find yourself arguing over the injury's severity. Navigating this complicated, dense, and often frustrating system requires more than just an attorney; it requires an ally. Our Conyers workers' compensation lawyers are ready to fight for you.
Conyers Motorcycle Accident Lawyer
Motorcyclists can face unfair bias on the road and in the legal process. Remember, insurance companies are in business to make money, and there are endless stories of companies valuing their profits above an individual's well-being. The routine goal of adjusters is to delay, minimize, or even deny your motorcycle accident claim. They are trained to use confusing and sometimes unfair tactics to withhold as much money from your payout as possible. Our goal is to put the most money possible in your pocket–where it belongs.
Conyers Wrongful Death Lawyer
Right now, you're facing the unthinkable: the unexpected death of a loved one caused by someone else's carelessness or negligence. The unfortunate truth is that many fatal accidents are preventable. If someone in your family lost their life in an auto accident, workplace incident, an act of violence, or other actions by a third party, we can take charge of your claim with compassion and respect, and fight for the justice your loved one deserves.
Conyers Medical Malpractice Lawyer
The third leading cause of death in the United States is medical malpractice. If you've been harmed by a medical professional who provided negligent or reckless care, you have the right to demand justice. Montlick takes on negligent medical professionals and wins by preserving evidence, proving fault, and fighting for your rights.
Understanding Personal Injury Law in Conyers
What Constitutes a Personal Injury Case?
A personal injury case is a legal dispute that arises when one person or entity has injured another person, either physically or mentally, as a result of their negligent or intentional actions. Personal injury cases can range from motor vehicle collisions to workplace accidents to slip and falls on another's property.. In order for an injured individual to be able to recover compensation for the harm they have suffered, there are certain criteria that must be met in order to prove that the defendant was at fault.
The most important factor in any personal injury case is establishing liability. This means demonstrating that the defendant's negligence caused or contributed to the plaintiff's injuries and/or losses. To do this, it must be established that the defendant owed the plaintiff a "duty of care" and failed to meet this duty by taking negligent action or failing to take reasonable measures. This breach of duty then caused harm and/or losses to the plaintiff, which can include physical pain, emotional suffering, lost wages, medical bills, and other damages related to the incident.
Workers' comp cases work a little differently in Georgia. You can learn more about them [here].
Conyers's Statute of Limitations for Personal Injury Claims
In Conyers, GA, the statute of limitations for personal injury claims is generally two years from the date of the injury, but the unique facts of each case can lengthen or even shorten that deadline This means that, for the most part, any claim must be filed within two years of the date the injury occurred in order to be valid in court. It is important to understand that this timeline begins on the day of the accident and not when injuries are discovered or treatment begins. Additionally, if a minor was injured as a result of someone else's negligence, in most cases their parents have until their child turns 18 to file a claim on their behalf.
It is important to note that there are some exceptions to this rule, such as cases involving medical malpractice or those with governmental entities involved. These cases typically have shorter time limits and should be discussed with an experienced personal injury lawyer as soon as possible after an injury occurs in order to ensure that all deadlines are met and your rights are protected.
If you're not sure whether your injury falls within the statute of limitations, give us a call and we can talk you through it.
Do I Qualify?
Our legal services and support start with a free consultation. We will review the circumstances and facts of what happened and determine if you have a case and what we can do to maximize the value of that case.
What to Do After a Personal Injury in Conyers
After a personal injury, taking the proper steps could be the difference between recovering compensation and fighting an uphill battle. If you are safely able to do so, take the following actions:
Seek Medical Attention: It is essential that you seek medical attention for your injury as soon as possible, even if the injury seems minor or not serious. Not only will this help you recover faster from your injury, but it also creates an official record of your injury and treatment that can be used in court as evidence.
Document Everything: Make sure to document all aspects of your accident, including photos and witness statements if available. Keep detailed notes about any conversations you have with insurance companies or attorneys regarding your case.
Gather Evidence: Obtain copies of all police reports related to the incident and gather documentation such as medical bills, pay stubs, and correspondence from insurance companies or lawyers involved in the case. This evidence can help strengthen your claim and provide further proof of the extent of damage caused by the accident or negligence responsible for causing your injuries.
Consult With Montlick Injury Attorneys: Consulting with an experienced Conyers personal injury attorney is imperative. An attorney will be able to evaluate your case and determine what kind of damages may be awarded should you decide to pursue a lawsuit against those responsible for causing your injuries.
If these steps feel overwhelming, don't worry. Call 1-800-LAW-NEED and let us handle it for you.
You Don't Have to Do This Alone
After an accident disrupts your life, the last injustice you need is financial uncertainty. We'll focus on putting money in your pocket so you can focus on healing. No matter where you are located, we are ready to provide you with the legal help you deserve. Call 1-800-LAW-NEED (1-800-529-6333) for a FREE consultation. Real help begins here.™
Contact Montlick Today
We Win More than Settlements.
We win the peace-of-mind you need to get your life back.
At Montlick, we believe comprehensive legal representation is a right, not a privilege. That's why we provide our services on a contingency fee basis. You only pay when we win.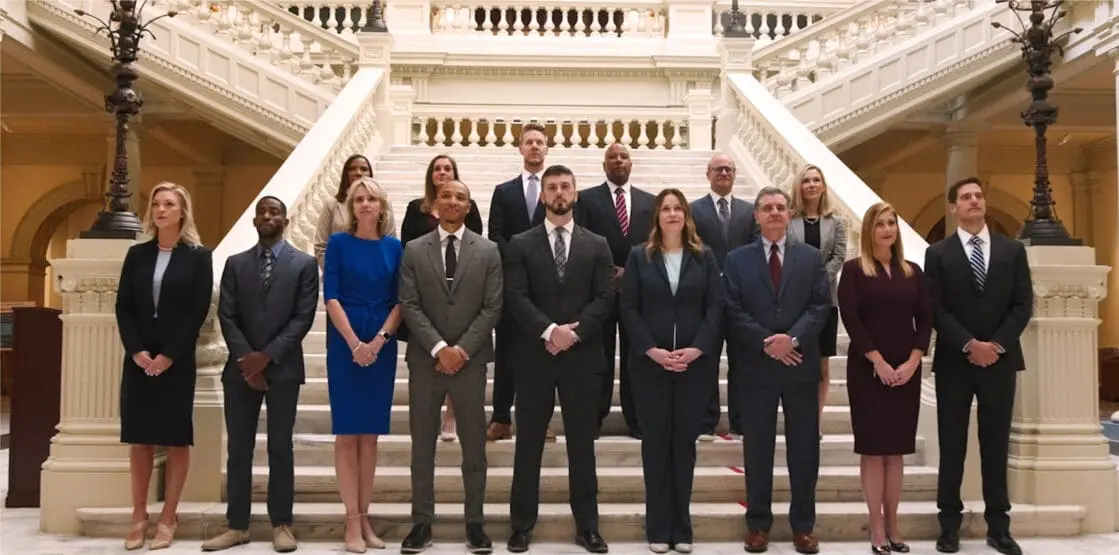 Because we can't stop accidents from happening, we do what we can to help minimize their long-term impact. We put more money in your pocket, where it belongs.