Reliable Rollover SUV Injury Attorneys
We Fight for Our Clients, a Billions Times Over.
Rollover SUV accidents come with devastating and sometimes deadly consequences. During life's darkest moments, Montlick fights for our clients' financial futures. 
For over 39,  Montlick has vehemently advocated for SUV accident injury victims and their families. We obtain justice by aggressively pursuing the monetary compensation our clients deserve after becoming injured or losing a loved one in an accident. With billions of dollars recovered for our clients, you can trust that our experience pays.®
There's a way to move forward, and it starts with calling 1-800-LAW-NEED.
Real Montlick Reviews
I would like to say that the Commercials we see on television was so True. I've dealt with a couple of Attorneys before but (Nothing) Can Compare the Royal treatment and the Customer Service I received from Attorney Glauser and his staff like never before. I "Will" Refer my family and friends to Montlick and Associates anytime anywhere.Thank you guys for your support.I Promise I will not go nowhere else
William Jackson
When I was involved in a Automobile accident, my wife said you have to called Montlick & Associates. That was the best called I have ever made. Attorney Jason took my case and he did an exceptional Job from start to finish. He kept me informed throughout the process. Thanks Montlick & Associates for providing excellent service.
GB (GB)
I had the pleasure of working with Attorney Scott Patterson who truly went above and beyond for my case. He's so amazing! His expertise and dedication were evident throughout the process, and I couldn't be happier with the outcome. Thanks to the hard work and patience put into my case. I received a fantastic and fair settlement that exceeded my expectations. Furthermore, his assistant, Sarah Duncan, played an integral role in the success of my case. Her professionalism and support were outstanding. She consistently demonstrated a genuine concern for my needs and was always there to provide assistance whenever I needed it.Overall, I am incredibly grateful for the outstanding service provided by Attorney Scott Patterson and team. I wholeheartedly recommend Montlick & Associates law firm to anyone in need of legal representation. Thank you so much!
Kay
From day one to the end, I was kept informed about the status of my case. They answered all my questions I had and never made me feel that I was bothering them. I am very satisfied with the end result of my case and will recommend them to others. Thank you Attorney Jennifer and your Assistant Rachel for making me feel right at home as a part of the family. The Lord bless you both and your families in Jesus name Amen.
Tonya Hearst
On November 30, 2022 I experienced the worst injury that I have ever experienced at fault not my own, while on a quick out of town trip. Not only was I severely burned at an establishment, but I was denied representation by several firms where my incident happened. Unbeknownst to me just because an incident happens in a certain state doesn't mean you have to obtain representation there, which is how I had a turn around in defeat. Not only did Montlick & Associates instantly take my case, Ellen Forrester provided candor from the start on the pros, cons, and how she could deliver her services with the goal of fighting for me as her client being one that was truly heartfelt. From constant check ins from Dayna Clark (Ellen's Senior Legal Assistant), to pertinent information delivered directly from Ellen, I felt the utmost service with care was provided. Ellen was diligent in getting the best results no matter the fight. In the end I had a successful outcome and hopefully raised enough awareness for an incident this traumatic not to happen to anyone else. I Thank Ellen & Dayna for all their hard work and would recommend more stars if I could based on their client care alone.
Senecia Wilkerson
I would like to say how thankful I am to have had the experience of having MONTLICK & ASSOCIATES represent me on my case. Miss Nives Juric and her staff Kaley Wiley were amazing. They were on top of things and never made me feel that I was alone. Evetime I called they friendly staff always answered with what seemed like a smile and always cheerfull. My case has lasted about 2 years due to medical needs being meet etc. Miss Nives and her staff never let me down they keep me encouraged and uplifted to make sure I didn't give up during my journey with them. They handled all my medical needs AND Made sure that i lacked for nothing. They constantly stayed in contact with me via phone call ,email, mail to make sure all my needs were met.They treated me more than just family and i was not just another case to them I was and still am like family. And my concerns were met as though they were doing it for a close relative. At no time was money discussed first it was all about my health status. So I am honored to say that I trust MONTLICK & ASSOCIATES with my whole life. I pray that they all be blessed each day. And that the favor of GOD shine upon each of you in the office everyday. So if you are looking for someone who cares about all your needs from start to finish then Miss Nives Juric and the MONTLICK team are your people or should I say family.Thank YouJESSIE MCCUSKER
Jessie Whitworth
What an amazing team to have taken my case! Attorney Sara Root and her team(Chris & Kahn) were very professional and made sure my family and I were top priorities. I felt like I gained a family.Every case is personal and I felt they understand the hardship any injury imposed on an individual. I would definitely recommend this prestige organization--fighting for not only justice but for the all people.They have exceeded my expectations and Im pleased with the outcome. Thank you Montlick & Associates-Sara Root, Chris and Kahn.
Jasmine Brown-MHA,BSN
I'm a first time patron of Montlick and Associates and didn't really know what the process would be. Thankfully, my case was appointed to Mr. Liu and I knew from the initial conversation that I would be in good hands. Every question I had was answered and every worry was quickly swept away. Thank you, Mr. Liu!
Night Angel
Thank you Jason and Kalana for working on my son's case. No one else would take this case because it was so difficult and you guys worked hard on making sure that he got his settlement. I wish I could give you guys a hundred Stars because that's how amazing you are thanks again.
Kim (Kimmie)
I can only say positive things.Sarah Root and Christopher Gladys are consummate professionals. Upon my initial conversation with Sarah, I was informed how my case would be handled. I felt taken care of throughout the entire process. Both Sarah and Christopher were available to me at any time.The results were better than I expected, and I am thrilled with the outcome.Thank you, Sarah and Christopher! You are awesome!
Jeffrey Compton
Montlick & Associates is the best Law Firm. My experience with this Firm is so amazing!Expertise in an automobile accident. They handle my case with such professionalism. I would recommend them to anybody that is involved in a car accident. Thank you Montlick & Associates for being there for me. Thank you.
w sutherland
I am so happy with the results that Jason got for my case. All other practices wouldn't take my case but not Jason. He knew I had a bad fall and injury. He and Esmerelda worked so hard and informed me of every detail immediately. I highly recommend their services. If I ever need an accident attorney, I will not hesitate to call Jason. Thank you and I hope you enjoyed the goodies I baked for you. I will forever be grateful for the settlement you got for me.
mary mullins
My experience with Montlick and having Ms. Sara Root alongside her team member went above the call of duty to assist me and daughter after our accident a few months. I'm very grateful to have them on my side the whole step of the way.Thanks again Ms. Sara Root, Chris Gladys and the rest of Montlick & Associates.
bernell carey
I had an amazing experience with Montlick & Associates. I had my first car accident and never had to go through anything like this before. Cate and Amy were extremely helpful, reassuring, and answered any questions I had in a timely manner whether it be email or a phone call. Great communication and very friendly, satisfied with my settlement as well. If I ever have another accident I would love to get Cate and Amy again! Thank you.
Hannah Abuata
SEE IF YOU QUALIFY
Do you have a case?
More Money, Less Stress™

SEE IF YOU QUALIFY
Do you have a case?

The Powerhouse Firm That Puts You First®
We treat you like family
Every Montlick lawyer strives to deliver the same advice and compassionate counsel to their clients that they would provide for their own sister or brother.
You don't pay unless we win
You don't owe us anything unless we win your case. Our fee is a reasonable percentage of the settlement we secure, so you walk away with money in your pocket and justice for your injuries.
Montlick is There When:
You lose a loved one in a rollover SUV accident
Your medical bills are piling up
Your injury is preventing you from living a full life
You're worried about how you will support yourself and your family
Rollover SUV Injury Lawyers Nationwide 
We Know What It Takes to Win® SUV Accident Injury Cases
About 11,000 people die in SUV accidents every year–and many of those fatal crashes are rollover accidents. In fact, SUVs account for just over half of all auto fatalities that involve only one vehicle. Part of the reason why SUVs crashes frequently result in the death of occupants is the frequency with which SUVs rollover. Statistics show that 37 percent of fatal SUV crashes were rollover accidents. By contrast, about fifteen percent of fatal passenger car wrecks were rollovers.
If the accident victims are fortunate enough to survive an SUV rollover, they could face catastrophic injuries, including traumatic brain injuries, broken bones, spinal cord injuries, paralysis, internal bleeding, damage to organs, amputation, and others.
Despite the obvious rollover danger SUVs present, many people will purchase or lease an SUV based on the expectation that SUVs are safer than other vehicle designs. One survey showed that 40 percent of people surveyed formed an opinion that SUVs provide greater protection than passenger cars. Regrettably, the statistics do not measure up with consumer expectations.
After an SUV rollover steals the life of a loved one or leaves them catastrophically injured, you may be unsure where to turn. Though we know no amount of money can make up for the immense grief and pain caused by the accident, we will still fight to ease your financial burden, so you can have the means to pursue the physical and emotional care you need to move forward.
You guys fight for the little people...there's always a promise of positive change. Thoroughly satisfied.
What Causes SUVs to Roll in Accidents?
Your Path to Justice is Just a Call Away 
Our attorneys fight hard on behalf of each client to maximize the value of their cases. No matter where you are located, we are just a phone call away. For your Free Consultation contact Montlick Nationwide 24/7.
The unique design of SUVs, coupled with engineering flaws, defective parts, and driver error, cause rollover accidents. There are two aspects of the SUVs' design that together contribute to rollover accidents. First, the center of gravity, meaning the middle of the SUV, is raised off of the ground. Second, the wheelbase for an SUV is narrower than the typical passenger car.
The rollover phenomenon is caused by "tripping." Similar to when a person trips while walking, when the tire strikes an object and the wheels stop moving in a straight line, the change of direction forces the center of gravity and momentum in the direction in which the SUV was moving. The SUV rolls over when the center of gravity extends out further than the vehicle's balance point. When that happens, the tires "trip" the vehicle onto its side. The speed of the maneuver will determine whether the SUV will roll onto its side or flip one or more times.
Additional Factors that Cause SUV Rollovers
The Road to Financial Recovery Starts Here
No matter where you are, we are just a phone call or message away.
Contact Montlick Now
SUVs are highly susceptible to rollover accidents from sudden terrain changes as well as mechanical failures. Common factors that can result in SUV rollovers are icy roads, roads saturated with water, uneven ground, negotiating sharp curves without prior warning, weakened braking system, failing vehicle suspension, absence of stabilization controls, tire failures, and driving the SUV with excessively heavy cargo.
Collisions with Other Vehicles
Crashes, even those at slower speeds, can also cause an SUV to roll. SUVs are prone to rollover if other vehicles strike them on the side, crashes which are referred to as "broadside," or "T-bone" collisions. Impact on the side of the SUV places the weight of the vehicle over the outside of the wheels and rolls it over. Even swerving evasively to avoid a collision can throw the center of the vehicle's mass side-to-side and may cause the SUV to roll.
SUV Rollover Trauma
Few people are fortunate enough to walk away from a rollover SUV accident. In a rollover collision, a passenger's body can be violently thrown about in random directions in the interior of the vehicle, even if the passenger wore a seatbelt and the vehicle's airbags deployed properly. A passenger in an SUV rollover accident who chose not to wear a seatbelt faces the specter of being ejected from the SUV, increasing the possibility of death or catastrophic injury
SUV Rollover Liability: Who is responsible for my SUV rollover accident?
More than one person or entity can be responsible for an SUV rollover accident. Any person or business entity whose negligence partially or wholly contributed to an accident can be held responsible for the accident victims' losses in such cases. Victims of rollover incidents caused by negligent drivers can normally claim compensation for the following types of damages:
Past, present and future medical bills
Past, present and future lost income
Loss of earning capacity
Pain and suffering
Loss of enjoyment of life
Punitive or "Penalty" Damages if the defendant's conduct is egregious, such as fleeing the scene of the accident or driving while intoxicated (subject to state law)
Loss of consortium
Emotional distress
WARNING: Failing to comply with a statute of limitations will permanently bar your right to a recovery. There are exceptions that can greatly shorten or even lengthen the deadline!
Legal Time Deadlines: Act Now to Preserve Your Right to Recover Maximum Compensation
All types of legal claims are subject to "statutes of limitations" or legal time deadlines.
Request FREE Consultation
By way of example only, claims against governmental entities and/or municipalities often have shorter deadlines, depending on applicable law. In other cases, a combination of different types of legal claims may exist that involve different time frames, which may be due to multiple defendants and/or even the laws of more than one jurisdiction. Failure to comply with any critical deadline will result in permanent bar to your right to compensation. An attorney can examine the facts and circumstances of what happened to you and determine which statutes of limitation are applicable to your case.
Additionally, these legal doctrines and rules can be ambiguous or subject to narrow exceptions depending on the specific law and facts, so you should seek immediate legal advice to find out which rules may apply to your potential case.
In addition to legal deadlines, there are other reasons not to delay. For example, most auto insurance policies contain their own contractual notification deadlines that, if allowed to lapse, can result in a denial of coverage. Additionally, witnesses can eventually forget what happened, and important evidence, such as items at the scene or video footage, can also disappear. Our SUV rollover accident attorneys take the required actions to preserve all-important legal deadlines and insurance notification deadlines on behalf of our clients.
Montlick: Fighting Hard & Winning Cases® since 1984.
Our Promise to You
Treat your case as if it were our own. We'll treat you the same way we would want to be treated – as if it were our own case, or the case of a close friend or family member.
Protect you from powerful insurance companies. One of the first things the insurance adjuster will typically say is that you do not need an attorney. That's because the insurance company's goal is to pay you as little money as possible. And they know that injured people get substantially more money with an attorney representing them. With over [YEARS] of experience dealing with insurance companies, we can help you navigate through the insurance company minefields and avoid any traps.
Analyze your case at no charge to you. We'll evaluate your situation and advise you how to best protect your rights, at no charge to you. We invite you to call us 24 hours a day, including weekends and holidays to request a free consultation with one of our experienced personal injury lawyers. Or use our 24/7 online chat right here on our website.
Vigorously fight on your behalf in order to obtain all the compensation and benefits you deserve. There's always a lot at stake after a serious injury, and when our clients rely on us for help, we never take that situation lightly. We work extremely hard, and we will always do the right thing when it comes to our clients.
Give your case our personal attention. We tell our clients: "We want you to concentrate on getting well. We want to hear from you if you have any questions or concerns. We work for you, not the other way around."
Promptly return phone calls and keep you informed. We are sure you've heard about professionals who do not return phone calls. Or, perhaps you have spoken to people using other law firms who never knew what was going on with their case. That won't happen with us. We keep our clients well informed of important developments and routinely send copies of correspondence regarding their case.
Be there for you when you need us most. When our clients first call us after a serious injury, they're understandably really worried. And we say to them, "You don't have to do this alone." We'll take on the insurance company for you and help you get the money you deserve for your medical treatments, lost wages, car repairs and pain and suffering. That's the kind of help we've been giving for decades.
Always treat you with dignity and respect. Our promise is to operate at all times with honesty, integrity, high moral character and unquestionable ethics. And we'll treat you with kindness and give you and your family the dignity and respect that you deserve.
Our Results
Our Accident & Injury Case Results
Your Questions Answered
Rollover SUV Injury FAQs
Will "performance tires" prevent rollover accidents?
While increased traction can reduce stopping distance or provide assistance in wet road conditions, according to experts the increased tire grip can cause excessive sideways force to accumulate so that an SUV rolls when making sudden or sharp changes in direction.
Read more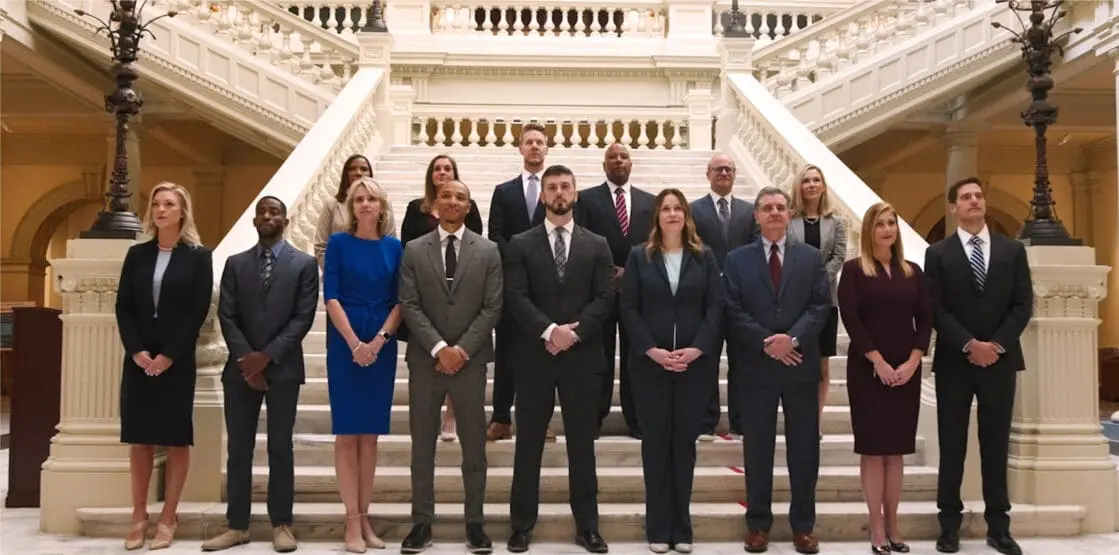 Because we can't stop accidents from happening, we do what we can to help minimize their long-term impact. We put more money in your pocket, where it belongs.