Personal Injury & Accident Lawyers for Athens, Georgia
We're Here to Serve You
Caring for our clients is our purpose. Maximizing their compensation comes with the territory. Our team is ready to handle your case with the precision and personalized attention it deserves.
A car accident, slip and fall, or other circumstance has left you injured and worried about money. You know the accident wasn't your fault, but does your situation qualify as a personal injury case?
Starting with our completely free consultation with a Montlick attorney, we can examine your situation and advise you on your legal options. Montlick clients know they can trust us to deal with the legal and insurance traps to get them the money they deserve after an injury.
SEE IF YOU QUALIFY
Do you have a case?

Athens Personal Injury Lawyers
We Fight to Put More Money in Your Pocket.
Do I Have a Case?
When accidents are caused by negligence, the injured victim can sometimes hold the person or company who caused the injury financially responsible. Some of the most common cases that result in personal injury and related claims include car wrecks, commercial truck crashes, slips trips and falls, workplace accidents, construction site injuries, medical malpractice and more.
We know it can be confusing to determine whether or not you have a viable case. That's why we provide a completely free, no-obligation consultation with a Montlick attorney. We can review your situation, provide you with an individualized assessment of your legal rights, and give you advice on what actions are necessary to protect those rights—all at no cost to you.
What is my personal injury case worth?
Each claim is unique, and the value of your case depends upon many factors. Evaluating your injuries is generally the first step in determining case value. This number will vary from case to case, depending on the total amount of your medical bills, lost wages, length of treatment, as well as pain and suffering. Also taken into consideration is the strength of liability, whether the defendant's conduct can be considered grossly negligent (which may entitle you to additional money in the form of punitive damages), the location of the accident, and the specific laws that apply to your situation. Every case we take on, we take personally. Our talented legal teams have won billions of dollars for our clients when they needed it most.
How long do I have after my accident to bring my personal injury claim?
Under Georgia law, as a general rule, you have two years from the date of an automobile accident or other type of incident to pursue a personal injury lawsuit. However, like everything, there are exceptions that can shorten or lengthen the timeframe.
Insurance policies usually have their own complex notification deadlines. Additionally, remember that laws and legal time deadlines can vary from state to state. Ultimately, the longer you wait, the more difficult it can be to establish your claim with sufficient evidence.
That is why it is so important to call Montlick for a free consultation as soon as possible. If you're unsure whether you have a viable case, call today and a Montlick attorney will walk you through your options.
What if I was partially at fault for the accident?
Even if you were cited by law enforcement or believe you were partly at fault for the accident, you may still be able to recover compensation. Georgia follows the doctrine of modified comparative negligence, allowing plaintiffs that are less than 50% at-fault to bring an action against the negligent person or party. If you are partially at fault for your accident, your recovery can be reduced by your percentage of fault. A Montlick attorney can, depending on the circumstances, examine and preserve the evidence of what happened, locate and interview eyewitnesses, reconstruct the accident scene, obtain police reports, in some cases find additional parties at fault, and take other actions in an effort to prove that the negligent party was more liable than the insurance company is arguing.
We Win More than Settlements.
We win the peace-of-mind you need to get your life back.
At Montlick, we believe comprehensive legal representation is a right, not a privilege. That's why we provide our services on a contingency fee basis. You only pay when we win.
Put Our Decades of Experience to
Work For You
The personal injury attorneys at Montlick have handled thousands of cases for injured clients in Athens, across Georgia throughout the Southeast. If you have been injured in an accident due to someone else's negligence, you may be able to seek compensation through a personal injury action against the at-fault party responsible for your injury. We offer you a free case review to explain your legal rights and the actions necessary to obtain compensation.
Legal Podcast with Montlick Personal Injury Attorneys
Lawyers in the House®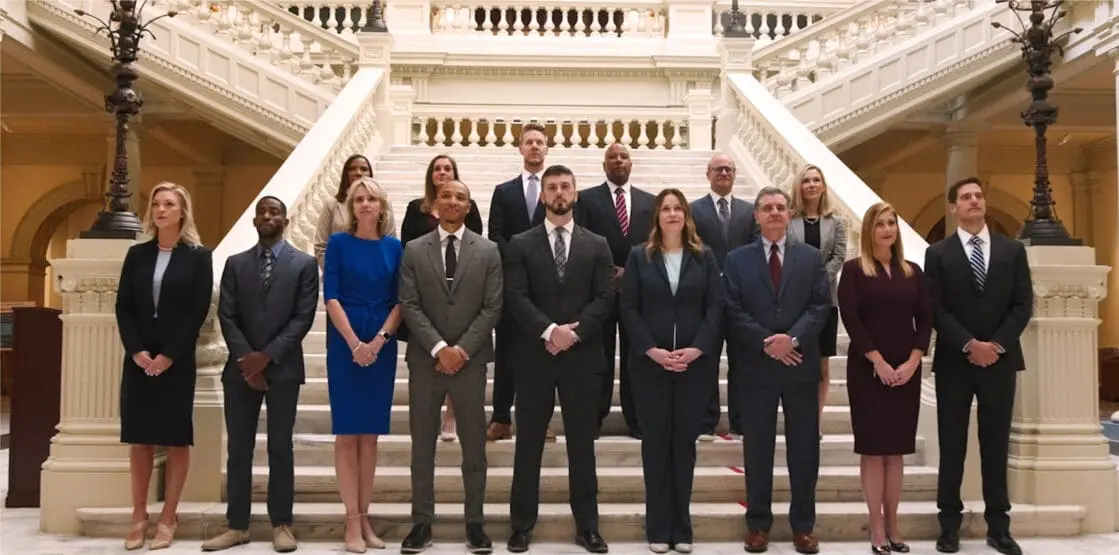 Because we can't stop accidents from happening, we do what we can to help minimize their long-term impact. We put more money in your pocket, where it belongs.