Personal Injury Attorneys Nationwide
Justice for Your Injury
We know dealing with the financial uncertainty that comes with the aftermath of an accident and injury can be overwhelming on top of your physical pain.
You've already been victimized by another's negligence. Now, the insurance companies will victimize you further by locking you in a stressful battle for your financial future. These companies are focused only on their profits and will work hard to minimize or even deny your claim altogether. Now is the time to focus on your wellbeing, not to fight with insurance companies for the money you need to heal.
You deserve more than that. You deserve Montlick.
For 39 years, we've handled all types of personal injury cases. No injury or accident is too severe and no case too complex for us to handle. We relentlessly pursue the justice our clients deserve.
We Take On All Types of Personal Injury Cases
SEE IF YOU QUALIFY
Do you have a case?
You deserve an advocate to fight for you.

Lean on Montlick after an injury
Exceptional legal help
Our success is underpinned by decades of experience, a staff of outstanding legal minds, and our client-first mentality. When you choose Montlick, you'll know you're working with a law firm like no other.®
We win while our clients heal
We always keep you in the loop, never making critical decisions without your consent and full understanding of what each decision means. We are here to minimize your stress, not add to it–and we take that seriously.
We Are Your Advocate When:
Your evening commute is up-ended by a drunk driver
Your vacation becomes a nightmare after a slip and fall
Your visit to the park is cut short by an aggressive and unleashed dog
Your wellbeing is devastated by a defective product
Personal Injury Attorneys Nationwide
Winning Is What We Do. Caring Is Who We Are.™
Anytime you leave home, the last misfortune you expect to experience is sustaining a severe injury due to another party's wrongdoing or recklessness. Sadly, injuries happen daily, and the physical, emotional, and financial fallout they bring can make victims wonder when they will ever be able to return to the happiness and security they had before this nightmare.
In the aftermath of an accident, the right legal representation means everything. You don't want an attorney who checks the boxes, settles for the most straightforward resolution, and forgets about you after cashing their check. You deserve an attorney willing to go the distance to win the compensation their clients deserve.
In life's most difficult moments, Montlick is there.
Accident & Personal Injury Claims Lawyers
Car & Commercial Truck Accident Claims
Since 1984, Montlick has been handling all types of claims involving motor vehicles, including cars, trucks, SUVs, ATVs, and tractor trailers. When you or a family member experience a spinal cord injury, traumatic brain injury, or other significant injury caused by a driver who is intoxicated, texting, ignoring the speed limit, or otherwise driving unsafely, the physical and emotional toll on you and your family can be staggering. The force of a collision can result in permanent disability and long-term adverse effects like paralysis, impaired brain function, disfigurement, and more. Unfortunately, very serious injuries can also be caused by seemingly more minor impact collisions as well. While collision victims often experience a complete recovery from injuries like fractures, broken bones, or dislocations, unfortunately that is not always the case. Additionally, the experience of even a minor accident can still cause emotional conditions, such as post-traumatic stress disorder (PTSD) and potentially ruinous fiscal hardships. Medical treatment, hospital stays, repair or replacement of vehicles, and time missed from work can further aggravate your stress level and interfere with your physical recovery and result in time away from your loved ones.
Our lawyers recognize the struggles that auto and truck collision victims face. We work tirelessly to handle the legal aspects of our clients' cases while all the while keeping them informed throughout representation. Our experienced lawyers work to maximize the value of cases, enabling our clients to devote their attention and energy to their physical and emotional recovery. For 39 years, our law firm has been passionately championing the rights of people injured by motorists who disregard traffic safety laws, truckers who violate hours of service rules, and other drivers who fail to abide by the rules of the road and safe driving practices. Our vigilance and tenacity in pursuing the maximum recovery for our injured clients has led to us recovering billions of dollars on their behalf. Our lawyers also offer compassionate representation in wrongful death claims to families who have had a loved one taken from them wrongfully by careless, distracted, or otherwise negligent drivers who fail to operate their vehicle safely.
Although drivers and passengers injured in car accidents are not required to hire an attorney, injury victims who take on insurance companies on their own face an uphill battle. Insurance companies have experience defending claims, having at their disposal a team of insurance adjusters, investigators, experts, lawyers and extensive litigation resources. Insurers often exploit the lack of experience of unrepresented injury victims in order increase their profits by paying them less money than their claim is actually worth. For example, the insurance company might request that you provide a recorded statement. The insurance company will not let you know, however, that this statement can be used against you in a number of ways. The insurer's goal is to obtain information and admissions that reduce the value of your claim or facilitate the use of a defense to deny your claim. This is where we come in—let Montlick fight for you and protect your rights. Our auto accident lawyers assist our clients in dealing with these sneaky insurance company tactics to protect the rights of injury victims and their potential financial recovery.
Catastrophic Injury Claims
While broken bones, dislocations, fractures, and other injuries can be painful, catastrophic injuries have a significant long-term impact. Many people who experience a catastrophic injury in an accident caused by another party must cope with long-term disability, the inability to live independently, and a lifelong need for supportive care. These types of injuries can have a devastating impact on many aspects of victims' lives, including their marriage, livelihood, family relationships, ability to perform basic daily tasks, income and future plans. Whether an accident victim experiences a brain injury, a spinal cord injury, or another form of catastrophic injury, the consequences are devastating.
The challenges associated with overcoming the physical and emotional difficulties of a catastrophic injury are substantial, the financial burdens can be just as burdensome. The bills for medical treatment, hospitalization, rehabilitation, supportive care, surgeries, and other healthcare-related expenses for a catastrophic injury can take a devastating financial toll on a family. The estimated lifetime cost of a severe traumatic brain injury (TBI), for example, has been estimated to range between $85,000 and $3 million. This is because the financial toll of such an injury is also complicated by a high risk of partial or permanent disability that may require lifelong care and support and loss of income and future income.
If an individual's wrongful behavior or negligent decisions have caused you to suffer a catastrophic injury, you should have the right to hold the offending party responsible for the consequences of their actions. Our attorneys at Montlick serve catastrophic injury victims with dedication, compassion and respect. We work diligently in gathering evidence to prove their claim and pursue maximum financial recovery based on the circumstances, facts, and applicable law. We understand that no amount of money can truly a catastrophic injury, but it can provide the financial resources to obtain high-quality medical and supportive care to facilitate living with the highest degree of dignity and self-sufficiency. No matter where you are located, our attorneys are just a call away.
Medical Malpractice & Negligence
People visit medical facilities and physicians when they are sick or injured, but a study conducted by researchers at Johns Hopkins Hospital estimates that 250,000 patients die annually because of medical errors or omissions. This figure makes medical malpractice the third highest-rated cause of death in the United States, behind only heart disease and cancer.
The precise legal definition of "medical malpractice" depends on the law of the state or federal jurisdiction where a claim is pursued, but generally, the term refers to the failure of a healthcare provider like a doctor, nursing home, hospital, dentist, surgeon, or other medical provider to comply with the accepted standard of care of those with comparable training and experience, resulting in harm to a patient.
Medical malpractice laws vary significantly from state to state, and medical negligence claims are among the most difficult and expensive claims to pursue, which makes representation by an experienced medical malpractice attorney virtually indispensable.
Our attorneys have the legal knowledge and expertise to fight for the rights of injured persons hurt by medical providers through substandard care. We handle cases involving ALL types of medical malpractice, including:
Failure to diagnose
Improper or delayed diagnosis
Birth Injuries
Surgical mistakes
Failure to warn about risks
Pharmaceutical negligence
Nursing home abuse
Medical device injuries
Avoid a Costly Mistake
You should be aware of the potential costly dangers of delaying seeking legal advice and representation for your personal injury claim or lawsuit. Every state in the United States imposes a strict limit on the amount of time that can elapse between the date of an injury and the date a person must settle a claim or commence a lawsuit. This deadline will be codified in a state's statute of limitations and other laws or legal doctrines, and interpreted in the case law. Deadlines can vary depending on the state where your case is pursued and the type of claims that exist. These rules can be complicated, and there are exceptions and traps for the unwary. For example, if your case involves negligence by a city, county or state entity, shorter time limitations and special notice requirements can apply. Our lawyers advise prospective clients regarding such deadlines so that they understand the necessary steps that need to be taken in order to protect their claims, and we take those actions on behalf of our clients.
Aside from statute of limitations concerns, there are other important reasons to avoid delays in seeking legal help. Failure to act promptly can result in the loss of critical evidence. Witnesses can disappear, or their memories might fade. Evidence at the scene of your injury, video footage, and other physical evidence could be altered or disappear altogether. When evidence is destroyed or expensive to recover, these burdens could adversely affect the value of your claim and make a positive outcome more difficult or impossible. Rather than jeopardizing your case, you can take immediate action to safeguard your rights by contacting Montlick to discuss your situation with one of our experienced attorneys today.
How We Level the Playing Field for You
Insurance companies have attorneys, adjusters, private investigators, and experts in a wide range of areas of specialized knowledge all working to try and limit their financial liability in order to increase their profits. In other words, they want to save their employer, the insurance company, money and offer you the least amount of money possible. Along with this extensive advantage in manpower and expertise, insurance companies have significant financial resources at their disposal when defending against claims.
Personal injury victims can re-balance the scales of justice by retaining their own respected, highly-skilled and experienced attorneys to fight for their interests and protect their rights. At Montlick, we have been standing up for injured victims since 1984. We work hard to furnish our clients with wise, dedicated, and professional legal representation during every step of the legal process.
RED FLAG:
If a law firm promises you an exact dollar amount for your case on your first call, that's a red flag.
Hire a Lawyer You Can TRUST
How Much Is My Personal Injury Claim Worth?
Although the precise compensation a person receives depends on many factors, the general principle is that subject to applicable law, where liability exists, an injury victim can obtain a monetary recovery (referred to as damages) for both tangible (ie: medical bills) and intangible losses (ie: pain and suffering). However, the injured party must prove the harm suffered is causally related to the at-fault person's conduct or the lack of conduct that may have contributed to a person's injury. There are circumstances in certain states that have workers' compensation laws, where these general principles are modified or inapplicable.
When pursuing a personal injury claim, our lawyers seek to obtain all forms of damages that the law entitles our clients to receive. These types of compensation might include the following, depending on applicable state law and the specific facts:
Costs of medical care and rehabilitation
Loss of earnings
Emotional distress
Pain and suffering
Diminished earning ability
Loss of consortium
Loss of enjoyment of life
In appropriate cases, our law firm might also seek punitive or penalty damages that are different form the other forms of compensation listed above. An award of punitive damages will depend on the law of the jurisdiction and the specific facts of the case, but this type of damage is intended to punish egregious, reckless, or malicious conduct and to deter such acts in the future. For example, there may be punitive damages associated with your case if the person who caused your injury was driving while intoxicated or flees the scene of the incident.
At the outset of your case, a precise determination of your potential recovery usually will be difficult to predict. While an experienced personal injury lawyer often can provide an estimate of the range of values of your claim, the process requires an analysis of the specific facts of your case. We review the relevant law, the available evidence and the strength of the evidence, the available insurance and/or other assets of an at-fault party, the procedures and other peculiarities of pursuing a lawsuit in the state where the case is filed, medical diagnoses, potential doctor testimony and much more. After our attorneys have gathered the available evidence, reviewed the medical records and billings, and discovered the nature, severity, and long-term consequences of any injuries, at that point our attorneys typically can give clients an estimated range of their case's value.
While defendants and their insurers in your case might employ a range of defense strategies, a common approach by defendants involves shifting blame to the victims for causing their own injuries. For example, the insurance company might argue that your failure to wear a seat belt contributed to the seriousness of your injuries. However, in many states, this specific fact is not a legal justification for denying compensation. Comparative negligence, the legal theory behind this argument, takes two different forms depending on the jurisdiction. In a Pure Comparative Negligence State, the amount of any recovery will be reduced based on the percentage of fault assigned to the plaintiff. If the plaintiff's damages were $150,000, for example, and the plaintiff was determined to be 10 percent at-fault, the award would be reduced to $135,000. Some states follow the doctrine of Modified Comparative Negligence, which only results in recovery if the plaintiff is less than 50 percent at-fault. In other words, if the injured party is equally at fault or more at fault than the other party, there is no recovery for the injured party.
In other states, the law follows the doctrine of Contributory Negligence. Under this legal doctrine, plaintiffs can sometimes be denied any recovery even if their amount of fault for causing their own injuries is only 1 percent, depending on the state where the injuries occurred. Talk to one of our experienced lawyers about the laws in the state where your case will be pursued.
Personal Injury Attorney
Frequently Asked Questions
Legal tips, insights, and expertise–created for you
Helpful information to injury victims about their legal rights and remedies.
See All Posts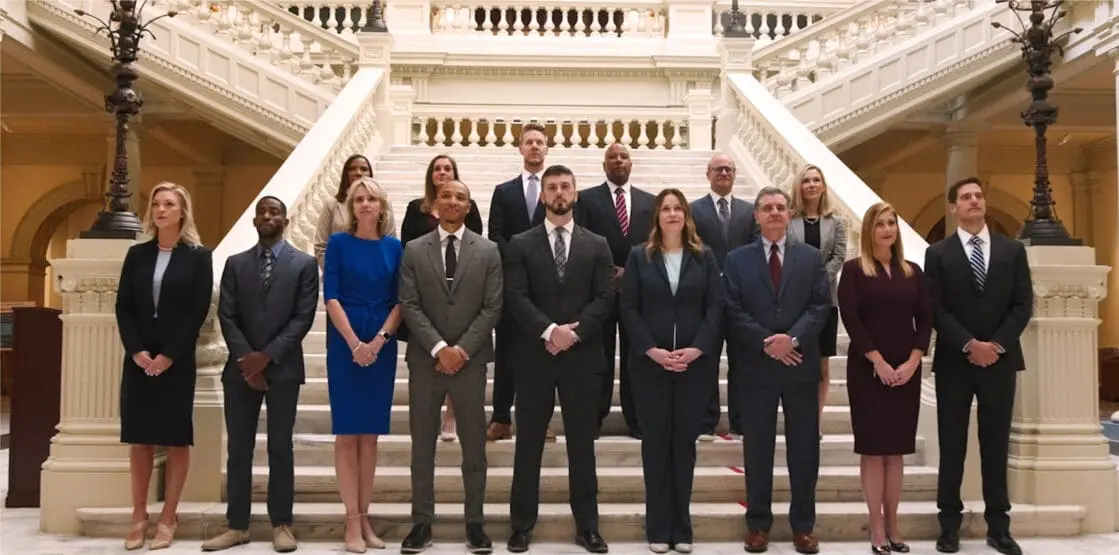 Because we can't stop accidents from happening, we do what we can to help minimize their long-term impact. We put more money in your pocket, where it belongs.