Personal Injury Attorneys Serving Marietta
A Name You Know. A Reputation You Trust.
Your personal injury case is more than a claim–it's your life. You deserve justice for your family, your finances, and your future. Trust Montlick to fight for what's right, not what's easy.
After a personal injury upends your life, knowing who to trust is a challenge. Insurance companies and case runners may start calling you and trying to take advantage of your fragile state. Meanwhile, the at-fault party could lie about or twist the circumstances of the accident. When your medical bills are piling up, and it feels like the world is against you, you need an agile, caring attorney to be your advocate, ally, and armor. Georgians know our name–and for good reason.
With over 39 years of experience, Montlick Law Firm is the perfect size for your success: big enough to take on powerful insurance companies but small enough to ensure every client can know and trust their attorney.
Marietta Personal Injury Lawyers 
55 Atlanta St SE Suite #402, Marietta, GA 30060
Common Searches in Marietta, Georgia
SEE IF YOU QUALIFY
Do you have a case?

SEE IF YOU QUALIFY
Do you have a case?

Our Marietta, Georgia Personal Injury Areas of Practice
Personal injury claims arise from any sort of accident involving negligence. At Montlick, we handle ALL types of cases involving negligence. Our Marietta attorneys are experienced  in the following areas of personal injury law and many more:
Do You Have a Personal Injury Case?
Find Out
Marietta Car Accident Lawyer
If you have been injured by a careless driver, you may be entitled to compensation for your accident-related injuries and losses. Our Marietta car accident lawyers will evaluate the facts surrounding your crash and advise you on your legal rights and options.
Marietta Truck Accident Lawyer
The results can be catastrophic when a truck collides with a passenger motor vehicle. Our truck accident attorneys know federal and state trucking laws and have experience anticipating the tactics trucking companies use to minimize payouts to deserving victims. When we take on your truck accident case, we don't back down.
Marietta Slip and Fall Lawyer
We take slip-and-falls seriously. When you're injured on another person's or entity's property due to a dangerous condition, we can help you pursue compensation from the negligent owner. We take on slip and fall cases that occurred at retailers, apartment complexes, sidewalks, restaurants, grocery stores, hotels, and other public or private locations.
Marietta Medical Malpractice Lawyer
We rely on medical professionals to help us in our time of need, but not all doctors and staff meet the expectations of their trade. If a medical professional causes you injury due to negligent or reckless care, our attorneys can review your medical treatment and determine your legal rights as well as what steps are necessary to protect those rights.
Marietta Motorcycle Accident Lawyer
Many insurance companies exhibit "biker bias" and try to shift the blame for Marietta's motorcycle accidents onto bikers. However, many motorcycle crashes are actually caused by inattentive drivers of motor vehicles, not the bikers themselves. The injuries suffered in a collision can be devastating and permanently impact your mobility, verbal ability, cognitive skills, and other basic functions–we tirelessly fight for the money that victims of serious injuries will need to rebuild their lives.
Marietta Workplace Injury Lawyer
The workers' comp system is a complex minefield where insurance carriers frequently deny legitimate claims, stall paying, and even flat-out deny approval of essential medical care. Our experienced Marietta workers' compensation attorneys understand the tactics used by insurance companies to avoid paying the full value of your claim, and we work tirelessly to ensure your rights are protected, and you get the benefits you're entitled to under the law.
Understanding Personal Injury Law in Marietta
What Qualifies as a Personal Injury Case?
If someone acted with negligence or carelessness and caused your injury as a result, you're a personal injury victim.
In order to bring a successful personal injury claim, four elements must be proven:
The defendant (the at-fault party) had a duty of care towards the plaintiff (that's you)
The defendant breached their duty of care
This breach caused harm to the plaintiff
This harm caused damages (monetary loss)
Duty of care refers to an obligation on behalf of someone else to take reasonable steps in order to prevent foreseeable harm. For example, a business owner has a duty of care to their patrons to keep their property reasonably safe and free from hazards.
For someone's actions (or lack thereof) to qualify as negligent behavior, it must have been something that an ordinary person would not have done under similar circumstances. Negligent behavior can take many forms, including medical malpractice, product liability claims, premises liability claims, and car accidents that involve driver negligence.
Marietta's Statute of Limitations for Personal Injury Claims
At Montlick, we don't take that lightly. We believe comprehensive legal representation is a right, not a privilege. That's why we provide our services on a contingency fee basis. You only pay when we win, and winning is what we do best.
The Statute of Limitations sets a limit on how long after an incident or injury a personal injury victim has to file a lawsuit in court. In Marietta, this time period is generally two years from the date of the incident or injury unless otherwise stated by law. This means that if you fail to initiate legal action within the applicable time period, you will give up your right to compensation.
However, there are always exceptions. A Montlick injury attorney can assess your circumstances and inform you if your case is eligible for an extension.
Do I Have a Case?
For over 39 years, our firm has assisted thousands of injured clients across Georgia and won the compensation they deserve. We offer free, no-obligation case reviews to explain your legal rights, the damages you may be entitled to, and the actions necessary to protect your rights. Call 1-800-LAW-NEED (1-800-529-6333) for a FREE consultation.
What Damages are Available to Personal Injury Victims?
The emotional, physical, and financial costs of an injury can be devastating. When someone else is responsible for your injury, they should also be responsible for the costs associated with your recovery.
Personal injury victims in Marietta could qualify for damages such as:
Medical Expenses: This type of compensation covers all necessary medical treatment related to the injury, including hospital bills, diagnostic tests, doctor's visits, physical therapy, and prescription medication costs. This can include both past and future expenses related to the accident.
Lost Wages and Income: If the injured party is unable to work due to their injury or is forced into lower-paying jobs due to their disability or medical condition, they may be eligible for compensation for lost wages and income.
Property Damage: Compensation may also be available for any property that was damaged due to the personal injury incident or if items were destroyed while collecting evidence.
Pain and Suffering: Personal injury victims can also seek compensation for pain and suffering, which would cover any emotional distress caused by the incident, such as anxiety or depression.
These are just a few of the potential damages that Montlick may be able to recover on your behalf. If you have been injured in any type of accident involving negligence, contact the Marietta Personal Injury Lawyers at Montlick to learn about your rights as well as what steps are necessary to protect those rights.
Steps to Take After a Personal Injury in Marietta
Though you can't go back in time and stop your accident from happening, you do have the power to take steps to minimize its long-term impact. The first moments after a personal injury are crucial. If you are safely able, remember to:
Seek Medical Attention
Seeking immediate medical attention should be your priority. Prompt care can help prevent further complications and long-term damage. Sometimes, an injury victim will not realize he/she has been hurt until a day or two after the accident. Even if you do not notice obvious injuries, seeking medical care without delay is still necessary.
Document Everything
Make sure to document all aspects of your accident, including photos and witness statements, if available. Keep detailed notes about any conversations you have with the other parties, insurance companies, or attorneys regarding your case. If working with a Montlick lawyer, we will take charge of this for you.
Gather Evidence
Obtain copies of all police reports related to the incident and gather documentation such as medical bills, pay stubs, and correspondence from insurance companies or lawyers involved in the case. This evidence can help strengthen your claim and provide further proof of the extent of damage caused by the accident or negligence responsible for causing your injuries. This is a key part of your case, and it is one of our top priorities as lawyers. We handle the investigation and evidence gathering on behalf of our clients.
Contact Montlick Injury Attorneys
When clients come to us after an accident that has resulted in injury, we understand the physical, financial, and emotional stress they're experiencing. While nothing can compensate for the devastation of your accident or injury, in cases of negligence, the law can provide financial recourse for lost wages, medical care, pain and suffering, and more. The sooner you contact us, the better off your case will be.
After a Personal Injury, Montlick Levels the Playing Field
Insurance companies and other businesses have enormous financial resources, a stockpile of experts, and an experienced team of lawyers on their side—all with the express job of paying you as little as possible for your claim so they can increase their profits.
At Montlick, we don't take that lightly. We believe comprehensive legal representation is a right, not a privilege. That's why we provide our services on a contingency fee basis. You only pay when we win, and winning is what we do best.
Contact for a Case Evaluation
We Win More than Settlements.
We win the peace-of-mind you need to get your life back.
At Montlick, we believe comprehensive legal representation is a right, not a privilege. That's why we provide our services on a contingency fee basis. You only pay when we win.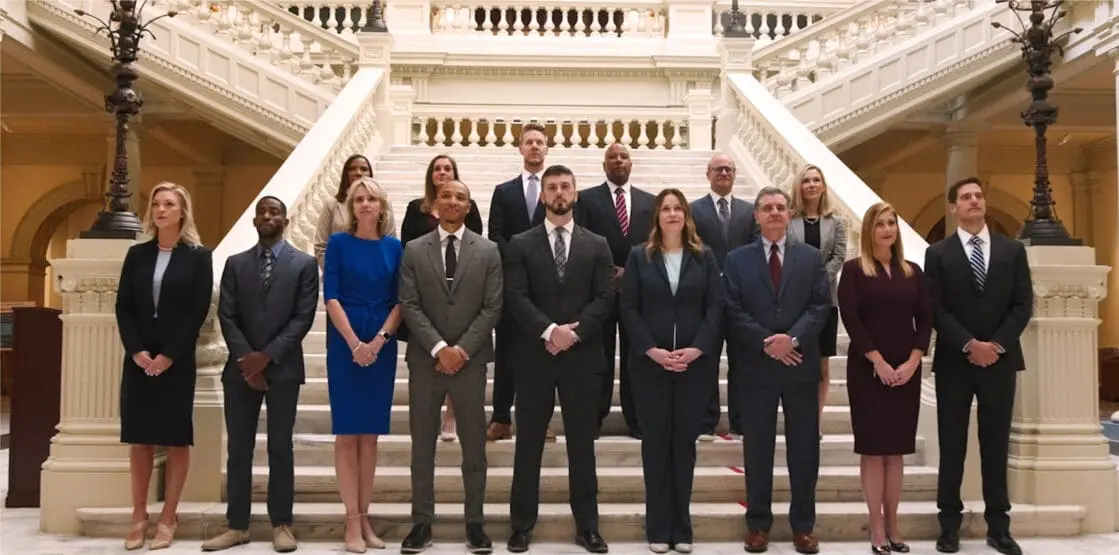 Because we can't stop accidents from happening, we do what we can to help minimize their long-term impact. We put more money in your pocket, where it belongs.