Car Accident Attorneys Marietta Relies On
Car Accident in Marietta? Don't Make a Costly Mistake– Call Montlick First.
Right now, an insurance company is likely hard at work to pay you as little as possible and line their own pockets. We don't think that's fair.
A car accident can change your life in milliseconds. As medical bills and financial burdens pile up, you may worry about how you will care for yourself and your family. On top of that, you're in pain and fielding calls from insurance companies trying to talk you into settling for less than you deserve. While this might sound intimidating, it doesn't have to be – if you know what to do. The IRC found that 85% of all money paid out in insurance settlements for bodily injury claims is paid to people who hire an attorney. During life's most difficult moments, you need a compassionate legal representative fighting fiercely to put money back in your pocket–where it belongs.
SEE IF YOU QUALIFY
Do you have a case?
More Money. Less Stress.

SEE IF YOU QUALIFY
Do you have a case?

Why Choose Our Marietta Car Accident Lawyers?
Decades of experience.
Georgians know our name, and for good reason. Over the past four decades, we have earned our reputation as the firm that wins.
Billions of dollars won.
Because we can't stop car accidents from happening, we do what we can to minimize their long-term impact: winning big. Montlick has recovered billions of dollars for people in tough situations like yours.
We Are Your Advocates When:
You're unable to work
Your injuries are keeping you from daily tasks
You're unsure of where to turn
Your insurance company is offering a lowball settlement
Marietta Car Accident Lawyers
We Fight for Victims of All Kinds of Auto Accidents
Personal injury claims can arise from any auto accident involving negligence. At Montlick, we take on all kinds of vehicle accident cases, including:
Car accidents are the most common type of auto accident in Marietta. Whether caused by a driver's negligence, poor driving conditions, or a malfunctioning vehicle part, one truth remains: car accidents can be devastating. We put our decades of experience to work to ensure victims receive full and fair compensation for their damages.
Marietta Rear End Crash Lawyer
Rear-end accidents account for 29% of all car accidents resulting in serious injury. These collisions are often the result of negligence and, in most cases, any driver who rear-ends another car is the responsible party. If a rear-end accident injury is disrupting your life, we can help you establish liability and pursue the compensation you need to move forward.
Marietta Defective Vehicle Component Lawyer
When you purchase a vehicle, you trust that vehicle upholds safety standards. Every component of every car needs to be designed with consumer safety in mind. However, thousands of Georgians are injured and killed in car accidents every year as a result of defective auto products. Defects such as seatbelt or airbag failure are the most known, however, other faulty parts, such as a small steering or brake component, can also require a complicated investigation to uncover. Montlick knows how to take on powerful car manufacturers and win.
Marietta Drunk Driving Victim Lawyers
Drunk driving accidents are especially dangerous and can result in severe injuries or even death. Our attorneys have extensive experience with drunk driving cases and understand the procedures necessary to establish liability and maximize compensation for victims. We will fight hard to ensure that those responsible are held accountable for their actions and that victims receive the justice they deserve.
Marietta Bus Accident Lawyers
Bus accidents usually involve multiple parties and can be complex. Montlick Injury Attorneys are fully equipped to handle bus accident cases involving personal injury claims against private companies, public agencies, or governmental entities on behalf of injured passengers or pedestrians who were injured as a result of negligent bus operators or other parties involved in the crash.
Marietta Rideshare Accident Lawyers
Rideshare services such as Uber and Lyft have become increasingly popular over the past few years, but with this popularity comes an increased risk of liability issues if an accident occurs while using these services. We understand how to navigate the evolving landscape of rideshare accident protocol. Whether you're a driver or passenger, we troubleshoot any insurance coverage issues so you can get the compensation you deserve from any liable parties involved in your case.
Common Car Accident Injuries
The force of impact in any motor vehicle crash can cause severe injury or permanent disability. Although some injuries can eventually heal, traumatic brain injuries (TBIs), spinal cord injuries and other forms of injury may result in long-term cognitive and physical impairment. Some of the type of injuries which may be experienced by a driver, passenger, motorcyclist, bicyclist or pedestrian in cases that we handle include:
Joint injuries of the shoulder or knee
Whiplash
Head and neck injuries
Disfigurement
Internal organ damage
Decapitation
Amputation
Spinal cord injuries (paraplegia or quadriplegia)
Brain damage impacting cognitive functioning
Dislocations and hyper-extensions
Wrongful death
Steps to Take After Being Injured in a Car Accident in Marietta
The accident happened. Now you have the power to improve your chances of recovering compensation. The first moments after a car accident are crucial. If you are safely able, remember to:
Seek Medical Attention
Even if you don't feel injured, receiving a medical evaluation as soon as possible is critical because some injuries may not manifest until days or weeks later.
Document the Scene
Make sure to document the scene of the accident and take pictures of your car and any other cars involved in the incident. Take note of road conditions, traffic signals, weather conditions, and anything else that might help prove who was at fault in the accident.
Collect Evidence
Collect information from all parties involved in the accident, including insurance details, contact information of witnesses, and any other relevant information. In the coming weeks, document everything related to the accident, such as receipts for medical expenses, repair costs, rental cars or taxis taken due to injury or damage caused by the accident, etc. Keep detailed records of communication with insurance companies and lawyers so that you have proof of when certain steps were taken in filing a lawsuit or negotiating a settlement offer.
If this sounds like a lot to keep track of while trying to heal ,that's because it is. And that's why Montlick is here, to handle all the complicated aspects of your case–big and small–so you can focus on your physical recovery.
Contact Montlick Injury Attorneys
When clients come to us after a car accident that has resulted in injury, we sympathize with the physical, financial, and emotional stress they're dealing with. While nothing can truly compensate for how a car accident injury changes your life, in cases of negligence, the law can provide financial recourse for lost wages, medical care, pain and suffering, and more. The sooner you contact us for a free case evaluation, the better off your case will be.
What Could My Car Accident Settlement Pay For?
Montlick Injury Attorneys can help you understand what types of compensation you may be entitled to receive after an injury-causing crash. Our team is dedicated to helping personal injury victims recover maximum compensation so they can move forward with their lives following an unexpected tragedy.
Damages that could be available include:
Economic Damages: These damages are intended to reimburse a victim for money lost due to their injuries. This includes medical bills, property damage, lost wages, and any other monetary loss caused by the accident.
Non-economic Damages: These damages are designed to compensate victims for intangible losses such as pain and suffering, emotional distress, disfigurement, loss of enjoyment of life, and more.
Punitive Damages: In some cases, punitive damages may also be awarded if the responsible party is found to have been particularly negligent or reckless in causing the accident. Punitive damages are intended to punish wrongdoers and discourage others from similar behavior in the future.
Wrongful Death: If a loved one has died due to a car accident caused by another party's negligence or recklessness, their family may be able to pursue wrongful death damages from the responsible parties. These damages include medical expenses incurred before death, funeral costs, loss of companionship and support provided by the deceased person, and more.
These are just a few of the potential damages that Montlick may be able to recover on your behalf. If you have been injured in an auto accident involving negligence, contact us to learn about your rights and what steps are necessary to protect those rights.
Frequently Asked Questions
Understanding Personal Injury Law in Marietta.
Is Georgia a Modified Comparative Negligence State?
Yes, Georgia follows a modified comparative negligence system when determining who is at fault for an automobile accident and how much compensation they owe as a result. Under this system, each party involved in an accident is assigned a percentage of liability based on their contribution to causing it. If one party is determined to be more than 50% responsible for causing an accident, then they are
deemed negligent and may be required to pay damages accordingly.
What Happens if Multiple Parties are Partially Responsible?
If multiple parties are found partially responsible for an incident (i.e., neither party is more than 50% responsible), then their liability will be weighed against one another depending on their respective fault percentages. For example, if one driver was 20% responsible while another was 80%, then only 80% of any award would go towards compensating that second driver's losses resulting from the crash. Understanding these concepts can help inform your decisions when filing a claim after being involved in a car accident in Marietta.
What is The Statute of Limitations for Car Accident Cases in Marietta?
In Georgia, most personal injury claims must be brought within two years of the date the injury occurred or was discovered. This means that any lawsuit for compensation stemming from a car accident must be filed within two years, or else you will lose your right to pursue such damages in court. It is important to note that this two-year window begins from the day of the incident; even if you do not realize that you have been injured until months or years later, the statute of limitations still applies from the time of the crash.
However, there are always exceptions that can lengthen or shorten the deadline. A Montlick car accident attorney can assess your circumstances and inform you if your case is eligible for an extension.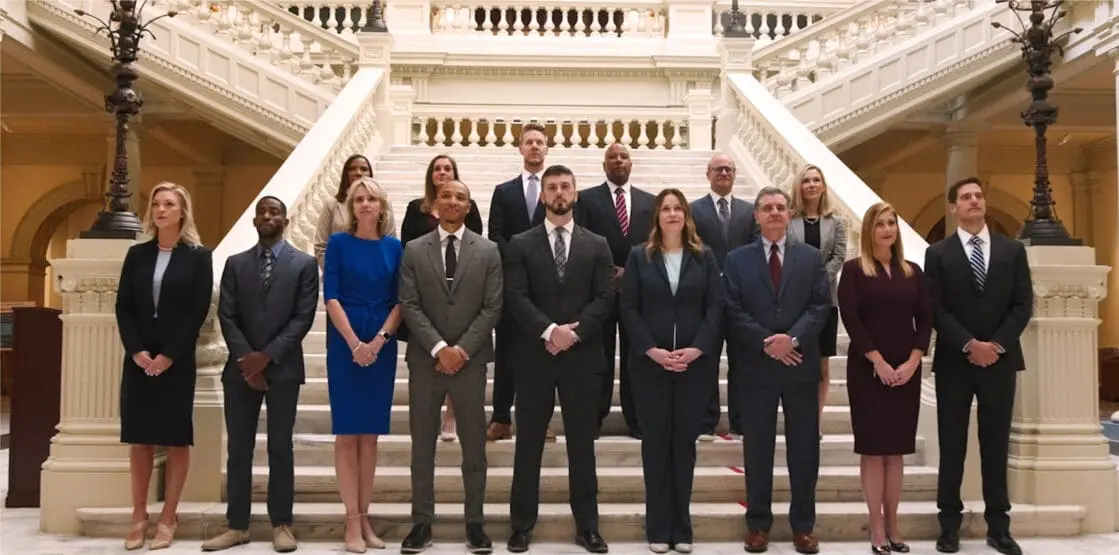 Because we can't stop accidents from happening, we do what we can to help minimize their long-term impact. We put more money in your pocket, where it belongs.