Serving Auto Accident PTSD Victims 
Why You Should Consider Legal Action
The debilitating effects of PTSD can be every bit as devastating as physical injuries. If you suffer from PTSD resulting from being involved in an auto accident or any other injury which has been caused by someone else's negligence, Montlick is here for you.
There are as many as three million serious auto accidents annually, resulting in injuries and serious emotional trauma. According to the American Psychological Association, as many as 45 percent of those injured in car accidents later suffer from Post-Traumatic Stress Disorder (PTSD). While people are aware of the enormous consequences from physical injuries caused by serious car accidents, many do not realize the debilitating impact of PTSD, which can severely limit one's quality of life.
"Besides this being a national public health problem," say psychologists Edward B. Blanchard, Ph.D., and Edward J. Hickling, Psy.D. "it is also taking a psychological toll. Not only are almost half of those in car accidents at a noticeable risk for developing PTSD, but there are other non-symptomatic signs that affect them, like having trouble on the job and in school, trouble maintaining friendships and not being able to enjoy leisure time.'"
Our experienced lawyers know how to navigate these difficult times and can help guide you towards justice. Start the healing process by calling Montlick today at 1-800-LAW-NEED.
Real Montlick Reviews
What an amazing team to have taken my case! Attorney Sara Root and her team(Chris & Kahn) were very professional and made sure my family and I were top priorities. I felt like I gained a family.Every case is personal and I felt they understand the hardship any injury imposed on an individual. I would definitely recommend this prestige organization--fighting for not only justice but for the all people.They have exceeded my expectations and Im pleased with the outcome. Thank you Montlick & Associates-Sara Root, Chris and Kahn.
This is from Terri Dodd a friend of mine and client of Motlick and Associates. She would like to express her sincere appreciation to Scott Patterson and his team for their remarkable work on her personal injury case. They have given 100% attention to her needs and concerns, and their work has been exemplary. She and I both highly recommend anyone and everyone searching for legal assistance to contact Montlick and Associates.
SEE IF YOU QUALIFY
Do you have a case?
We're here when you need us most.

Moving Forward with Montlick
Montlick puts you first, always
With over 39 years of experience, our personal injury attorneys have won compensation for victims of all kinds of accidents involving negligence nationwide. We are prepared to handle your case with the care it deserves.
We communicate compassionately and frequently
No matter where you are located, our attorneys are just a phone call away. Call us 24 hours a day/7 days a week for your free consultation at 1-800-LAW-NEED.
Montlick Is Your Advocate When:
Your medical bills are piling
Your working capacity is dwindling
You're unsure of where to turn
You need a skilled legal advocate in your corner
Experienced PTSD Lawyers
Dedicated, Experienced, and Ready to Fight for You. 
A serious auto accident can be the most emotionally and mentally traumatizing incident that people experience during their lifetime. PTSD is a very serious psychological condition that may require years of expensive therapy and prescriptions. Many accident victims do not realize that they have a right to compensation for the serious debilitating consequences of PTSD and do not seek immediate therapy or advice from a mental health professional.
Often car accident victims are afraid to admit the seriousness of the trauma even though they may experience a fear of driving, anxiety when riding in a vehicle, inability to sleep, dependence on over-the-counter sleeping pills and other symptoms that can seriously limit one's enjoyment of life and ability to carry on day to day life. Automobiles are such a fundamental part of our daily life, and anxiety or inability to use a car for transportation can have an enormously debilitating impact.
You deserve a healthy and happy life, free from stress and trauma. If you have experienced PTSD in the aftermath of an automobile accidents, you could be entitled to financial compensation. Call Montlick today for a free consultation.
I am very impressed with how quickly everything is moving along and how concerned the attorney seems to be with me
What are some common signs of PTSD?
PTSD resulting from a car accident may be overlooked because there are no obvious physical signs of injury. But, this doesn't mean that the mental and emotional injury doesn't exist. PTSD symptoms can be life-changing, negatively affecting your quality of life. Some common signs of PSTD include the following:
Severe depression
Inability to discuss the incident or discomfort when others talk about the accident
Difficulty enjoying life activities
Nightmares or flashbacks while awake
Aversion to situations that cause one to remember the car crash
An inability to feel emotions toward the auto collision
A sense of guilt about the car accident
Inability to feel comfortable riding in or driving a car following the collision
Many people develop PTSD within a year of the car accident. Anxiety associated with contacting insurance companies, filing lawsuits, and dealing with the aftermath of an accident could also add to the weight of PTSD. The most important focus after an accident that leads to PTSD is on recovery and healing.
At Montlick, we work hard for our clients so that they can focus on getting well without the stress and anxiety of worrying about legal matters and dealing with insurance companies. We work hard for our clients because we want to do the very best we can for them, improving their quality of life and sending them on the path towards recovery.
Act Now to Secure Your Legal Rights
Contact Montlick Today
Rather than jeopardizing your case, you can take immediate action to safeguard your rights by contacting Montlick to discuss your situation with one of our skilled attorneys today.
Contact Us
You should be aware of the potential costly dangers of delaying seeking legal advice and representation for your PTSD claim. Every state in the United States imposes a strict limit on the amount of time that can elapse between the date of an injury and the date a person must settle a claim or commence a lawsuit. This deadline will be codified in a state's statute of limitations and other laws or legal doctrines, and interpreted in the case law. Deadlines can vary depending on the state where your case is pursued and the type of claims that exist. These rules can be complicated, and there are exceptions and traps for the unwary. For example, if your case involves negligence by a city, county or state entity, shorter time limitations and special notice requirements can apply. Our lawyers advise prospective clients regarding such deadlines so that they understand the necessary steps that need to be taken in order to protect their claims, and we take those actions on behalf of our clients.
Aside from statute of limitations concerns, there are other important reasons to avoid delays in seeking legal help. Failure to act promptly can result in the loss of critical evidence. Witnesses can disappear, or their memories might fade. Evidence at the scene of your injury, video footage, and other physical evidence could be altered or disappear altogether. When evidence is destroyed or expensive to recover, these burdens could adversely affect the value of your claim and make a positive outcome more difficult or impossible.
How We Can Help Protect Your Rights and Maximize the Money in Your Pocket
There For You
At Montlick, we have been standing up for injured victims since 1984. We work hard to furnish our clients with wise, dedicated, and professional legal representation during every step of the legal process.
Request FREE Consultation
Insurance companies have attorneys, adjusters, private investigators, and experts in a wide range of areas of specialized knowledge all working to try and limit their financial liability in order to increase their profits. In other words, they want to save their employer, the insurance company, money and offer you the least amount of money possible. Along with this extensive advantage in manpower and expertise, insurance companies have significant financial resources at their disposal when defending against claims.
Personal injury victims can re-balance the scales of justice by retaining their own respected, highly-skilled and experienced attorneys to fight for their interests and protect their rights.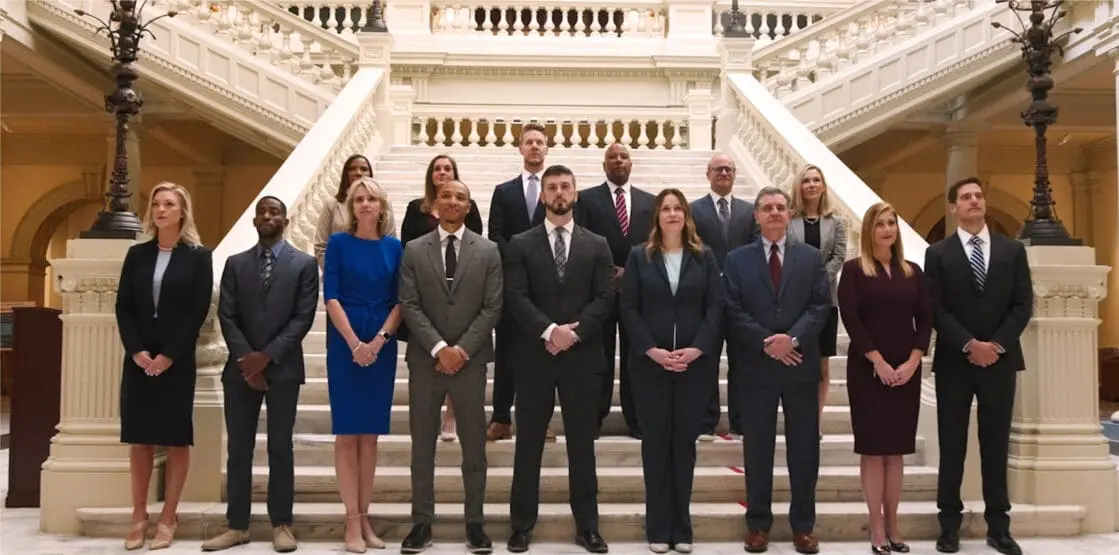 Because we can't stop accidents from happening, we do what we can to help minimize their long-term impact. We put more money in your pocket, where it belongs.