BAT Blunt Abdominal Trauma Laywers
Get Justice for Your Injury
Blunt Abdominal Trauma (BAT) injuries can be life-altering. 
The abdomen protects vital organs, and when abdominal injuries happen, an injured person is exposed to multiple potential medical problems. When a person sustains a blunt abdominal trauma (BAT) injury, their organs are vulnerable to permanent damage.
While we know we cannot prevent the physical pain you've experienced, we can help you get the financial resources you need protect your quality of life. We provide compassionate and effective legal counsel for those who suffer from catastrophic injuries and blunt abdominal trauma.
The outcome of your claim will impact the rest of your recovery. Our goal is to put the money in your pocket, while dealing with all the stressful legal and insurance battles. That way, you can focus on you.  For 39 years we've put our clients first after their injuries, and we'll do that for you, too.
SEE IF YOU QUALIFY
Do you have a case?
More Money, Less Stress

SEE IF YOU QUALIFY
Do you have a case?

Real Help Begins Here®
Experienced attorneys
For 39 years, our firm has recovered billions for our clients. Our attorneys have seen the trauma and devastation our clients face first-hand, and we know what it takes to win® for you and your future.
More money, less stress
We understand the physical, emotional, and financial toll taken on the injured person and their family. That's why we believe your focus should be healing, not fighting with insurance companies to get the money you need and deserve. Let us handle that for you.
Montlick Attorneys Are:
Experienced
Compassionate
Determined
Committed
Blunt Abdominal Trauma & BAT Injury Attorneys
Avoid a Costly Mistake. Call Montlick.
Many BAT injuries cause extreme physical pain and suffering. However, the physical pain is only one consequence of a BAT injury. If the injury is permanent, a person may require lifelong medical treatment and monitoring.
A BAT injury may end a person's ability to work, making it challenging to earn an adequate income to meet life's daily needs and keep up with bills, and the medical expenses associated with BAT injuries can be staggering. Given that a person's health and livelihood are on the line following a BAT injury, it is important to consult with an attorney if you believe your BAT injury was caused by another person's negligent conduct.
After a catastrophic injury, the right legal representation means everything. Don't make a costly mistake–call Montlick first and let us handle your claim while you focus on your recovery. 
Catastrophic Injury Lawyers Helping Blunt Abdominal Trauma Victims
Do I Have a Claim or Case?
A blunt abdominal trauma injury is extremely serious. If someone else is responsible for your injury—whether it's due to negligent, reckless, or intentional actions—you may be entitled to compensation. The legal remedy for these types of injuries is called damages, and is usually in the form of money awarded to the injured party. This money can compensate for things like lost income, medical expenses, property damage, pain and suffering, loss of consortium, and more.
What If My Injury Happened On the Job?
There are many scenarios in which a blunt abdominal trauma injury could occur at the workplace. If that happens, regardless of who is at fault, you may be able to pursue a workers' compensation claim to receive medical and wage benefits. You may also be able to bring an additional third party personal injury claim against a third party, depending on the situation.
Learn more about workers' compensation and on-the-job injuries here.
Car Crashes Are the #1 Cause of BAT Injury
The National Institutes of Health has recorded that the most reported cause of blunt abdominal trauma is motor vehicle accidents. This can include any collision involving a motor vehicle, including car wrecks, tractor-trailer crashes, as well as bus, motorcycle, ATV, bicycle and pedestrian accidents. 
The faster vehicles are traveling at the time of an accident, the more significant BAT injuries may be.
Slip, trip and fall accidents are the second most common cause of blunt abdominal traumas.
Common Symptoms
BATs are often identified through their symptoms. This may include internal or external bruising, internal or external bleeding, dizziness, low blood pressure, pain, swelling or inflammation, muscle weakness,  nausea or vomiting, and blood in urine or stool, difficulty in bowel or bladder movement, and more.
If you have experienced a blow to the abdomen and have any of these symptoms, seek medical attention immediately. Untreated, blunt abdominal injuries could result in ruptured organs, internal bleeding, intestinal tears, and more. These injuries can even prove fatal.
Your Questions Answered
Catastrophic Injury FAQs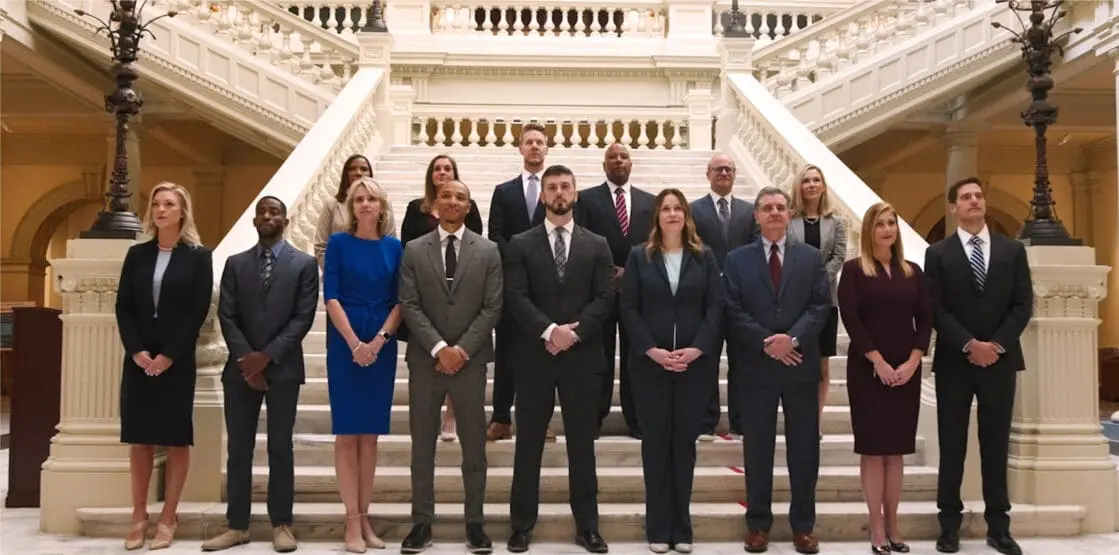 Because we can't stop accidents from happening, we do what we can to help minimize their long-term impact. We put more money in your pocket, where it belongs.