Personal Injury Lawyers Near You
The Insurance Company Has a Lawyer.
Why Wouldn't You?
We're here to level the playing field for you after an injury.
Insurance companies and other businesses have enormous financial resources, a stockpile of experts and an experienced team of lawyers on their side—all with the express job of paying you as little as possible for your claim so they can increase their profits.
We don't think that's fair. That's why we're here to work for you after your accident or injury.
Can I afford a lawyer?
When it comes to Montlick, the answer is yes. We believe the excellent legal representation is a right for everyone. That's why we operate on a contingency fee basis, which means that you don't pay unless we win your case. That means we're not billing you for every phone call or email like most lawyers do, so you can give us a call and ask as many questions as you need.
We handle it ALL
We've got decades of experience handling all types of personal injury claims and cases, including car crash injuries, catastrophic injuries, paralysis, workplace incidents, slip and falls, medical malpractice and so much more.
And when we take your case, you can rest assured that we'll handle all the complicated legal and insurance matters promptly and professionally, keeping you informed every step of the way. You have enough hardships to deal with after an injury, your lawyer shouldn't be another one.
SEE IF YOU QUALIFY
Do you have a case?

SEE IF YOU QUALIFY
Do you have a case?

Savannah Personal Injury & Accident Lawyers
What You Need to Know About Personal Injury Law
What is "negligence?"
You hear the word "negligence" often in our line of work.  A person or party may be considered negligent when certain actions fall below the "standard of care," which is essentially the test to determine if a person or party was acting reasonably under the circumstances surrounding the accident and injuries.  However, it is not only the conduct that needs to be considered.
A person alleging personal injuries must also prove that the at fault person or party owed the injured individual a duty of care, and breached that duty. For example, in the case of a car accident, a driver owes a duty to everyone on the road. In the case of a medical malpractice claim, the doctor owes a duty to his or her patients. In the case of a slip and fall accident, a business or property owner or owes a duty to of care to patrons keep the premises safe.
The injured individual must also prove that his or her injuries were a direct result of another's negligent conduct. In other words, if a duty is owed, the duty is breached, and the breach of duty causes another person to suffer injuries, the person or party that caused the accident can be found negligent and held liable (responsible) for paying compensation to the injured victim.
Do You Have a Personal Injury Case?
Find Out
How a Lawyer Benefits You
Adding Value to Your Case Result
Ultimately, we're here to put more money in your pocket. Our job is to make sure that we thoroughly pursue all avenues of recovery for each client and case. We take that job extremely seriously. The insurance industry's own research has shown that people who hire a lawyer for their personal injury claim get paid, on average, 300% more money for their claim. Avoid a costly mistake by calling Montlick as soon as possible after your accident.
Preserving Evidence
Depending on the facts and circumstances surrounding your case, there can be important evidence that must be preserved in order to pursue your claim. Our attorneys take all the steps to ensure that your rights are protected at every turn, and that means evidence preservation.
Ensuring Legal Deadlines Are Met
Not only are there many complex legal time deadlines that can apply to your case, but there are also complicated notification deadlines for insurance policies, and more. Missing any of these deadlines can cost you valuable money, or even your ability to recover compensation at all. Our attorneys take all necessary steps to promptly and fully meet all these deadlines on your behalf, so you can focus on your recovery and rest assured your claim is being taken care of.
What Is My Case Worth?
Our Savannah law firm aggressively fights for all the money that our clients' are entitled to receive under Georgia law
Find Out
How We Work for You
We Get to Work Fast  Once we decide to work together after your free consultation with our Savannah personal injury law attorneys, our legal professionals will promptly take the actions necessary to protect your legal rights.
We Assume the Financial Risk:  At Montlick Injury Attorneys, there are no fees or costs unless you win. We take your claim on a "contingency fee" basis. This means that we front the cost of the investigation, trial and legal fees. Our clients only pay after our law firm has successfully negotiated a settlement agreement, or a verdict or judgment against the at-fault party who is responsible for the personal injuries, and other damages.
We Overcome Insurance Company Traps:  Insurance company claims adjusters will often appear sympathetic to your claim, but their ultimate goal is to increase the company's bottom-line by collecting in premiums and paying out the least amount of money as possible on claims. We work for your best interest.
We Assess the Value of Your Accident Injury Claim:  Evaluation of a Savannah personal injury case involves the calculation of lost wages, medical expenses, property damage, mental anguish, punitive damages (should the defendant's conduct be egregious enough to warrant punitive damages), diminished earning capacity, pain and suffering.  Our Savannah personal injury attorneys have the skill and experience necessary to calculate the true value of personal injury and wrongful death cases in Savannah.  Our attorneys, when necessary, conduct research into settlements and verdicts involving similar personal injury cases in similar jurisdictions to quantify a range of case value.
We Navigate Legal Complexities:  While most Savannah personal injury cases settle out of court, when litigation be required, plaintiffs (the injured party) need a Savannah attorney who has a mastery of the rules of court rules, civil procedure, evidentiary rules, Georgia case law, and applicable Georgia statutes.  Our Savannah injury attorneys are trained, educated, and are experienced with the nuances of the Georgia and Federal laws.  They understand how to effectively navigate the complicated personal injury claims process.  Our Savannah injury law firm works hard to obtain all of the monetary compensation our clients' cases deserve.
We Win More than Settlements.
We win the peace-of-mind you need to get your life back.
At Montlick, we believe comprehensive legal representation is a right, not a privilege. That's why we provide our services on a contingency fee basis. You only pay when we win.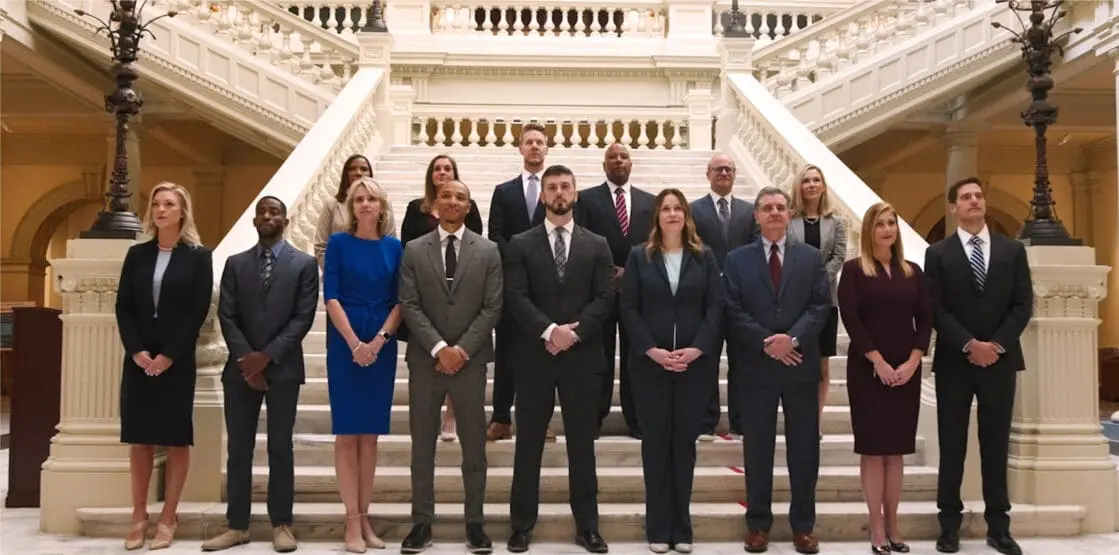 Because we can't stop accidents from happening, we do what we can to help minimize their long-term impact. We put more money in your pocket, where it belongs.