Agile and Aggressive Criminal Assault Attorneys
The Stakes Are High. We Treat Them That Way.
You've been the victim of a terrifying incident involving violence. The accident, or intentional attack, has left you injured and in pain. Now you've got bills stacking up, and serious trauma to work through. Call the personal injury attorneys at Montlick to represent you in your fight for compensation. 
If you or a loved one are subject to an assault, battery, rape, sexual assault, molestation, or any other criminal act, the psychological impact can be life-long and debilitating. The perpetrator of a violent crime could be held financially responsible for damages.
Real Montlick Reviews
What an amazing team to have taken my case! Attorney Sara Root and her team(Chris & Kahn) were very professional and made sure my family and I were top priorities. I felt like I gained a family.Every case is personal and I felt they understand the hardship any injury imposed on an individual. I would definitely recommend this prestige organization--fighting for not only justice but for the all people.They have exceeded my expectations and Im pleased with the outcome. Thank you Montlick & Associates-Sara Root, Chris and Kahn.
This is from Terri Dodd a friend of mine and client of Motlick and Associates. She would like to express her sincere appreciation to Scott Patterson and his team for their remarkable work on her personal injury case. They have given 100% attention to her needs and concerns, and their work has been exemplary. She and I both highly recommend anyone and everyone searching for legal assistance to contact Montlick and Associates.
SEE IF YOU QUALIFY
Do you have a case?
We'll advise you of your rights and how to move forward with your case. 

SEE IF YOU QUALIFY
Do you have a case?

We Go The Distance for Victims of Criminal Assault and Their Families 
Montlick puts you first, always
The rise of so-called "settlement mills" means there are more lawyers trying to make more money–not more lawyers trying to help more people. It's a money game for many. That's not us. Clients come to us for compassionate, knowledgeable counsel in the most difficult times of their lives.
We communicate compassionately and frequently
We are sure you've heard about professionals who do not return phone calls; or perhaps you have spoken to people using other law firms who never knew what was going on with their case. That won't happen with us. We keep our clients well-informed and are available to answer any questions you may have along the way.
At Montlick, We Take Our Ethos Seriously:
Professional
Experienced
Skilled
Genuine
Trust Our Skilled Criminal Assault Lawyers
Ferociously Advocating for Clients And Winning Cases Since 1984
Our firm has experience handling legal claims, and we handle the following types of cases:
Child molestation, sexual abuse, and rape claims
Assault and battery cases
Negligent security resulting in criminal conduct on rental or commercial property
Child abuse by childcare centers, coaches, teachers, and school district liability claims
Nursing home residents financial, physical, sexual, and/or emotional abuse
Road rage incidents
Understand the factors of your case
After you've been the victim of a criminal assault, charges will usually be pursued against the person who caused you harm. Cases will usually involve "punishing" the offender with:
Prison time
Legal fines
Restitution to the victim
However, many criminal offenders never fully satisfy this part of their criminal sentence due to the high burden of proof required in criminal cases.
Who We Represent
Montlick: Helping To Hold Perpetrators Accountable
Our lawyers will carefully investigate past crimes committed on the premises of a hotel, apartment complex, or business and review the criminal history of the area to determine if the criminal act was caused by the failure to provide adequate security.
Contact Montlick
Our team is available to represent a plethora of individuals including children and senior citizens. Tragically, physical and sexual abuse is frequently committed by people entrusted with the care of children and senior citizens. When that person violates the trust of family members of the victim, they might be liable for civil damages.
Additionally, If the school, business, or nursing care facility fails to prevent abuse or report abuse committed by its employees, these organizations could be held liable.
A monetary recovery against a party with assets and/or insurance coverage can help you or your loved one receive the financial means to improve your life. Our criminal assault injury attorneys are committed to aggressively advocating for victims of crimes and exploring all possible defendants with insurance coverage and assets to enforce a settlement or judgment.
Hurt Due to Criminal Assault? We Are Here to Help
Montlick Injury Attorneys: Maximizing the Settlement You Deserve
If you or a loved one have been the victim of a criminal assault, contact our experienced attorneys today. Our consultations are always compassionate, helpful, and 100% free.
No matter where you are located, our attorneys are only a phone call away. Call us at 1-800-LAW-NEED 24 hours a day, 7 days a week for your free consultation
Contact Montlick Now
Your Questions Answered
Criminal Assault Legal FAQs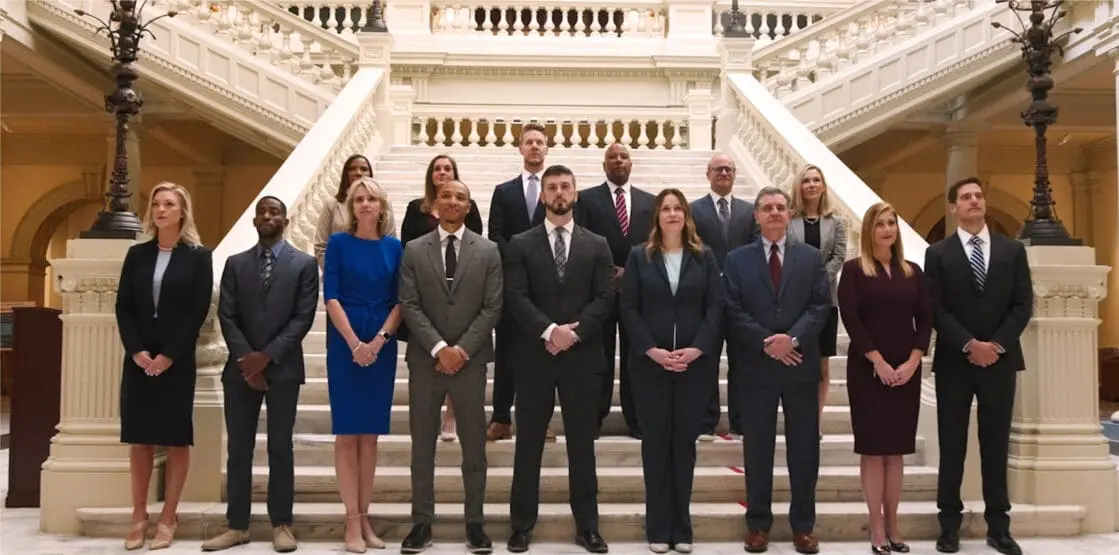 Because we can't stop accidents from happening, we do what we can to help minimize their long-term impact. We put more money in your pocket, where it belongs.