Serving Product Liability Victims Nationwide
Standing Up For Your Rights, Standing Up For Your Justice.
Everyday, we use products that promise to make our lives simpler and better. Unfortunately, there are times when products and companies fail to deliver on their promise, causing us harm rather than easing our lives.
We rely on manufacturers and companies to design, build, and distribute safe and functional products that work as intended and do not pose risks to our safety or health. However, companies do not always uphold the standards imposed upon them by the law, and when people become severely ill or injured because of the use of a defective product, they deserve compensation for their damages. According to a recent Consumer Product Safety Commission's Annual Report, each year thousands of individuals are killed by various products and millions more suffer injuries requiring emergency room treatment. If you or a loved one has been harmed by a defective product, the time to call Montlick is now.
Don't wait. Call Montlick today for more advice from our experienced product liability attorneys.
They kept in touch with me about every aspect of my case. I knew they were working for my benefit.
Margaret Lindsey
The staff are courtesy and the attorneys work hard on your behalf. In addition, they keep you abreast of the status of your case.
Sherry Williams
I had the pleasure of working with Attorney Scott Patterson who truly went above and beyond for my case. He's so amazing! His expertise and dedication were evident throughout the process, and I couldn't be happier with the outcome. Thanks to the hard work and patience put into my case. I received a fantastic and fair settlement that exceeded my expectations. Furthermore, his assistant, Sarah Duncan, played an integral role in the success of my case. Her professionalism and support were outstanding. She consistently demonstrated a genuine concern for my needs and was always there to provide assistance whenever I needed it.Overall, I am incredibly grateful for the outstanding service provided by Attorney Scott Patterson and team. I wholeheartedly recommend Montlick & Associates law firm to anyone in need of legal representation. Thank you so much!
Kay
Hey everyone alyssa is the best lawyer I have ever had. She works fast and has everything organized. If you are having trouble looking for a lawyer no problem call Alyssa Martin she's the best!!!!
austin johnson
Attorney Scott Patterson was outstanding in getting us compensated for an injury to our 3 yr old. Other attorneys probably wouldn't have bothered with our case but he took a chance and worked his butt off which led to us receiving a settlement. Very pleased!Walter
B2 Trucking
On November 30, 2022 I experienced the worst injury that I have ever experienced at fault not my own, while on a quick out of town trip. Not only was I severely burned at an establishment, but I was denied representation by several firms where my incident happened. Unbeknownst to me just because an incident happens in a certain state doesn't mean you have to obtain representation there, which is how I had a turn around in defeat. Not only did Montlick & Associates instantly take my case, Ellen Forrester provided candor from the start on the pros, cons, and how she could deliver her services with the goal of fighting for me as her client being one that was truly heartfelt. From constant check ins from Dayna Clark (Ellen's Senior Legal Assistant), to pertinent information delivered directly from Ellen, I felt the utmost service with care was provided. Ellen was diligent in getting the best results no matter the fight. In the end I had a successful outcome and hopefully raised enough awareness for an incident this traumatic not to happen to anyone else. I Thank Ellen & Dayna for all their hard work and would recommend more stars if I could based on their client care alone.
Senecia Wilkerson
I would like to thank Mike Bish, MacKenzie Lisa's, and David Rubin for handling and litigate my case. They were very professional and helpful making sure that if I didn't have any issues with my workers comp claim. I will recommend Montlick & Associates to anyone that needs help. They keep communication open and have all the right people in place to answer all my questions and very knowledgeable of what steps to take when injured.
Charles Young
I hired Mrs. Forrester for my case last year in May and they got me settled for more money than I ever thought!!! Very professional and prompt with call backs my overall experience with them was amazing!! Mrs. Foresster and Ms. Julie Vaughn was the sweetest and most hard working lawyers there is I have already referred them to my sister and will continue to recommend them to all my friends and family!!
Jenee Johnson
Spectacular Service! Attorney Glosser and Gia worked countless hours on my case. Very pleased with the outcome!
Kimberly Bryant
Thank you Jason and Kalana for working on my son's case. No one else would take this case because it was so difficult and you guys worked hard on making sure that he got his settlement. I wish I could give you guys a hundred Stars because that's how amazing you are thanks again.
Kim (Kimmie)
I came to Montlick because of a minor accident I had on slingshot. Nothing is too big or too small for this law firm. I must say. It has been a pleasure working with Sarah and her asst Christopher. They were very professorial. And got right on the case. They always kept me informed every step of the way. Very satisfied customer! Thx again! 😊
angela Jones
Definitely the best! They worked hard for me and I really appreciate them.
ttesa clink
This is from Terri Dodd a friend of mine and client of Motlick and Associates. She would like to express her sincere appreciation to Scott Patterson and his team for their remarkable work on her personal injury case. They have given 100% attention to her needs and concerns, and their work has been exemplary. She and I both highly recommend anyone and everyone searching for legal assistance to contact Montlick and Associates.
Elizabeth Whealler
Montlick & Associates, Attorneys are outstanding. When a hit a run driver rear-ended my car, I called the law firm, and they worked on my case from the beginning to the end. I am very pleased with their service and I highly recommend them if you have legal matters.
Rudolph Frazier
Best attorney I've worked with
Arlene Anderson
I am so happy with the results that Jason got for my case. All other practices wouldn't take my case but not Jason. He knew I had a bad fall and injury. He and Esmerelda worked so hard and informed me of every detail immediately. I highly recommend their services. If I ever need an accident attorney, I will not hesitate to call Jason. Thank you and I hope you enjoyed the goodies I baked for you. I will forever be grateful for the settlement you got for me.
mary mullins
Excellent as always. This is the second case that has been worked out for me. Ellen Forrester and Dayna Clark have always gone above and beyond. Thank you so much.
Russell Matthews
Awesome people to work would recommend them to anyone who needed an attorney
Alan Newman
I worked with Scott Patterson and he was great! His sense of urgency and attentiveness made me feel valued as a client!
Whitney Elzy
My grandson was in a bad accident on August 5 and MONTLICK & Associates was the lawyer ever for him we would like the good work they've done
Margie Marable
Lamar Bridges worked with Nathan Kratzert and he really cared about me as a person. His patience and time is a win win for anyone need their help.
Corles Berry
Attorney Lynn Walker and her team are amazing . They are hard working, reliable, and very professional.
Fadia
SEE IF YOU QUALIFY
Do you have a case?
We have recovered billions* for our clients–with billions more to come. 

Here to Help. Here to Win.
We Don't Just Promise. We Deliver.
With decades of experience, our personal injury attorneys have won compensation for victims of all kinds of accidents involving negligence nationwide. We are poised and prepared to handle your case with the care and attention it deserves.
We communicate compassionately and frequently
We always keep you in the loop, never making critical decisions without your consent and full understanding of what each decision means for you. We are here to minimize your stress, not add to it–and we take that seriously.
Fighting Hard & Winning Cases® with
Dedication
Experience
Care
Confidence
Top-Rated Product Liability Lawyers
Strong, Dedicated, Compassionate. That's Montlick.
The law provides that manufacturers of dangerous and defective products should be held accountable if they release a poorly designed or manufactured product into the stream of commerce. Unfortunately, companies are generally driven by pursuing a "bottom line" and many manufacturers whose defective products cause injuries do not take responsibility. If you have been injured due to a product liability, you can take legal action against the manufacturer of the product under the legal doctrines of strict liability or general negligence. The difference between strict liability and general negligence are:
In a strict liability claim (when state law allows), the consumer is not required to show that the manufacturer acted negligently in designing, manufacturing and/or creating warnings about the dangers of the product. Rather, the focus of the claim is on the product itself and the defective and/or dangerous nature of the product. Specifically, a plaintiff must prove that the product left the hands of the manufacturer or seller in a defective state, as opposed to having to prove how or why the product came to be defective.
Alternatively, in a negligence claim, the consumer alleges that the manufacturer acted below a reasonable standard of care in designing or manufacturing a dangerous product. Often, negligence claims against manufacturers may include failing to provide adequate warnings about the dangers of a particular product.
Products liability claims can arise from the use of many different types of consumer goods, including:
Our Experience Pays!®
No matter where you are, we are just a phone call or message away.
Get Justice Now
Olaplex and other cosmetics containing Lilial
Paraquat (Gramoxone, Ortho-Paraquat, Devour, Blanco, Helmquat 3SL, Bonedry, Cyclone SL 2.0, Firestorm, and Para-Shot 3.0)
Sunscreen cancer
Defective industrial, agricultural, construction or farming machinery and equipment
Defective tools
Dangerous or recalled toys, choking hazards
Defective over the counter drugs
Defective prescription drugs or other pharmaceuticals
Defective over-the-counter-medications (OTC), other pharmacy ointments and other drugs
Defective supplements
Medical devices
Breast implants
Defective automobiles including recalls and/or automotive parts (RVs, ATVs, Trucks, Motorcycles, etc.)
Autonomous driverless vehicles
Airplane software and equipment failure
Defective tires
Bikes, Scooters
Heaters/furnaces
Dehumidifiers
Contaminated food and beverage products, produce
Ingredient error and omissions on food labels
Exploding batteries, such as Lithium Ion Batteries
Household Goods, Appliances and Furniture
Agricultural chemicals such as pesticides with unintended side effects
If you have been injured by any type of defective product, do not get rid of it! The product may be evidence to a potential claim. Learn about your legal rights as well as what steps should be taken to protect those rights with our no obligation Free Consultation. Call us Nationwide 24/7 for your Free Case evaluation at 1-800-LAW NEED (1-800-529-6333). We also can be reached by dialing #WIN (#949) from your cell phone (with most cell carriers) or by visiting us at Montlick.com and using our using our Free 24-hour live chat service or online free case evaluation form.
Manufacturers stand to lose hundreds of thousands – if not millions – of dollars if they are forced to pay compensation to consumers hurt by their products. This is why manufacturers may attempt to defeat an injured consumer's claim by arguing that the consumer did pay attention to warning labels that were present on the product or used the product in a way that it was not designed to be used (such as taking too high of a dose of an over-the-counter medication or operating heavy machinery while intoxicated). A manufacturer may argue that the consumer made modifications or alterations to its product after purchasing the product, thereby voiding any warranty and eliminating any responsibility on the manufacturer's part for any resulting injuries.
If these arguments are successful in your case, your financial recovery may be limited or denied altogether. For this reason, it is extremely important that you be represented by a formidable product liability attorney who can take on the experienced and well-funded legal teams that represent these manufacturers.
How Much Compensation Can I Get for a Product Liability Case? 
The general rule is that an injured consumer can receive financial compensation (called damages) for any tangible or intangible loss experienced provided that (1) the consumer can provide evidence as to the value of the loss; and (2) that the loss is causally connected to the defective product. However, no two product liability cases are the same. Even when two consumers each file separate lawsuits based upon the injuries each received from the same defective product, the consumers might walk away with different amounts of compensation.
In any product liability injury case, our attorneys pursue all types of monetary damages that our clients are entitled to recover. Depending on the facts of a case and the applicable law, these may include compensation for:
Past and future medical bills
Lost income
Loss of earning capacity
Pain and suffering
Loss of enjoyment of life
Punitive or "Penalty" Damages if the defendant manufacturer's conduct is egregious, such as when a it releases a product that it knows is dangerous (subject to state law)
Loss of consortium
Emotional distress
Predicting the precise amount of compensation any consumer will receive through a product liability case is usually not possible at the beginning of a case. To obtain a possible estimate as to what your case is worth, you need to sit down with an experienced product liability attorney and go over the facts of your case, the evidence that's available to you, the applicable law, and the specifics and peculiarities of filing and pursuing a product liability claim in your jurisdiction. Later in our clients' cases, we are able to predict a range in case value after all of the evidence has been obtained, we have reviewed all medical bills and records, and have learned the nature, extent and long-term effects of the injury. Trust Montlick to make every effort to obtain the greatest amount of compensation possible for you in your case.
The facts of your specific case and whether you accept a settlement or take your case to trial can affect the amount of damages you are able to obtain. In addition, the strength and persuasiveness of any evidence you might provide as to the extent of your injuries and other important details will also play a role in determining what your product liability case is worth.
The most common arguments made against injured consumers in products liability claims is that the consumer is responsible for his or her injuries in some way. For example, a manufacturer may allege that the injured person did not use the product as intended or did not follow instructions. Depending on the state in which the claim is filed, negligence can result in disproportionately different outcomes. In most states, ones that abide by the Legal Doctrine of Comparative Negligence, an injured consumer can still be entitled to recover compensation from a manufacturer even if the consumer acted carelessly by not reading warning labels and instructions for the product or not using the product as it was intended. In such scenarios, the victim's recovery is reduced by their relative degree of negligence. For instance, in a jury deems the injured consumer 20% at fault, the injured consumer would receive 80% of their damages. Many states apply a doctrine called Modified Comparative Negligence, which only allows the plaintiff to financially recover compensation if they are less than 50% at fault.
Alternatively, in a Contributory Negligence state, if the Plaintiff is in any way at fault, even a mere 1%, they can be barred from seeking a recovery. Speak with one of our attorneys about the laws in your specific jurisdiction.
Take Action Now to Safeguard Your and Your Family's Legal Rights – Watch Out for Legal Time Deadlines!
We caution you about the risks of waiting too long before seeking legal help for your product liability case. Each state places a limit on the amount of time that can pass between when an injury occurred and how much time a person has to settle a claim or file a lawsuit, if legally necessary. This time limit is codified in a state's statute of limitations and other important doctrines or laws that may vary depending on the jurisdiction in which your claim exists. Our attorneys can advise you on what deadlines may apply to your case.
Statutes of limitations aside, waiting too long to file a product liability case means that important evidence in your case – such as: witnesses, witness recollection, evidence at the scene, video footage and so on – may be lost or at least difficult and costly to recover. Do not handicap your legal rights: take action now to protect your rights by contacting our office to discuss your claim.
Missteps Can Be Costly: How Your Product Liability Attorney Helps Protect Your Legal Rights
Large corporations and insurance companies do everything they can to deny or minimize claims of injured victims. Additionally, companies often resist resolving products liability claims because they fear that doing so could encourage other consumers with similar injuries and claims to come forward and seek compensation as well. As a result, product manufacturers typically have both in-house legal teams and contracts with experienced and resourceful law firms to defend against claims made by consumers. This puts any injured consumer going up against a product manufacturer at a distinct disadvantage.
Consumers can even the playing field by having their own experienced and resourceful law firm at their side. At Montlick Injury Associates, we have represented consumers hurt by using a variety of defective products. We strive to achieve knowledgeable, professional, and dedicated legal representation – at each step along the way.
Your Questions Answered
Product Liability FAQs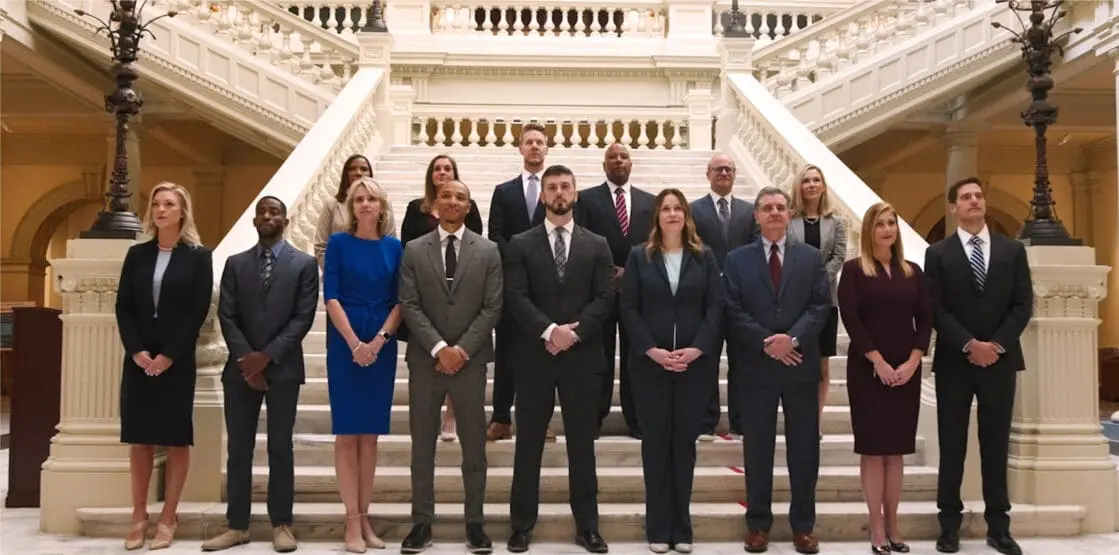 Because we can't stop accidents from happening, we do what we can to help minimize their long-term impact. We put more money in your pocket, where it belongs.