Experienced Gunshot Injury Lawyers
Real Legal Help Begins Here®
When anyone picks up a firearm, they must treat it with the utmost care and respect. Firearms are deadly in the wrong hands. If you've been injured due to a negligent or careless firearm user, don't wait–call Montlick today. 
Firearms can become extremely dangerous when used by those who are careless or inexperienced. Gunshot injuries cause the death of someone every fifteen minutes and another hundred thousand people are injured annually in a shooting incident. While most are the results of criminal acts, some of these firearm injuries are the result of hunting accidents, unsecured firearms, defective firearms and accidental shootings by those who lack the experience or skill to safely use a firearm.
What an amazing team to have taken my case! Attorney Sara Root and her team(Chris & Kahn) were very professional and made sure my family and I were top priorities. I felt like I gained a family.Every case is personal and I felt they understand the hardship any injury imposed on an individual. I would definitely recommend this prestige organization--fighting for not only justice but for the all people.They have exceeded my expectations and Im pleased with the outcome. Thank you Montlick & Associates-Sara Root, Chris and Kahn.
This is from Terri Dodd a friend of mine and client of Motlick and Associates. She would like to express her sincere appreciation to Scott Patterson and his team for their remarkable work on her personal injury case. They have given 100% attention to her needs and concerns, and their work has been exemplary. She and I both highly recommend anyone and everyone searching for legal assistance to contact Montlick and Associates.
SEE IF YOU QUALIFY
Do you have a case?
Fighting for You

SEE IF YOU QUALIFY
Do you have a case?

You Don't Have to Fight Alone. 
Our Expertise Is Your Advantage 
With over 39 years of experience, our personal injury attorneys have won compensation for victims of all kinds of accidents involving negligence nationwide. We are poised and prepared to handle your case with the care it deserves.
We Communicate Compassionately and Frequently 
No matter where you are located, our attorneys are just a phone call away. Call us 24 hours a day/7 days a week for your free consultation at 1-800-LAW-NEED
Montlick Firearm Injury Attorneys Are: 
Professional
Experienced
Skilled
Knowledgeable
Trust Our Experienced Firearm Injury Attorneys
Maximizing Settlements, Minimizing Stress
While firearms can be a valuable tool for self-defense, a gunshot injury can result in life-changing injuries or even death, all in the blink of an eye. Gunshot survivors may suffer severe injuries including loss of blood, spinal cord injuries, and/or severe damage to internal organs. Firearms are not toys and should not be handled by anyone who is not trained, experienced, and capable.
After an accident occurs, one of the most important things you can do is find the right legal representation. You deserve an experienced attorney who is able to fight for your justice with dedication. Don't wait — the path to recovery begins with a call to Montlick.
Nationwide Firearms Wrongful Death Lawyers
Fighting Back Against Violence, One Case At A Time.
Your Questions Answered
Firearm Injury FAQs
Does a property owner have to take security precautions?
An owner of a private residence is not required to take security measures to protect a social guest who visits their property.
Read more
Do I have a firearm case even if it was an accident?
Any person who sustains a firearm injury or death because of another party's negligent conduct, or because of a defectively designed/manufactured gun may be entitled to compensation.
Read more
Firearm Injury? We Can Help
If you suffer a gunshot wound caused by an intentional shooting, accidental shooting or a defective, malfunctioning firearm, you may be entitled to compensation for your injuries or wrongful death.
If you are injured in a firearm incident caused by the intentional or negligent conduct of a third party or a defective firearm, you may be able to seek financial compensation for your injuries or loss.
Contact Montlick Now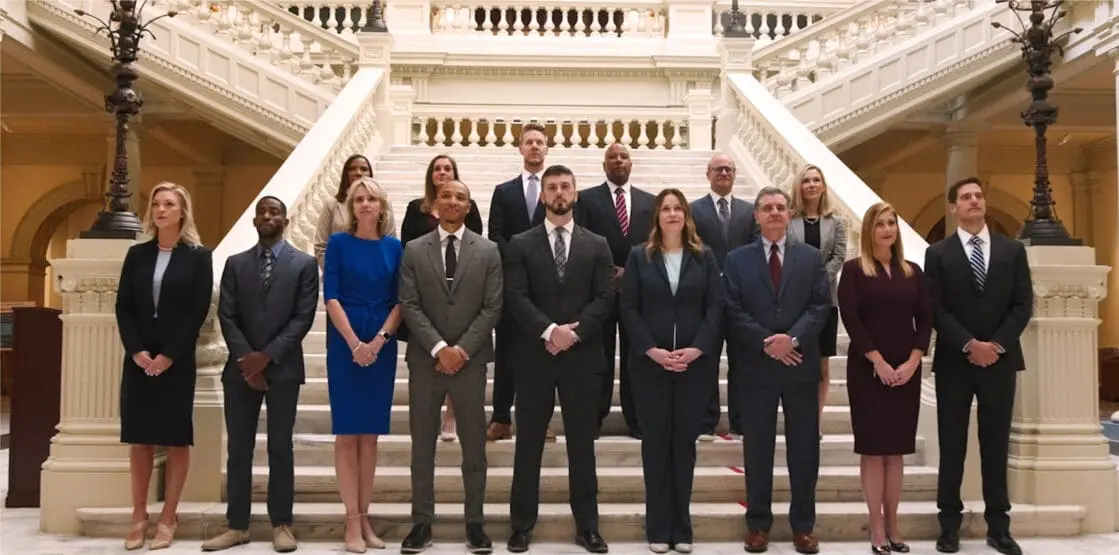 Because we can't stop accidents from happening, we do what we can to help minimize their long-term impact. We put more money in your pocket, where it belongs.