Nationwide Uber and Lyft Injury Attorneys
Paving the Road Forward
When an accident involving an Uber, Lyft or other rideshare service upends your life, a confusing battle for compensation only adds to your stress.
Your case's outcome will impact the rest of your life. That's why our goal is always to put the most money in your pocket – where it belongs. That way you can prioritize your recovery without the burden of financial uncertainty.
We Focus on Winning So You Can Focus on Healing
As a Montlick client, you'll never be left in the dark. We will return all phone calls and emails answer all your questions in a timely manner. You'll get to know your attorney and legal team personally. We're a powerhouse firm with massive resources, but we pride ourselves on personalizing our legal services for each client. You'll never be just a case number to us. And with 39 years of experience and a stellar track record of success, you can rest easy that we've got you covered.
Montlick & Associates is the best Law Firm. My experience with this Firm is so amazing!Expertise in an automobile accident. They handle my case with such professionalism. I would recommend them to anybody that is involved in a car accident. Thank you Montlick & Associates for being there for me. Thank you.
I'm glad I went with Montlick & associates. Thanks for the help and dedication. I finally got compensated for an auto wreck, and it was needed.
SEE IF YOU QUALIFY
Do you have a case?
Make the Right Call

Billions of dollars won, countless lives changed
Experienced in law
With multiple parties involved, the path forward for Uber and Lyft accident victims isn't always clear. You need a confident and compassionate attorney who knows the ins-and-outs.
Compassionate in practice
We know how overwhelming the aftermath of a car crash can be. That's why our attorneys always treat our clients with compassion and respect. Ever wished you had a lawyer in the family? Now you do.
Who Could I Recover Compensation From?
Your personal insurance coverage
Uber, Lyft, or other ridesharing service's insurance
The rideshare driver's personal insurance
Insurance held by any other motorists involved in the crash
Uber & Lyft Crash Injury Attorneys
The Answer to Your Accident 
Rideshare services have become a necessity for many in daily life. Uber, Lyft and other similar services provide convenience for users and income opportunities for drivers. Similarly-structured startups such as Grubhub, Uber Eats, Doordash, and Favor have also expanded into other sectors of the gig economy, such as food or package delivery services, and even helicopter services in major cities.
While ridesharing has its benefits, the rideshare accident claims process isn't one of them. Because multiple parties are involved in these accidents (the rideshare driver, the rideshare company, and the passenger/s and more), when accidents or assaults happen in these circumstances, the way forward for those hurt is not always clear.
Whether you were the driver, a passenger, or just another car on the road, we can take care of the insurance and legal battles for you, so you can focus on healing.
Don't leave your financial future up to chance.
Personal Injury Lawyers For Uber & Lyft Crash Victims
Rideshare Driver Accident Claims
If you are a driver for Uber, Lyft, Doordash, Uber Eats, GrubHub or another similar app-based delivery service and you have been harmed in an auto accident that was not your fault, you have legal rights. Call a Montlick lawyer today to protect those rights. The following are a few of the types of personal injury cases we handle:
Accidents Caused By Other Drivers
Assault and Battery Claims
Police Chase Accidents
Rear-end Collisions
Red Light Runner Accidents
Rollover Accidents
Sexual Assaults
Truck Accidents
Wrongful Death
Rideshare Passenger Accident Claims
If you or a loved one were injured while riding in a rideshare vehicle, or injured in an accident involving a rideshare vehicle, you or your family could be entitled to recover substantial monetary compensation. Time is limited by law to file your claim. Our law firm handles the following types of personal injury and wrongful death lawsuits:
Auto Accidents & Collisions
Assault and Battery Claims
Drop-off Accidents
False Imprisonment
Kidnapping
Pedestrian Collisions
Police Chase Accidents
Rear-end Collisions
Red Light Runner Accidents
Rollover Accidents
Sexual Assaults
Truck Accidents
Wrongful Death
Do Pedestrians Injured by an Uber, Lyft or Similar Service Have a Case?
Even those who have been injured by a rideshare driver who were not customers at the time of the incident could still have a claim. If you or a family member have been injured or if you tragically lost a loved one in a pedestrian traffic accident caused by a negligent rideshare driver, you may be able to recover substantial economic compensation. Our national plaintiff's law firm represents injury victims and families who lost loved ones in the following circumstances:
Bicycle/Cycling Accidents Caused by Rideshare Drivers
Hit By an Uber or Lyft Driver While Walking or Running
Wrongful Death
Driver Injuries and Workers' Compensation Claims
Rideshare drivers who are injured while working for a rideshare company may find that they are denied workers' compensation benefits since rideshare companies generally classify their drivers as independent contractors.
Private insurance companies are becoming more reluctant to honor injury claims arising from rideshare drivers since their motor vehicles are used for commercial purposes and are not declared on the accident insurance policy. This can leave injured drivers, passengers, and pedestrians without any insurance coverage while driving for or using a ridesharing service.
Workers' compensation, rideshare and insurance law is complex. If you are a rideshare driver who has been injured in an accident, call Montlick today for your free consultation and speak to a qualified attorney who can advise you on your situation.
Contact Montlick Now
If you or a loved one have been harmed in an accident or a vicious assault, gather evidence at the scene, obtain medical attention, and then contact us for your Free Consultation.
Contact
How Does Rideshare Insurance Work?
Another serious concern with rideshare services is that the companies often do not provide insurance coverage for their drivers. Additionally, private insurance companies can often avoid paying accident injury claims when their policyholder fails to disclose that their private vehicle is being used as a rideshare or delivery service.
While rideshare drivers should purchase the appropriate business auto insurance coverage, most drivers fail to purchase this type of coverage, putting themselves and their passengers at risk. Insurance coverage issues pose severe legal and financial hardships when victims are injured or killed in rideshare accidents, and there is no insurance coverage to pay claims.
If you or a loved one has been harmed in a rideshare accident, our experienced personal injury attorneys can help. We fight hard to get the maximum financial recovery for our rideshare accident clients.
The Complexity of Rideshare Laws
Uber is the largest and fastest growing rideshare company in the country. This rideshare program allows users to download an app and order a driver "on demand." Rideshare passengers can choose the type of vehicle and review a driver's rating prior to accepting the ride. Rideshare drivers use their own private vehicles to pick up riders. While ridesharing services provide an alternative to taxicab services and public transportation, they present new legal issues, including workers' compensation issues, insurance gaps, and low insurance coverage limits. Some passengers involved in accidents while riding in rideshare vehicles may find themselves at risk of not being sufficiently compensated for their injuries and damages.
In one important wrongful death case, an Uber driver struck three pedestrians, tragically killing a six-year-old girl. Uber stated that it was not responsible for the fatal accident since the Uber driver was not transporting a passenger at the time of the collision, even though the driver was using the Uber app at the time of the accident and was waiting to be dispatched to a job. The victim's family filed a wrongful death lawsuit claiming Uber ignored the driver's prior conviction for reckless driving.
This ridesharing accident case illustrates the troubling legal issues concerning rideshare company liability and insurance coverage issues. Moreover, many rideshare apps terms of service require passengers to agree that they will not file a lawsuit against the rideshare company in the event of a crash during the ride. In another Uber accident, the passenger who sought compensation for medical expenses from Uber discovered that coverage was denied because the rider agreed not to file suit against Uber, and the driver was the sole party responsible.
What to Do After a Rideshare Accident
If you or a loved one have been harmed in an accident or assault that involved a rideshare app or driver, gather evidence at the scene, obtain medical attention, and then contact us for your free consultation at 1-800-LAW-NEED.
When you or a loved one have been harmed in a traffic collision or assault, it is important to follow these steps. In some circumstances, a victim may not be able to follow these action steps due to their medical condition. The most important action auto accident victims should take is to seek medical attention immediately after an accident to treat and document their injuries.
The following steps may help you protect your valuable and important legal rights:
Remain calm. One of the first things you must do after an accident is to remain calm.
Check yourself and all of your passengers for injuries. Check yourself and everyone in your vehicle for serious or life-threatening injuries. All injured people should remain in the vehicle until emergency services arrive. A significant number of injuries caused by auto accidents are not immediately noticeable. For example, many accident victims sustain head injuries that leave them feeling that they have a headache. However, a headache could mean there is a more serious injury. A lot of pain is masked due to adrenalin and the initial shock that follows a motor vehicle accident. For this reason, it is a good idea to either ride in an ambulance or ride in a private vehicle (if the injuries are non-life threatening) to the closest emergency room.
Call 911. It is important to call 911 as soon as possible. It is necessary to have law enforcement and emergency medical services at the crash scene to assist the injured and for law enforcement officials to open an accident report. If you are a rideshare passenger, it is critical for you to be listed in the accident report.
Photograph the scene. Taking as many pictures of the accident scene as possible is crucial, including photos of the skid marks and the surrounding area of the road or intersection. Only take photos when able to do so safely.
Exchange contact information with all drivers involved in the crash. Following an accident, you need to obtain the other driver's name, address, telephone, insurance carrier, and insurance policy number. Collect the contact information from all passengers and witnesses.
Find all eyewitnesses. Next, find all eyewitnesses and collect their full names, addresses, telephone numbers, license plate numbers, and email addresses.
Never apologize or admit fault for causing the accident. It is crucial that you do not apologize for the accident, as this could be seen as an admission of guilt.
Contact Montlick. Call us to discuss your case and to help you collect the necessary evidence.
Call your auto insurance company. After an accident, it is required that you contact both your auto accident insurance company and the at-fault driver's insurance company. This call should be conducted with your attorney present. Provide your auto accident insurance company with the name, address, insurance policy, and telephone number of the other drivers involved.
Our Results
Our Accident & Injury Case Results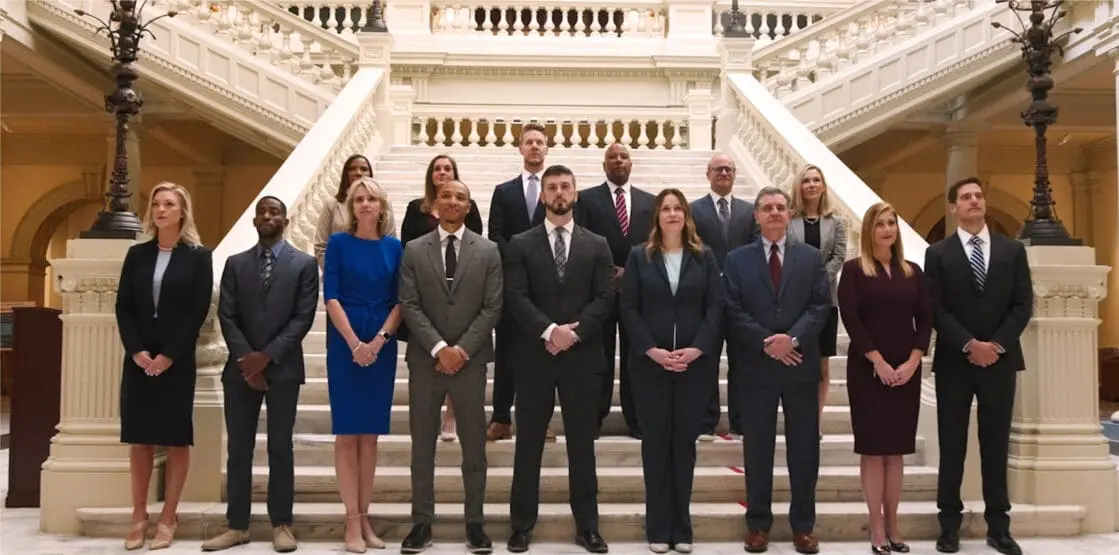 Because we can't stop accidents from happening, we do what we can to help minimize their long-term impact. We put more money in your pocket, where it belongs.