Traumatic Amputation Lawsuit Lawyers in Atlanta, Georgia
---
Traumatic Amputation Lawsuit Lawyers in Atlanta, Georgia
Call The Powerhouse Firm That Puts You First!

TM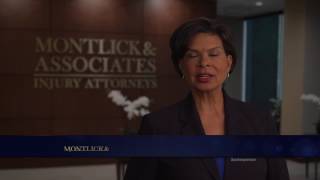 Get the Answers & Money You Deserve After an Amputation
If you are looking for a top-rated, compassionate and trustworthy Atlanta amputation lawyer, you're in the right place.
Do Not Delay Seeking a Lawyer for Your Traumatic Amputation Claim
A traumatic amputation is the loss of a body part as a result of an accident or injury. If you or someone you love has experienced a traumatic amputation, you know the devastating toll this type of injury can have on an individual and their family. The loss of a body part not only requires significant and often ongoing medical care, but also affects the financial and emotional well-being of the victim. While no amount of money can compensate you for the hardship caused by a traumatic amputation, Montlick Injury Attorneys can help you get the financial compensation you deserve in order to accommodate your new and possibly lifelong medical bills, the costs of adapting your home or vehicle, loss of income, and pain and suffering.
Our compassionate and dedicated Montlick Injury Attorneys have fought by the sides of clients suffering from traumatic amputations, and we can fight for you too. We can navigate the complex legal and insurance matters on your behalf so you can focus on healing. Time constraints, confusing and often unfair tactics by insurance companies, and the risk of missing important legal time deadlines place an enormous burden on you after such a life-altering event.
Our Atlanta Traumatic Amputation Lawyers can handle all of these matters and more for you, so you can focus on getting well.
Just some of the complicated legal and policy time constraints you face when filing a traumatic amputation claim include:
Statute of limitations: The amount of time you have after the injury-causing accident or incident occurs to bring a claim. This is a legal time limit; once it is has passed, you will no longer be able to pursue your claim.
Policy notification deadlines: Some insurance policies contain important financial benefits, however if a notification deadline is missed, you could miss out on this compensation.
Preserving evidence: The passage of time allows for witness to go missing or forget what they saw, or for evidence to be lost or destroyed, unintentionally or intentionally.
A Montlick Traumatic Amputation Attorney will carefully investigate your case, make sure all deadlines and legal timelines are met, look for alternative sources of recovery that may not immediately be a apparent- including additional parties and additional sources of insurance, preserve all evidence, analyze the facts of your case in light of all applicable caselaw and statutes. We will also develop a strategy to present your case in the most persuasive and favorable manner, and deal with the insurance companies on your behalf to ensure you get the maximum compensation available to you.
You shouldn't not try to manage this alone. Montlick & Associates can help. Our Atlanta Traumatic Amputation Lawyers are experienced, compassionate, professional advocates for your best interests.
If you're unsure where to go from here and want to find out if you are entitled to financial compensation, our knowledgeable and dedicated team of lawyers is ready to advise you on your case. Unlike the other firms, on your very first call with Montlick you will speak to a personal injury attorney who can advise you on your legal rights and the steps necessary to protect those rights.
Call Us Today for Your Free Consultation
If you or someone you love has sustained a traumatic amputation injury, call us today for your free consultation at 1-800-LAW-NEED (1-800-529-6333). You can also use our 24/7 Live Online Chat or our Free Case Evaluation Form at www.Montlick.com.
We have been fighting for people injured in Atlanta, around Georgia and throughout the United States for 38 years. You will consult with one of our compassionate, knowledgeable lawyers on your first call, completely free. It won't cost you anything to see if we can help. No matter where you are located in Georgia, or even nationwide, we are just a phone call away, and we will even come to you.
Do I Really Need a Lawyer?
Insurance Industry Studies have shown that a majority (85%) of personal injury claim payouts from insurance companies went to victims represented by a lawyer. Personal injury victims with legal representation received on average 300% more financial compensation than those without lawyers on their side.
Insurance companies value their profits. A primary goal of the insurers is to delay, minimize, or even deny your claim in order to increase those profits. Insurance adjusters are sometimes trained to use confusing tactics to withhold as much money from your payout as possible.
For the average person who does not deal with insurance companies every day, the claims process can be a minefield of possible errors that will result in a lower payout than you deserve for your traumatic amputation. From recorded statements to lowball settlement offers, injured people should not have to take on these massive companies without a knowledgeable and experienced legal advocate in their corner.
Our personal injury attorneys have the training and experience to navigate the complicated insurance claims process and get you the maximum compensation you deserve. We work for you, and we have only your best interest in mind. You should focus on your health and healing. We'll do the rest.
Why Montlick Injury Attorneys?
At Montlick we do things a little differently than many other personal injury law firms.
We live our values. Our firm was founded 38 years ago on the principles of integrity, respect, and unquestionable ethics, and we are proud to continue upholding those values today. Our experienced attorneys are here to serve you, and will treat you with the kindness, compassion, and commitment you deserve.
We have the Highest Rating attainable for Professional Excellence and Skills. The gold standard in attorney ratings for over 150 years, Martindale – Hubbell has rated Montlick injury attorneys AV Preeminent, which is only given to an elite group of law firms who are recognized for retaining the highest level of professional excellence, ethics, skills and integrity.
We work hard to maximize the value of your case.
With Billions of Dollars recovered for our clients, We Know What it Takes to Win® injury cases. A primary goal of insurance companies is to pay you the least amount possible or deny your claim altogether. Our attorneys know the values of our clients' claims and work hard to maximize the compensation to which they are entitled under state law. We also assist our clients in navigating the claims process and advise them on how to counter common insurance company tactics.
We are a client-driven firm. We treat our clients like family. Since 1984 we have dedicated ourselves to providing exceptional service to every single client. Your well-being is our top priority. We handle the complex legal and insurance matters so you can focus on healing. We stay in touch with you on a regular basis, promptly return phone calls, and keep you fully informed of all important developments.
We only practice Personal Injury law. We believe that our lawyers can do the finest job possible by focusing their practice to one area of the law. We only represent injured people, never insurance companies or corporations.
Our experienced attorneys have seen the impact of complex medical obstacles, such as traumatic amputations, on our clients' physical, emotional and financial well-being. We know that this is a difficult time for any individual and family, and we are here to help.
Get the Help You Need Today
Call us 24 hours a day, 7 days a week at 1-800-LAW-NEED (1-800-529-6333) for your free consultation, or contact us using our free online chat or by filling out our free case evaluation form here. No matter where you are located in Atlanta, Georgia or anywhere in the United States, we are just a phone call away.
Primary Causes of Traumatic Amputations
Although certain illnesses such as vascular disease, diabetes and cancer can justify the need for a surgical amputation, over 130,000 new traumatic amputation-related accidents occur each year in the United States. These amputations are often due to another's negligence, stemming from accidents such as:
Construction site accidents
Bicycle accidents
Traumatic Amputations Explained
There are two types of traumatic amputations – partial and complete. A partial amputation refers to a situation in which a limb, while gravely injured, is still connected to the body via tissue, bone or muscle. Conversely, a complete amputation is where the limb is completely severed from the body. Traumatic amputations are further classified by the way they occurred:
Crush amputation occurs when a limb is literally crushed, which can lead to injury to the connective tissues and muscles extending far from the actual amputation site. Such injuries most typically arise in vehicular accidents where a limb is pinned and crushed as a result of the impact.
Guillotine amputation arises from a clean cut to a limb, resulting in either a partial or complete severing of the body part. Oftentimes, this type of injury occurs while on the job, primarily from sharp machinery.
Avulsion amputation occurs when a body part is stretched or torn from the tissue resulting in serious damage to bone, nerves, muscles and blood vessels.
The Montlick Promise to You
At Montlick & Associates, we pride ourselves on delivering exceptional, trustworthy and compassionate legal services to our clients. Since 1984, we have operated with unquestionable ethics and a record of success. We take our role as your advocate seriously, which is why we make these promises to our clients:
We will treat your case as if it were our own. Our attorneys will treat you and your loved ones with the same care, compassion and dedication that we would if it were our own case.
We will protect you from powerful insurance companies. Insurance companies do not have your best interest at heart. Ultimately, insurers are for-profit entities, always thinking about their bottom line. We will protect you from confusing, unfair tactics so that you can recover the maximum compensation under the law.
We will analyze your case at no cost to you. Unlike other law firms, at Montlick you will talk to an attorney at no charge onyour first call. You can contact us 24 hours a day, 7 days a week at 1-800-LAW-NEED, or fill our free case evaluation form or 24/7 online chat, right here on our website. A free consultation with one of our experienced personal injury lawyers will start your case off on the right foot and ensure your legal rights are protected.
We will give your case the personal attention it deserves. Our attorneys and staff will always keep you updated on major developments in your case. We will return phone calls promptly and answer your questions thoroughly, making sure that you are in-the-know on where your case stands.
We will always treat you with dignity and respect. Our firm was founded on the core principles of integrity, compassion, and unquestionable ethics. For 38 years we have lived those values. We will always treat you with kindness and the dignity and respect you and your family deserve.
If you or a loved one has sustained a traumatic amputation due to someone else's negligence, the attorneys at Montlick & Associates are here to help. We have recovered billions of dollars for our clients, and we are ready to assist you, too. *
*Dollars recovered are cumulative and not indicative of individual case results. Each case is unique. Results depend on the facts and applicable law.
Please Note:
All information provided about the law is very general in nature and should not be relied upon as legal advice. Every situation is different and should be analyzed by a lawyer who can provide individualized advice based on the facts involved in your unique situation, and a consideration of all of the nuances of the statutes and case law that apply at the time.
*Dollars recovered are cumulative and not indicative of individual case results. Each case is unique. Results depend on the facts and applicable law.
--
Montlick & Associates, Attorneys at Law
17 Executive Park Dr NE
Atlanta, GA 30329
(404) 529-6333
(800) LAW-NEED
Hours: Open Today · Open 24 hours
Plus Code: RMH6+38 Atlanta, Georgia, USA
Directions