Pharmacy Malpractice Lawyers in Atlanta
---
We Serve Clients All Over Georgia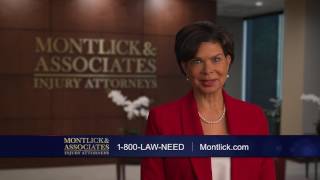 Protect Your Rights in Your Pharmacy Malpractice Case
Claims against a pharmacist or pharmacy are complicated and specialized in nature. That is why it is important to hire an attorney to tackle these complex legal issues, and to protect your interests. Montlick & Associates can help.
Here is some background information on the scope of the pharmacy malpractice problem: Nearly 2.5 billion prescriptions were dispensed by pharmacies in the United States in 1998. By way of example, in the State of Massachusetts alone, 2.4 million prescriptions are filled improperly each year. Statistics on annual deaths due to medication errors vary anywhere from 44,000 to 98,000 deaths per year. Many factors can cause errors in prescribing medications: unrealistic workloads, too many distractions from ringing telephones and customers, poor penmanship by physicians and inadequate technician assistance. Another major issue is that of drugs with similar names and packaging.
A study of 500 pharmacists done by The Pharmacists Mutual Insurance Company showed that 52% of errors were due to the wrong drug being dispensed, 27% were from the wrong strength being dispensed and 7.4% were due to wrong directions being given. A review of data by the General Counsel for The Pharmacists Mutual Insurance Company even found that "eight percent of all errors that reached the patient were filled exactly correctly. The information was put into the computer correctly. The correct drug was selected in the correct strength. The label was right and it was placed in the correct bottle. There should have been no problem, yet in eight percent of all errors reaching the patient, almost everything was wrong. After doing everything right, the prescription was placed into the wrong bag."
A pharmacist who officially fills a prescription may be responsible for incorrectly filling a prescription that causes injury or death because he or she breached the standard of care. Also any technical or clerical co-workers of the pharmacist who failed to act in accordance with proper procedures can be potentially liable.
The employing pharmacy can be held liable for the harm caused by the employee in the course and scope of employment. Some states also require pharmacists to counsel with drugstore customers about their prescriptions and its side effects. Sometimes this is not done or is done improperly. A pharmacist can be liable for recommending an improper drug to a customer, which caused harm to that customer. Also, a pharmacist has an obligation to detect a combination of drugs that would likely harm a patient. A pharmacist can also be required to recognize when a physician has written a prescription that, on its face, would be outside the normal dosages recommended by the manufacturer.
ABC/Auburn University Study:
In early 2007, an investigative team from ABC's 20/20, with the help of a test designed by Auburn University, conducted undercover field tests of prescription drugs dispensed at America's largest chain pharmacies in four states. The results were, unfortunately, similar to an ABC/Auburn University study twelve years prior – mistakes were made on 22 percent of the prescriptions filled by chain pharmacies despite technological safeguards being in place. The problems were not that the wrong medications were being given to the patients, but rather numerous dispensing errors. These ranged from inaccurate or missing instructions on drug labels to selling the wrong number of pills. It also evidenced how little time pharmacists spent with patients to counsel them about their new prescriptions. Despite federal and state laws that require pharmacists to provide counseling to customers picking up new medications, patient counseling was only offered in 27 out of 100 purchases of new prescriptions, less than a third, in the ABC-Auburn Study.
The Auburn experts were particularly concerned about the chain pharmacies' failure to warn patients of potentially harmful interactions when they purchased certain over-the-counter medications, such as adult strength aspirin with Coumadin, a blood thinner. Verbal warnings were given in only eight cases out of 25.
Finally, some pharmacies appeared to be misleading customers into signing away their right to patient counseling based on the study's findings. The ABC producers paid with cash and no insurance was involved, yet in most cases they were still asked to sign at the pharmacy counter to pick up their prescriptions. With few exceptions, however, they were never told they were signing forms that also included language to waive the legal right to counseling with a pharmacist.
Emergency Room Visits Due to Adverse Drug Events:
A corollary to pharmacy errors may be the study that tracked adverse drug events reported at 63 U.S. hospitals between 2004 and 2005. During the study period, the hospitals reported nearly 21,300 emergency department visits. If this data is applied to the United States as a whole, more than 700,000 people, especially those 65 or older, are seen in emergency rooms each year as a result of adverse drug reactions. Seniors in particular were vulnerable – they were seven times more likely than younger patients to be admitted to a hospital for this reason while more than twice as likely to be treated in the emergency room. Most patients were treated and released quickly, but roughly 117,000 patients per year required hospitalization for adverse drug events. Many of those cases stemmed from drugs that require monitoring to avoid toxic build-up.
Adverse effects included allergic reactions, side effects, accidental overdoses, or secondary effects such as falls or choking. It is not a hard leap to see that some portion of these emergency room visits are due to pharmacy error.
What You Can Do:
The number of pharmaceutical errors can be reduced by patients. Some suggestions include:
reading a prescription before leaving the doctor's office and making sure the writing is clear
having the doctor tell the patient verbally the drug and dosage schedule and compare that with what is written on the prescription form,
asking the pharmacist to read the prescription aloud to the patient before filling the prescription,
read the label on the prescription once it is filled to make sure it reflects what the patient understood it to be,
ask the pharmacist to open the prescription container and confirm the medication inside is the kind and correct dosage of medication that the patient was to receive.
seek counseling from the pharmacist for any new medication and clarify any potential interactions with other drugs, herbs and the like
if you are given your prescription by a pharmacy technician – who can be a teenager in some stores – ensure that the pharmacist has reviewed the prescription and dispensing of the drug.
If you or someone you love thinks that they may have been the victim of pharmacy malpractice, call Montlick & Associates today for your Free Consultation.
---