Medical Malpractice Injury Attorneys, Nationwide
Aggressive Advocates, Empathetic Support
A medical professional causing you injury through their negligence or reckless care is a life-altering experience. 
When the trust you've given a doctor, nurse, or other medical professional is broken, nothing can ever truly make it right. However, you may be able to collect the compensation to help with your medical bills and other financial needs.
Our compassionate and dedicated attorneys have fought for countless clients suffering from injuries caused by medical malpractice. We know the emotional, financial and physical toll it takes on individuals and families. The fight for the money you deserve is one burden we can ease during this difficult time. Let us handle your complex case for you so you can focus on healing.
Common Nationwide Medical Malpractice Claims and Suites
SEE IF YOU QUALIFY
Do you have a case?
Billions of Dollars Won

SEE IF YOU QUALIFY
Do you have a case?

Real Help Begins Here®
Reputation Counts.
For nearly 39 years, our firm has recovered billions for our clients in all types of personal injury cases. We've represented and won cases for all kinds of medical malpractice clients, no matter the complexity. We'll fight just as hard for you as we have for them.
And We've Earned Ours.
When we take your case, you can be sure that your attorney will work hard for you, not the other way around. That's why medical malpractice victims choose Montlick time and time again to handle their legal and insurance fights.
Montlick is Your Advocate When: 
A failure to diagnose costs your loved one their life
A defective medical device steals your independence
A life-altering birth injury changes your child's future
A pharmaceutical error causes irreparable damage
Medical Malpractice Attorneys
What Medical Malpractice Looks Like
According to an article published by Washington Post, medical errors are the third leading cause of death in the United States. Most of those errors are preventable.
Common Forms of Malpractice
Despite their training and education, healthcare professionals sometimes fail to comply with accepted medical standards or deviate from the standard of care that should have been followed. Such behaviors may be occur with anesthesia errors, failure to warn of known risks, failure to diagnose a patient correctly or in a timely manner, delayed treatment, and more, including:
Failure to provide correct medical treatment
General medical malpractice
Medical device injuries
Medical omissions
Medication errors
Misdiagnosis
Mismanaged treatment
Pharmacy malpractice
Treatment without proper medical license
Surgical errors & omissions
Nationwide Medical Malpractice Legal Help
Understanding The Value Of Your Case
Medical Malpractice Cases are Complex
Hiring Montlick at the outset of your case makes all the difference in navigating your medical malpractice claim successfully.
Get Started
A medical malpractice case involves many factors including a complexity of evidence, high burden of proof, and the fact that the majority of medical malpractice cases result in filing a lawsuit and going to trial. While that might sound overwhelming, we promise your Montlick attorney will take charge of the process and be with you every step of the way. 
An injury caused by a medical provider could be eligible for financial compensation. Your Montlick attorney may be able to pursue the cost of medical bills (past and future), and any pain and suffering you have endured. Additional damages may include:
Lost wages
Diminished earning potential
Loss of consortium
Diminished enjoyment of life experiences
Emotional distress, anxiety, shock and worry
Punitive damages
Wrongful Death Cases
If you or a loved one has been the victim of medical malpractice, contact us today to discuss your case.
Call Montlick
When Medical Malpractice Causes Death
In the case of death caused by a medical professionals negligence, the family may be able to pursue a wrongful death claim. Damages in this instance may include:
Victim's "value of life"
Loss of companionship
Value of support and services
Punitive damages
Burial and funeral expenses
Medical expenses incurred
Victims pain and suffering
We know terms like the "value of a life" can feel extremely cold after you lose someone. However, these are the terms the courts and the insurance companies will use throughout your claim.
In fact, part of our job is to humanize you and your loved one to the companies making these decisions. We want them to see the fullest picture of your loved one's life and to understand the gravity of your loss.
Your Questions Answered
Medical Malpractice FAQs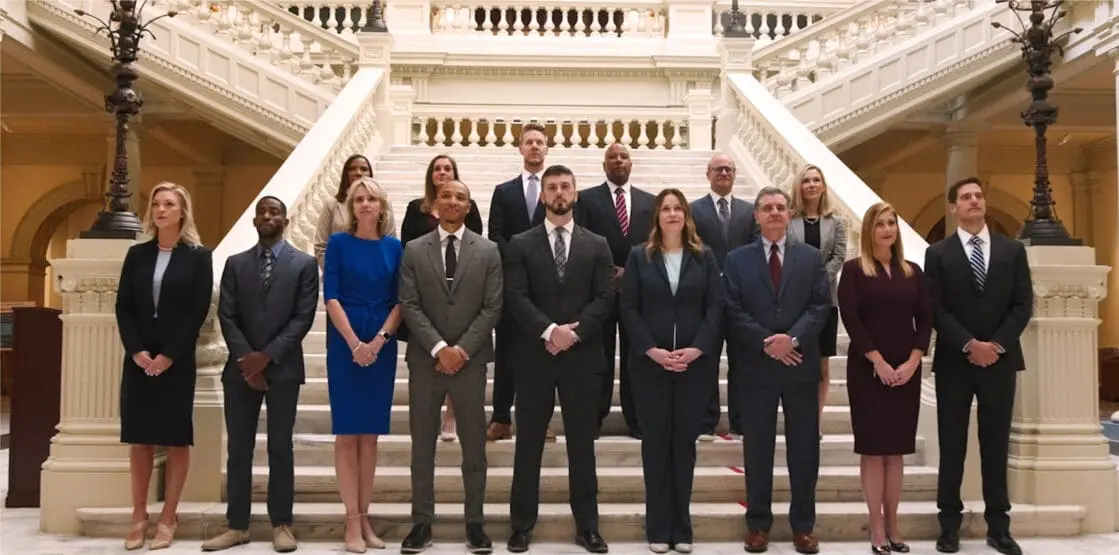 Because we can't stop accidents from happening, we do what we can to help minimize their long-term impact. We put more money in your pocket, where it belongs.