Nursing Home Abuse & Neglect Attorney
---
Montlick & Associates: Serving Victims of Abuse & Neglect Nationwide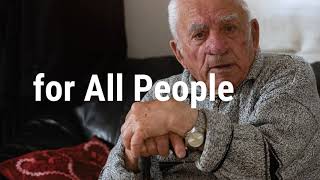 Nursing Home Abuse? We Can Help.
In 2001, the House Committee on Government Reform found almost 9,000 instances of nursing home resident abuse over a 2 year period. In another study, 40 percent of nursing home workers surveyed admitted committing at least one abusive act in the past year and 10 percent admitted committing a physically abusive act. Often abuse is a means of gaining control of the residents, particularly for an overworked staff who may tie down residents or physically threaten them to gain control. About 1.5 million elderly and disabled people live in almost 17,000 nursing homes in the United States. It appears that federal and state systems to enforce and hold nursing homes accountable for abuse are ineffective. Studies done by The U.S. General Accounting Office (GAO) in 2002, found that nurse aid registries, which are supposed to include lists with aides accused of neglecting or abusing residents, are not current. Additionally, the GAO found that law enforcement authorities are seldom involved in nursing home abuse cases and that many state policies hinder referring allegations to investigative agencies.
There are several types of nursing home abuse including: physical abuse, sexual abuse, financial abuse, emotional abuse and general neglect. A shortage of staff, inadequate training, low wages and ignorance of past criminal records of employees are all reasons that nursing home abuse occurs. Often residents cannot communicate to their family and friends that they are being abused.
Some signs of nursing home neglect or abuse include: failure to take appropriate measures to prevent infections diseases such as coronavirus (COVID-19), dehydration, bed sores, inadequate clothing, malnutrition and weight loss, persistent odor of urine or feces, medical conditions left untreated, failure to provide devices such as eyeglasses, dentures or hearing aides, frequent urinary tract infections, attempts by the caregiver to cover up injuries with clothing or bed linens, a delay between the incident causing the injury and notification of a doctor, frequent falls, and inadequate restraints for the level of confusion and activity of the resident. Other clues can be a sudden change in a resident's behavior, or that the resident is socially isolated from others.
Be alert to comments by the caregiver that blame the resident for acts such as incontinence, or refer to the resident as a burden. Conflicting stories from the resident and the caregiver and safety hazards within the living environment (i.e. inadequate staff supervision) can also be indicative of a problem.
Get the Compensation You Deserve. Contact Us Today for Your Free Consultation.
Montlick and Associates, Attorneys has the knowledge and experience you need. Montlick and Associates, Attorneys will work hard to protect your interests and fight hard to get you the compensation you deserve.
No matter where you are located, our attorneys are just a phone call away, and we will even come to you. Call us 24 hours a day/7 days a week for your Free Consultation at 1-800-LAW-NEED (1-800-529-6333). You can also visit us online at www.montlick.com and use our Free Case Evaluation Form or 24-hour Live Online Chat.
*Dollars recovered are cumulative and not indicative of individual case results. Each case is unique. Results depend on the facts and applicable law.
---