Dog Bite Attorneys in Atlanta, Georgia
---
Montlick & Associates– Serving Dog Attack Victims Nationwide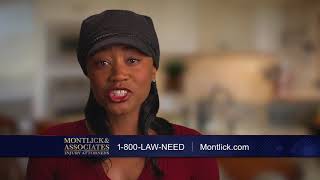 Dog Bite Injury? Get the Compensation & Help You Deserve
Animal bites are a serious public health hazard that cause a great deal of physical and emotional damage to victims and many hidden costs to communities. Animal bites can cause disfigurement, infection, permanent disability and may even be life-threatening.
A study by The American Veterinary Medical Association showed that approximately 4.5 million people are bitten each year by dogs. The same study also found that 334,000 people are admitted to emergency rooms each year due to dog bite-related injuries and another 466,000 are seen in other medical settings. Almost half of the dog bite victims are children under the age of 12. Ten per cent of those bitten and 20% of those killed are people over the age of 70. The Center for Disease Control found that in 1997-1998, 27 people died from dog bites, and that 19 of them were children under 15 years of age.
Costs from dog bite injuries are high. It is estimated that 1 billion dollars per year of homeowners' liability claims result from dog bites. It is also estimated that $102.4 million dollars in hospital expenses for dog bite-related emergency visits occur each year. In addition to these costs, there are lost wages, medical insurance claims, workers' compensation claims and sick leave-associated business costs.
Georgia's dog bite law is often referred to as the "one-bite" rule. In Georgia, the law provides that a dog owner will be liable for injuries and property damage caused by a dog if the attack was not provoked (Georgia law does not provide a statutory definition for "provocation") and any of the following also exist:
The dog was vicious or dangerous and the owner was negligent (guilty of "careless management"); or
The dog was vicious or dangerous and the owner let the dog run loose ("go at liberty").
In determining "careless management," Georgia courts place weight on the dog owner's superior knowledge of the dog's temperament and characteristics. A dog is considered to be "vicious or dangerous" if it had previously injured a person in a similar manner as the current victim. A dog may also be considered "vicious or dangerous" if the dog was required by law to be at heel, but was not, or if the dog was required by law to be on a leash, but was not. This law also applies to all animals in Georgia, but creates an exemption for the bites of domesticated fowl and livestock.
An animal bite victim can help protect his or her rights by taking certain steps. It is important to remember to get medical attention right away, obtain the name and address of the owner of the dog as well as the dog's license information, find out if a report has been filed with animal control or another law enforcement agency, take the name, phone number and address of any potential witnesses, take pictures of the injuries (bruises, cuts, scrapes, stitches or scars), find out the location where the incident took place and the condition of the clothing in the area bitten. If an animal attacks, the owner is responsible for keeping the animal away from people and other pets.
Due to the complexities of the law involving animal bites, it is important for animal bite victims to hire an attorney who can tackle the complex legal issues and protect the victim's rights.
Billions Recovered for Our Injured Clients Since 1984.* Contact Us Today for Your Free Consultation.
Montlick and Associates, Attorneys has the knowledge and experience you need. We have an experienced qualified staff that is ready to fight for your rights. We tell our clients- we want you to concentrate on the important things: getting healthy and returning to your day-to-day life, while our attorneys take care of the complicated legal issues and deal with the insurance company. Montlick and Associates, Attorneys will work hard to protect your interests and get you the compensation you deserve.
No matter where you are located, our attorneys are just a phone call away, and we will even come to you. Call us 24 hours a day/7 days a week for your Free Consultation at 1-800-LAW-NEED (1-800-529-6333). You can also visit us online at www.montlick.com and use our Free Case Evaluation Form or 24-hour Live Online Chat.Related Articles
*Dollars recovered are cumulative and not indicative of individual case results. Each case is unique. Results depend on the facts and applicable law.
Trouble In The Air: Man's Best Friend Bites Fellow Passenger
One Child Killed, One Maimed While Walking To Bus Stop By Vicious Dogs