Nursing Home Abuse Attorneys in Atlanta, Georgia
---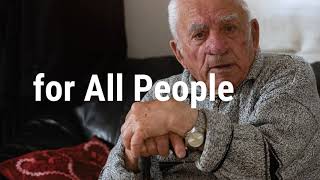 Nursing Home Abuse? We Can Help.
Montlick & Associates: Serving Victims of Abuse & Neglect Nationwide
If you are in need of a compassionate, experienced and trustworthy Atlanta nursing home abuse and neglect lawyer to fight for you or a loved one, you have come to the right law firm.
Why Loved Ones Choose Montlick Injury Attorneys for Legal Representation in Their Nursing Home Abuse Cases
The decision to entrust a loved one's daily care to a nursing home can be a difficult one to make, even in the best of circumstances. When the trust an individual and their family put into that caretaker is broken, the physical and emotional toll is even greater. Nursing homes in Atlanta as well as those throughout Georgia and nationwide are often drastically understaffed. When this understaffing is compounded by other cost containment measures, it can mean seniors are injured by negligent trip and fall accidents, sub-standard medical care, intentional physical and sexual abuse or chronic neglect.
We fight hard for the compensation you deserve
Our experienced attorneys know the immense physical and emotional toll a nursing home abuse or neglect situation takes on an individual and their family. At Montlick & Associates, our nursing home abuse & neglect attorneys are dedicated to holding nursing home staff and management accountable when they fail to fulfill their obligation to provide a clean, safe living environment for seniors.
We are Top-Rated by The Gold Standard in Attorney Ratings for Professional Excellence & Skill
Martindale-Hubbell, a trusted legal rating system for over 150 years, has given Montlick & Associates the highest peer review rating. Given only to an elite group of law firms, the AV Preeminent Rating recognizes the firm for the highest level of professional excellence, ethics, skills and integrity.
We have recovered Billions of Dollars for our clients*
Since 1984, Montlick & Associates has been fighting hard to recover the maximum compensation for each of our clients, and we have a billion-dollar track record to prove it.
We will provide you with exceptional service
We will treat you like family. We will always show you and your family the care, compassion, respect, and hard work and dedication you deserve. We will keep you informed of all important developments in your case and return your phone calls promptly. We are available to answer your questions and concerns. More and more families choose Montlick Injury Attorneys to help them when they need it most. Learn more about the reasons why here.
Do Not Delay Speaking to an Atlanta Nursing Home Abuse Attorney!
One of the best things you can do for your case is to speak with an attorney as soon as possible. Your case has multiple legal and non-legal time constraints that will affect your financial recovery. For example:
Statues of limitation: Strict time deadlines apply to all legal matters. This includes statutes of limitation (or, the amount of time you have to bring a claim after the abuse and neglect occurs)
Policy notification deadlines: Many insurance policies have important financial benefits, however these policies often have notification deadlines that must be met in order to claim this compensation.
Preserving evidence: Important evidence like medical records can be altered or disappear altogether. Additionally, witnesses can become hard to locate or their memories of the event could fade.
When our attorneys begin representing a family, we immediately take steps to preserve all evidence, identify all possible claims that can be brought, all insurance policies that may afford protection, and we take necessary action to ensure that all deadlines are met.
Get the legal help you need today with a no-obligation free consultation
If your loved one has been injured by nursing home abuse or neglect, contact our knowledgeable Atlanta nursing home abuse and neglect attorneys to learn how we can help. Call us for your free consultation at 1-800-LAW-NEED (1-800-529-6333). We are available 24 hours a day 7 days a week. You can also fill out a free Case Evaluation formor use our 24/7 live chat.
What Is Nursing Home Abuse?
Approximately 1.7 million people live in nursing homes or residential care facilities in the US. Seniors in nursing homes are particularly vulnerable to nursing home abuse and neglect because, according to a study on elder mistreatment in the US "most suffer from several chronic diseases that lead to limitations in physical and cognitive functioning and are dependent on others." Many of these care facilities are drastically understaffed, leading to a high patient-to-staff ratio, and therefore less personalized care. The Covid-19 pandemic has created an even more dire staffing shortage in many of these facilities.
The federal Health Care Financing Administration defines abuse and neglect as the following:
Abuse: the willful infliction of injury, unreasonable confinements, intimidation, or punishment with resulting physical harm, pain, or mental anguish.
Neglect: failure to provide goods and services necessary to avoid physical harm, mental anguish, or mental illness.
A study conducted by the Atlanta Long Term Ombudsman Program found that 44% of nursing home residents reported being abused by staff, and 48% reported being treated roughly. 38% of residents reported seeing another resident being abused.
Nursing home abuse and neglect can take many forms, including:
Physical abuse - Refers to illness, pain, injury, functional impairment, distress, or death as a result of the intentional use of physical force and includes acts such as hitting, kicking, pushing, slapping, and burning
Sexual abuse - Involves forced or unwanted sexual interaction of any kind. This may include unwanted sexual contact or penetration or non-contact acts such as sexual harassment.
Financial abuse - This is the illegal, unauthorized, or improper use of a resident's money, benefits, belongings, property, or assets for the benefit of someone other than the resident.
Emotional abuse - This encompasses both verbal and nonverbal behaviors that inflict anguish, mental pain, fear, or distress on a resident. For example: humiliation, disrespect, threats, harassment, and geographic or interpersonal isolation.
General Neglect - A failure to meet a residents basic needs such as water, food, shelter, clothing, hygiene, and essential medical care.
Failure to take appropriate measures to prevent infectious diseases (such as Coronavirus or Covid-19)
Medical conditions left untreated
Possible Signs of Nursing Home Abuse and Neglect
Often residents experiencing nursing home abuse cannot communicate to their family and friends that abuse is taking place. Some possible warning signs that abuse and/or neglect is taking place include:
Sudden changes in resident's behavior
Social isolation
Dehydration
Bed sores
Inadequate clothing
Malnutrition and weight loss
Persistent odor of urine or feces
Failure to provide assistive devices such as eyeglasses, dentures or hearing aids
Frequent urinary tract infections (UTI)
Attempt by caregiver to cover injuries with clothing or bed linens
Delay between an incident causing injury and notification of a doctor
Frequent falls
Inadequate restraints for level of confusion and activity of the resident
It is important for loved ones of a nursing home resident to be aware of the caregiver's language. Caregivers blaming residents for certain acts such as incontinence, or caregivers referring to residents as burdens are red flags. Conflicting stories from the resident and the caregiver, and safety hazards within the living environment (i.e. inadequate staff supervision) can also be indicative of a problem.
Our Promise to You
At Montlick & Associates, we pride ourselves on delivering exceptional, trustworthy and compassionate legal services to our clients. Since 1984, we have operated with unquestionable ethics and a record of success. We take our role as your advocate seriously, which is why we make these promises to our clients:
We will treat your case as if it were our own. Our Nursing Home Abuse Attorneys in Atlanta will treat you and your loved ones with the same care, compassion and dedication that we would if it were our own case.
We will protect you from powerful insurance companies. Insurance companies do not have your best interest at heart. Ultimately, insurers are for-profit entities, always thinking about their bottom line. We will protect you from confusing, unfair tactics so that you can recover the maximum compensation under the law.
We will analyze your case at no cost to you. Unlike other law firms, at Montlick you will talk to an attorney at no charge onyour first call. You can contact us 24 hours a day, 7 days a week at 1-800-LAW-NEED, or fill our free case evaluation form or 24/7 online chat, right here on our website. A free consultation with one of our experienced personal injury lawyers will start your case off on the right foot.
We will give your case the personal attention it deserves. Our attorneys and staff will always keep you updated on major developments in your case. We will return phone calls promptly and answer your questions thoroughly, making sure that you are in-the-know on where your case stands.
We will always treat you with dignity and respect. Our firm was founded on the core principles of integrity, compassion, and unquestionable ethics. For 39 years we have lived those values. We will always treat you with kindness and the dignity and respect you and your family deserve.
If you or a loved one has experienced nursing home abuse or neglect, the attorneys at Montlick & Associates are here to help. We have recovered billions of dollars for our clients, and we are ready to assist you, too. *
Get the Compensation You Deserve. Contact Us Today for Your Free Consultation.
Montlick & Associates has the knowledge and experience you need. We will work hard to protect your interests and fight hard to get you the compensation you deserve. No matter where you are located in the United States, our Nursing Home Abuse Attorneys in Atlanta, Georgia, are just a phone call away, and we will even come to you. Call us 24 hours a day, 7 days a week for your Free Consultation at 1-800-LAW-NEED (1-800-529-6333). You can also use our Free Case Evaluation Form or 24-hour Live Online Chat.
*Dollars recovered are cumulative and not indicative of individual case results. Each case is unique. Results depend on the facts and applicable law.
Please Note:
All information provided about the law is very general in nature and should not be relied upon as legal advice. Every situation is different, and should be analyzed by a lawyer who can provide individualized advice based on the facts involved in your unique situation, and a consideration of all of the nuances of the statutes and case law that apply at the time.
---
--
Montlick & Associates, Attorneys at Law
17 Executive Park Dr NE
Atlanta, GA 30329
(404) 529-6333
(800) LAW-NEED
Hours: Open Today · Open 24 hours
Plus Code: RMH6+38 Atlanta, Georgia, USA
Directions