Dog Bite Attorneys in Atlanta, Georgia
---
If you are looking for a top-rated, compassionate and trustworthy Atlanta dog attack lawyer, you're in the right place.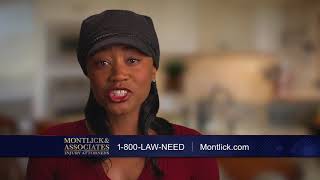 Dog Bite Injury? Get the Compensation & Help You Deserve
An animal attack or dog bite attack is a terrifying experience. In the moment, when an animal lunges at you with its teeth bared, you might feel as though you have no way out. The injuries from these attacks can range from minor scarring to severe, disfiguring wounds or disability. The emotional trauma can last a significant amount of time—even a lifetime. If you or someone you love has experienced a dog bite or other animal attack due to the negligence of an owner, Montlick Injury Attorneys are here to help.
At Montlick & Associates, we take dog bites and animal attacks seriously and are prepared to guide our clients through the complex legal and insurance matters you face, so you can focus on healing.
Here are just a few reasons why more and more people choose us to handle their dog bite case:
We fight for maximum compensation
Our experienced attorneys know the immense physical and financial toll a dog bite injury can take on an individual and their family. We are committed to exploring every recovery avenue possible under the law in order to get our clients the compensation they deserve.
You are our priority
Our attorneys and legal professionals make sure to keep our clients in the loop on your case. We will never make a major decision, such as settling your case or taking your case to trial, without your input- because those are yourdecisions to make. We value what our clients have to say about their own case, and we work for you.
Your case is our specialty
All attorneys at Montlick & Associates specialize in Personal Injury law. By focusing our practice on personal injury law only, we know the ins and outs of the claims process and personal injury legal system, so we can be the best advocates for our clients.
We received the highest rating for excellence in our field by Martindale-Hubbell
Martindale-Hubbell has been the gold standard for attorney ratings for over 150 years. These ratings, based on peer review, cannot be bought or manipulated. Montlick Injury Attorneys are part of an elite group that has received an AV Preeminent rating, in recognition of the highest levels of professional excellence, ethics, skills and integrity.
We have a track record for success with Billions of Dollars recovered for our clients
Since 1984, Montlick & Associates has been fighting hard to recover the maximum compensation for each of our clients, and we have a billion-dollar track record to prove it. *
If you have been injured or lost a family member to a dog bite attack, contact Montlick & Associates for your free consultation today. Our dedicated team of legal professionals is standing by in Atlanta, Georgia and nationwide. We are ready to listen to your experience and advise you of your legal rights. At Montlick & Associates, you will speak with an experienced personal injury attorney on your first call. Contact us nationwide 24/7 at 1-800-LAW-NEED (1-800-529-6333), or dial #WIN (946) from your cellphone. You can also use our Free 24-Hour Live Chat or Free Case Evaluation Form.
How a Montlick Lawyer Can Make a Difference in Your Case
We handle the insurance company for you
A primary goal of insurance companies is to minimize, delay, and deny your claim. Insurance companies often take advantage of the emotional and financial stresses following a dog bite injury in an effort to get individuals to settle for less than what they deserve under the law. We deal directly with the insurance companies so you don't have to. Our attorneys navigate the complex and often intentionally confusing insurance claim landscape so our clients can focus on healing.
Insurance companies know that you having legal representation is bad for their bottom line. An Insurance Research Council study found that: https://www.avvo.com/legal-guides/ugc/hiring-an-attorney-may-mean-a-larger-settlement
85% of personal injury claim payouts from insurance companies went to personal injury victims represented by legal counsel.
On average, personal injury victims with lawyers received 300% more financial compensation than those who did not retain legal representation.
Having experienced legal representation by your side in your dog bite case could significantly increase your chances of success and receiving the financial compensation you deserve.
Animal bites are a serious public health hazard that cause a great deal of physical and emotional damage to victims and many hidden costs to communities. Approximately 4.5 million people are bitten by dogs each year according to the American Veterinary Medical Association. These bites can cause disfigurement, infection, permanent disability and may even be life-threatening.
It is estimated that 1 billion dollars per year of homeowners' liability claims result from dog bites. It is also estimated that $102.4 million dollars in hospital expenses for dog bite-related emergency visits occur each year. Lost wages, medical insurance claims, workers' compensation claims and sick leave-associated business costs contribute to the huge overall cost of dog bites in the U.S.
Georgia Dog Bite Laws
Georgia's dog bite law is often referred to as the "one-bite" rule. In Georgia, the law provides that a dog owner will be liable for injuries and property damage caused by a dog if the attack was not provoked (Georgia law does not provide a statutory definition for "provocation") and any of the following also exist:
The dog was vicious or dangerous and the owner was negligent (guilty of "careless management" of the dog)
The dog was vicious or dangerous and the owner let the dog run loose
In determining "careless management," Georgia courts place weight on the dog owner's superior knowledge of the dog's temperament and characteristics. The court considers a dog "vicious or dangerous" if it had previously injured a person in a similar manner as the current victim. A dog may also be considered "vicious or dangerous" if the dog was required by law to be at heel, but was not, or if the dog was required by law to be on a leash but was not. This law applies to all animals in Georgia but creates an exemption for the bites of domesticated fowl and livestock.
An animal bite victim can help protect his or her rights by taking these steps:
Get medical attention right away
Write down the name, address, and license information of the dog's owner
Write down contact information for any potential witnesses
Take pictures of the injuries (bruises, cuts, scrapes, stitches or scars) and condition of the clothing where the bite occurred
Write down the location where the incident took place
Find out if a report has been filed with animal control or another law enforcement agency
If an animal has attacked, the owner is responsible for keeping the animal away from other people and pets.
Due to the complexities of the law involving animal bites, it is important for animal bite victims to consult a knowledgeable attorney who can tackle the complex legal issues and protect the victim's rights.
Our Promise to You
At Montlick & Associates, we pride ourselves on delivering exceptional, trustworthy and compassionate legal services to our clients. Since 1984, we have operated with unquestionable ethics and a record of success. We take our role as your advocate seriously, which is why we make these promises to our clients:
We will treat your case as if it were our own. Our attorneys will treat you and your loved ones with the same care, compassion and dedication that we would if it were our own case.
We will protect you from powerful insurance companies. Insurance companies do not have your best interest at heart. Ultimately, insurers are for-profit entities, always thinking about their bottom line. We will protect you from confusing, unfair tactics so that you can recover the maximum compensation under the law.
We will analyze your case at no cost to you. Unlike other law firms, at Montlick you will talk to an attorney at no charge on your first call. You can contact us 24 hours a day, 7 days a week at 1-800-LAW-NEED, or fill our free case evaluation form or 24/7 online chat, right here on our website. A free consultation with one of our experienced personal injury lawyers will start your case off on the right foot.
We will give your case the personal attention it deserves. Our attorneys and staff will always keep you updated on major developments in your case. We will return phone calls promptly and answer your questions thoroughly, making sure that you are in-the-know on where your case stands.
We will always treat you with dignity and respect. Our firm was founded on the core principles of integrity, compassion, and unquestionable ethics. For 39 years we have lived those values. We will always treat you with kindness and the dignity and respect you and your family deserve.
If you or a loved one has sustained a dog bite due to someone else's negligence, the attorneys at Montlick & Associates are here to help. We have recovered billions of dollars for our clients, and we are ready to assist you, too. *
Contact Us Today for Your Free Consultation
Montlick and Associates, Attorneys has the knowledge and experience you need. We have an experienced qualified staff that is ready to fight for your rights. We want you to concentrate on the important things: getting healthy and returning to your day-to-day life. Our Dog Bite Lawyers take care of the complicated legal issues and deal with the insurance company. Montlick & Associates will work hard to protect your interests and get you the compensation you deserve.
No matter where you are located, our Atlanta Dog Bite Attorneys are just a phone call away, and we will even come to you. Call us 24 hours a day, 7 days a week for your Free Consultation at 1-800-LAW-NEED (1-800-529-6333). You can also visit us online at www.montlick.com and use our Free Case Evaluation Form or 24-hour Live Online Chat.
*Dollars recovered are cumulative and not indicative of individual case results. Each case is unique. Results depend on the facts and applicable law.
Please Note:
All information provided about the law is very general in nature and should not be relied upon as legal advice. Every situation is different and should be analyzed by a lawyer who can provide individualized advice based on the facts involved in your unique situation, and a consideration of all of the nuances of the statutes and case law that apply at the time.
RELATED ARTICLES
Trouble In The Air: Man's Best Friend Bites Fellow Passenger
One Child Killed, One Maimed While Walking To Bus Stop By Vicious Dogs
Holding a Dog Owner Liable for a Dog Bite in Georgia
Atlanta Man is Victim of Dog Attack Just One Week After Young Child Was Killed
Children Are Vulnerable Dog Bite Victims
Are Some Dog Breeds More Dangerous Than Others?
Dog Bites Three-Year-Old in Face in LaFayette, Georgia
Dog Bites Can Result in Serious Complications
Unleashed Dog Attacks 11-Year Old Boy in Atlanta Park
--
Montlick & Associates, Attorneys at Law
17 Executive Park Dr NE
Atlanta, GA 30329
(404) 529-6333
(800) LAW-NEED
Hours: Open Today · Open 24 hours
Plus Code: RMH6+38 Atlanta, Georgia, USA
Directions