Car Accident Lawyers in Atlanta, Georgia
---
We Know What It Takes to Win

™

Auto Accident Cases in Atlanta, GA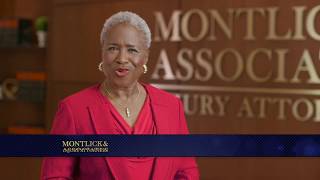 Car Accident Injury? "Montlick & Associates has earned my trust."
The car accident injury attorneys at Montlick & Associates are proud to provide top-rated legal services to our motor vehicle accident clients in Atlanta, throughout Georgia and Nationwide.
Our experienced Atlanta auto accident attorneys understand the emotional, physical, and financial impact of injuries caused by the negligence of others. We fight hard to get our clients the maximum available compensation for their claims.
For 38 years and with Billions of Dollars* recovered for our clients, our firm continues to operate according to our founding principles of integrity, compassion, and a commitment to justice for our clients.
If you or someone you love has been injured in a motor vehicle collision caused by someone else's negligence in Atlanta, anywhere in Georgia or the United States, call Montlick & Associates today for your Free Consultation. Contact us 24/7 at 1-800-LAW-NEED (1-800-529-6333), or by dialing #WIN (#946) from your cellphone. You can also visit us at Montlick.com and contact us through our Free Case Evaluation Form or Free 24-hour live chat.
Why People Choose Montlick & Associates:
The Powerhouse Firm that Puts You First!

™
We work tirelessly to maximize the value of your case.
A primary goal of insurance companies is to pay you the least amount possible or deny your claim altogether. Our attorneys know the values of our clients' claims and work hard to maximize the compensation to which they are entitled by Georgia law. We also assist our clients in navigating the claims process and advise them on how to counter common insurance company tactics.
We are a client-driven firm.
Since 1984 we have been dedicated to our goal of providing exceptional service to each and every client. We stay in touch with our clients on a regular basis, promptly return phone calls, and keep them fully informed of all-important developments.
Our expertise is personal injury law.
We believe that our lawyers can do the finest job possible by focusing and limiting their practice to one area of the law. We only represent injured people, never insurance companies or corporations.
Our Experience Pays!™
Since 1984, Montlick has recovered billions of dollars* for our clients. We believe in fighting hard for our clients so injured people and their families get the financial compensation their cases deserve.
If you or a member of your family has been injured in a motor vehicle accident caused by someone else's negligence, call Montlick & Associates, Attorneys at Law, today for your free consultation. You will speak to an attorney on your first call, who will explain your legal rights and advise you about the critical steps necessary to protect those rights. Contact us nationwide 24/7 at 1-800-LAW-NEED (1-800-529-6333), dial #WIN (946) from your cellphone, or visit Montlick.com and fill out a free case evaluation or use our free 24-hour live chat.
Why a Car Accident Lawyer Makes a Difference
The hours and days following a motor vehicle crash are overwhelming. You have a long list of logistics to figure out, and that is on top of the emotional and physical pain you might be experiencing. The financial burden of an accident and any accompanying medical bills only adds to the immense stress.
Insurance companies know the stress that comes with an accident and resulting injury—and how to take advantage of it. Their main goal is to avoid paying a claim or to pay as little as possible if they must pay at all, which can result in the company denying or minimizing your claim.
An experienced, knowledgeable auto accident attorney will navigate the confusing world of insurance company claims for you. We handle the complicated parts of your case so you can focus on healing.
An Insurance Research Council (IRC) study found that:
85% of personal injury claim payouts from insurance companies went to personal injury victims represented by legal counsel.
Injured individuals who retained legal representation generally received substantially higher payouts than unrepresented parties. On average, personal injury victims with lawyers received 300% more financial compensation than those who did not retain legal representation.
Working with a qualified Atlanta attorney on your auto accident case is a critical step to maximizing your financial compensation following an auto accident.
How a Montlick Lawyer Can Help YOU
We Get to Work Fast! From your first phone call with Montlick, our team immediately begins taking the necessary steps required to protect your rights. We want you to focus on getting well while we handle the nuances of the claims process.
We Guide You Through Insurance Company Traps: Insurance company claims adjusters and representatives may seem cooperative and caring; however, their primary objective is to preserve the financial interests of the insurance company's policyholders and to increase their profits for their shareholders. This means the insurance company's financial interests are in direct conflict with your financial interests and claim value.
Insurance companies handle an enormous amount of traffic accident claims each year. They have implemented effective strategies and techniques to reduce, delay or even deny claims payouts. Sadly, many individuals who speak directly with the at-fault party's insurance company after a motor vehicle accident unwittingly compromise their claims' monetary value. Our attorneys guide you through the process and help preserve the value of your claim.
We Assess the Value of Your Accident Injury Claim: Evaluation of a personal injury claim involves not only the calculation of medical bills, lost wages, and vehicle repair costs, but also difficult-to-value intangible damages such as pain and suffering, diminished earning capacity, mental anguish, and punitive damages (when applicable). Our lawyers know how to value your claim and, when appropriate, also conduct research into verdicts and settlements involving similar types of cases in comparable jurisdictions in order to quantify a range of case value.
We Navigate the Legal Complexities: While most traffic accident cases settle out of court, when litigation is required, you need a lawyer with a mastery of the rules of civil procedure, evidentiary rules, court rules, case law, and applicable Georgia statutes. Our attorneys are trained, educated and experienced with the nuances of the law and how to navigate the complex personal injury claims process. When a law firm has a track record of taking a case to court and being successful, insurance companies take note. We fight hard to obtain all of the financial compensation your case deserves!
Do Not Delay Contacting an Atlanta Accident Attorney: Act Now to Preserve Your Right to Recover Maximum Compensation
WARNING: Failing to comply with a statute of limitations will permanently bar your right to a recovery.

Legal Deadlines: The statute of limitations for personal injury cases in Georgia is generally two years from the date of the accident, but there are exceptions that can greatly shorten or even lengthen the deadline!
Our experienced Atlanta accident lawyers can examine the circumstances and facts relevant to your case to determine which statute of limitations (deadlines) apply.
Insurance Policy Deadlines: Many injured people are surprised to learn that their own insurance policies (or sometimes those of a resident relative) can contain valuable insurance coverage. It is critical to keep in mind that insurance policies typically have timely notification deadlines which, if allowed to lapse, can result in the loss of valuable compensation and benefits.
Time Is of the Essence: In addition to legal and policy deadlines, retaining a lawyer can be key to evidence preservation. For example, with the passage of time accident witnesses can become difficult to locate, or they might forget important details. Other times, critical physical evidence can disappear or be destroyed.
Our legal professionals take the required actions to meet all important legal deadlines on behalf of our clients, and make sure that all essential evidence is collected and preserved when appropriate.
Put Our Experience to Work for You
Our Georgia Car Accident Lawyers at Montlick & Associates review all applicable avenues of financial recovery and ensure that any relevant legal and contractual notification deadlines are met. We also act to protect essential traffic accident evidence and interview eyewitnesses as appropriate. Do not delay in protecting your legal rights and contact Montlick & Associates today.
Our lawyers are dedicated to aggressively pursuing our clients' cases, whether they live in Atlanta, anywhere else in Georgia, as well as nationwide. Call us 24/7 at1-800-LAW-NEED (1-800-529-6333) or #WIN (#946) on your mobile phone, for your free consultation with a Montlick & Associates' attorney. We are also available day and night through our free live chat and through our Free Case Evaluation Form at Montlick.com.
What is My Atlanta Auto Accident Case Worth?
Georgia car accident law generally allows victims of accidents due to someone else's negligence to recover monetary damages from the individual or company responsible for their injuries and damages. Negligent parties can include: individuals, companies, public agencies, public utilities, governmental bodies, and other business organizations, either acting in concert with each other or alone.
Our dedicated lawyers pursue all forms of financial damages that our clients are entitled to receive by law. The value of an accident injury claim depends on numerous factors, including, by way of example:
the strength of legal liability;
the facts and circumstances of the incident;
the strength of the applicable law and evidence;
the venue or locality where a claim must be brought;
the like-ability and credibility that witnesses would have to a jury;
the extent of a client's injuries;
the costs of medical treatment- including past and future, impact on the quality of life;
the extent of pain and suffering; and
whether someone is temporarily or permanently disabled.
Examples of the types of damages Montlick lawyers have recovered on behalf of our Atlanta clients is compensation for:
Past and future medical bills;
Past and future lost wages;
Loss of earning capacity;
Property damage, including damage to motor vehicles and personal property;
Pain and suffering;
Emotional distress;
Loss of enjoyment of life;
Punitive Damages if the defendant's conduct rises to the level of gross negligence;
Loss of companionship, consortium and guidance; and/or
Wrongful death damages (when applicable).
In cases of tragic death of a family member, families are entitled to the full value of the life of the victim, burial costs, medical expenses incurred prior to death, and more. The amount of monetary compensation an accident injury claimant recovers in the State of Georgia is specific to the circumstances of the accident and the facts of a given case. As such, every motor vehicle accident claim is unique. Predicting the exact dollar amount you and your family will recover from a car accident claim is not possible at the beginning of your case. However, our experienced Atlanta car accident lawyers are able to advise our clients on the range of predicted accident injury case values, once all of the evidence has been assembled, we understand the extent and long-term effects of the injury or injuries, we have reviewed all medical expenses and records, and have evaluated the applicable Georgia law and the strength of the evidence. Our car accident and wrongful death lawyers work hard and fight hard on behalf of each individual client to maximize the value of their claims according to Georgia law.
Protect your legal rights today. Call us to understand your legal rights and learn about the steps that need to be taken to protect those valuable rights. Contact us 24/7 throughout the United States by calling 1-800-LAW-NEED (1-800-529-6333) or dial #WIN (#946) from your cell phone, use our online consultation form or use our 24-Hour Live Chat at www.Montlick.com.
What We Do for Our Personal Injury Claimants in Atlanta & Throughout Georgia
Caring, Dedication, Experience, Results!™
Montlick & Associates has represented people injured or killed by the negligence of others for more than 38 years.
At Montlick, your case will be handled with the knowledge, experience and resources of a powerhouse law firm, as well as the care, attentiveness and personalization that you expect from a small team who knows your case intimately. From your first call, you'll speak to an attorney in our office right here in Atlanta, who can help get your case started off on the right foot.
Our legal services start with a free car accident consultation. Our attorneys will review the circumstances and facts of what occurred and advise you on your important legal rights, as well as the steps necessary to protect those valuable legal rights. If we are able to accept your accident case, our attorneys and legal support staff will immediately begin working your case, collecting records, and gathering evidence and documentation to substantiate your insurance accident claim.
If the at-fault party's insurance company is unwilling to offer enough money to reasonably compensate you, our law firm has the resources and experience to navigate the litigation process and take cases to trial. In such circumstances, you are always integral to the decision to file a lawsuit and litigate a claim.
For your free consultation, contact us nationwide 24/7 by calling 1-800-LAW-NEED (1-800-529-6333) or dial #WIN (#946) from your cell phone, use our free online consultation form or use our free 24-Hour Live Chat at Montlick.com.
Montlick & Associates- Fighting Hard & Winning Cases™ since 1984.
Our Promise to You
1. Treat your case as if it were our own. We'll treat you the same way we would want to be treated – as if it were our own case, or the case of a close friend or family member.
2. Protect you from powerful insurance companies. One of the first things the insurance adjuster will typically say is that you do not need an attorney. That's because the insurance company's goal is to pay you as little money as possible. They know that injured people get substantially more money with an attorney representing them. With over 38 years of experience dealing with insurance companies, we can help you navigate through the insurance company minefields and avoid any traps.
3. Analyze your case at no charge to you. We'll evaluate your situation and advise you how to best protect your rights, at no charge to you. We invite you to call us 24 hours a day, including weekends and holidays to request a free consultation with one of our experienced personal injury lawyers. Or use our 24/7 online chat right here on our website.
4. Vigorously fight on your behalf in order to obtain all the compensation and benefits you deserve. There's always a lot at stake after a serious injury, and when our clients rely on us for help, we never take that situation lightly. We work extremely hard, treat our client's cases as if they were our own, and we will always do the right thing when it comes to our clients.
5. Give your case our personal attention. We want you to focus on getting well, while we handle the legal and insurance matters. We are here to serve you, not the other way around.
6. Promptly return phone calls and keep you informed. We will keep an open line of communication with you about your case. We will promptly return phone calls and answer any questions you have. With Montlick, you will never have to wonder what is going on with your case. We keep our clients well informed and routinely send copies of correspondence regarding their case.
7. Be there for you when you need us most. When our clients first call us after a serious injury, they're understandably worried, stressed, and unsure of what lies ahead. At Montlick, you don't have to do this alone. We'll take on the insurance company for you and help you get the money you deserve for your medical treatments, lost wages, car repairs and pain and suffering. That's the kind of help we've provided for over 38 years.
8. Always treat you with dignity and respect. Our promise is to operate at all times with honesty, integrity, high moral character and unquestionable ethics. And we'll treat you with kindness and give you and your family the dignity and respect that you deserve.
Types of Auto Accident Cases Our Atlanta Accident Law Firm Handles
Our law firm handles claims arising out of ALL types of traffic accidents involving negligence, such as:
Experienced Legal Help: Free Case Review and Consultation to Protect Your Legal Rights
Our car accident lawyers and legal support staff work hard to get our clients the financial compensation they deserve. No matter where you are located, we are just a phone call away. For your Free Consultation contact Montlick & Associates 24/7 at 1-800-LAW-NEED (1-800-529-6333) or by simply dialing #WIN(#946) from your mobile phone. You can also go to Montlick.com and submit a Free Case Evaluation Form 24/7 or utilize our 24-Hour Live Chat.
*Dollars recovered are cumulative and not indicative of individual case results. Each case is unique. Results depend on the facts and applicable law.
---
Related Car Accident Articles
--
Montlick & Associates, Attorneys at Law
17 Executive Park Dr NE
Atlanta, GA 30329
(404) 529-6333
(800) LAW-NEED
Hours: Open Today · Open 24 hours
Plus Code: RMH6+38 Atlanta, Georgia, USA
Directions