Bus Accident Lawyer in Atlanta Georgia
---
We Serve Clients Throughout Georgia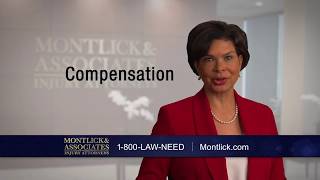 Why Hire Our Firm After a Bus Accident
As the cost of gas has risen and traffic congestion has grown into excruciating gridlock, an increasing number of residents in the metro Atlanta area and elsewhere throughout Georgia are relying on public transportation, whether it is taking a MARTA bus to work or putting their child on a school bus. These buses include school buses, MARTA buses, charter buses and long-distance carriers. Unfortunately, the growing use of buses as a form of transportation also means more major bus accidents resulting in serious injuries and even fatalities. Bus accidents are hardly a rare event, with an average of more than 60,000 bus accidents per year throughout the U.S. Though bus accidents are less frequent than those involving passenger cars, the massive size and weight of buses along with a lack of safety equipment, like seat belts and air bags, means bus collision victims often suffer catastrophic injuries and even death.
At Montlick and Associates, Attorneys at Law, we represent bus accident victims and families of victims who suffer serious injury or wrongful death throughout Georgia. Our compassionate attorneys and staff know the stress, pain and financial struggles that bus accident victims must endure. We bring dedication and commitment to seeking the financial compensation you need to recover and put your life back on track, as part of our goal of being the best bus accident attorneys in Georgia and the Southeast.
Who Is at Risk in a Busing Accident?
Almost every party on the road or in a vehicle is at risk of suffering serious injuries, including:
MARTA bus passengers, city bus passengers
Children on school buses
Customers of charter buses and long-distance bus carriers
Motorcyclists
Pedestrians
Drivers of passenger cars, trucks and SUVs and their passengers
Bicyclists
Passengers on buses are especially at risk in serious busing accidents because most buses have no working seat belts, air bags or other fundamental safety equipment that are standard in most motor vehicles. Passengers are particularly vulnerable in accidents where buses leave the roadway, which can result in a fatal bus rollover accident or ejection from the bus.
Busing accidents are not only hazardous to bus passengers, but also to others with whom buses share the roadway. The most common seriously or fatally injured victims in busing accidents are pedestrians and occupants in passenger cars that are struck in a bus collision. The sheer size and weight of a bus means a bus is less responsive and harder to stop quickly in an emergency. Busing accidents result in a disproportionate number of catastrophic injuries and fatalities to pedestrians, bicyclists, motorcyclists and occupants of passenger cars because of the increased force of the impact.
What Is the Standard for Liability in Busing Accidents?
Georgia law classifies buses as "common carriers" and imposes a special heightened duty of care on public and commercial entities that own and operate bus lines. A common carrier is anyone that offers transportation services to the public at-large for an established rate. Common carriers owe the public the highest duty of care and must exercise extreme caution in protecting patrons. An entity that operates a common carrier service may be liable for even a slight degree of fault because of its increased duty of care. The justification for imposing this higher duty of care is based on the fact that passengers who use busing services have no choice but to entrust their safety to the entity that has exclusive control over bus maintenance and driver training and supervision.
A common carrier is expected to exercise vigilance in the operation, inspection and maintenance of its buses as part of its high duty of care as a common carrier. An entity that owns and operates buses has an obligation to carefully train and supervise its bus drivers and to maintain its buses in safe operating condition. Bus drivers must be provided with adequate training and are required to comply with appropriate traffic and safety laws and regulations, including special regulations that apply to common carriers. A common carrier cannot transfer, delegate or assign its special duty of care to any other entity. Even minimal fault on the part of a bus driver or busing company may be a basis for liability if a passenger is harmed, even if the injury was caused in part by another party.
Why Do I Need a Georgia Bus Accident Attorney?
Bus accidents pose a number of unique challenges that makes it important that you have an experienced Georgia bus accident attorney. Whether a private company or a government entity runs the bus line, they will typically have more financial resources to pay for experts and defend against a lawsuit than an ordinary driver. The company or public entity that operates the bus line will typically initiate an investigation of the accident and begin devising a litigation defense strategy while victims and their families are still recovering and/or grieving.
Another obstacle facing a bus accident victim is that many government entities are protected to some degree by "sovereign immunity". Sovereign immunity limits the extent to which public entities can be sued and required to pay for injuries to passengers. While most government entities like the state of Georgia have enacted laws that waive or refine this immunity and permit claims for injuries, strict procedures and shortened time limits typically apply. The experienced Georgia busing accident attorneys at Montlick and Associates, Attorneys at Law, can help you navigate the complex matrix of laws, regulations and procedures that apply to bus accident claims.
It is also important to note that legal time deadlines, or statutes of limitations apply to all legal matters, which means that you must file your claim within the required period of time or your right to recover will be barred forever. When a government entity is involved this time period can be as short as 6 months, so it is extremely important to consult with an experienced Georgia Bus Accident Lawyer as soon as possible to determine the applicable legal time deadlines and to make sure you take all needed actions in a timely fashion.
Who Is Usually Responsible for a Busing Accident?
There are a broad range of potential parties who may be responsible for injuries caused in a busing accident. Sometimes multiple parties may all share liability for the injuries of a busing accident victim, so it is important to identify all potential responsible parties. Montlick and Associates, Attorneys at Law, will identify all parties who may be liable for your injuries, which may include but not be limited to the following:
Private Bus Company: A private company that operates a charter bus, tour bus or long distance bus service may be liable for a collision caused by poorly trained or supervised drivers or inadequate maintenance of a bus.
Public Entities: Many busing entities are operated by public entities like MARTA or a school district. Depending on the specifics of the case, a bus accident victim may be able to pursue a claim against a public entity for injuries caused by negligent operation or maintenance of a bus provided the injury victim complies with the appropriate procedures.
Bus Maintenance Contractor: If a bus company has a maintenance contract with an independent maintenance company, the maintenance company may be responsible for damages caused by their failure to properly repair or maintain a bus.
Bus Driver: If a bus driver operates a bus under the influence of alcohol, violates traffic laws or engages in other unsafe driving practices, the bus driver may be liable for injuries caused by the driver's unsafe driving practices. However, the driver's employer will typically have more resources from which to pay for a bus accident victim's injuries and other damages.
Other Drivers: A busing accident often is caused by the driver of another vehicle. If another driver causes the accident, including driving under the influence of alcohol, driving while distracted or otherwise engaging in negligent driver practices, the other driver may be liable for your injuries.
Montlick and Associates, Attorneys at Law, has been representing bus accident victims throughout Georgia since 1984. If you or someone you love suffers serious injury or death in a bus accident anywhere in Georgia, we will carefully investigate the cause of your accident as well as potential issues such as inadequate training or supervision of the bus driver or poor maintenance of the bus. We will utilize our knowledge and experience with the special rules and regulations that govern common carriers. Our dedicated Georgia bus accident attorneys will also make sure that all special rules and timing requirements involved with suing a public entity are satisfied. We will take care of seeking compensation for your injuries so that you can focus on healing and getting back to your life.
Our experienced Georgia bus accident attorneys are available to assist clients throughout all of Georgia and the Southeast, including but not limited to Albany, Athens, Atlanta, Augusta, Columbus, Gainesville, Macon, Marietta, Rome, Roswell, Savannah, Smyrna, Valdosta, Warner Robins and all smaller cities and rural areas in the state. No matter where you are located we are just a phone call away, and we will even come to you. Call us 24 hours a day/7 days a week for your Free Consultation at 1-800-LAW-NEED (1-800-529-6333). You can also visit us online at www.montlick.com ;and use our Free Case Evaluation Form or 24-hour Live Online Chat.
---