Nationwide False Imprisonment Lawyers
Our Team Fights For The Justice Our Clients Deserve.
When You're Falsely Imprisoned, Call The Lawyers You Trust. 
Wrong convictions are harrowing experiences with lifelong and far-reaching consequences. The negligence, lies, and wrongdoings of false imprisonment result in a series of pain for you and your family. During life's most difficult moments, you need an honest advocate by your side. You need Montlick.
The Path Forward From False Imprisonment Starts Here.
The pain of false imprisonment doesn't go away easily. Going through such a harrowing experience can be terrifying and isolating. That's why we work tirelessly to ease your burden. At Montlick, we put the same care into our clients' cases as we would for our own families. With decades of experience, our care for the community, and our client-first mentality, you'll know you're working with a law firm like no other. When you need a caring yet tenacious team, call us at 1-800-LAW-NEED.
Real Montlick Reviews
What an amazing team to have taken my case! Attorney Sara Root and her team(Chris & Kahn) were very professional and made sure my family and I were top priorities. I felt like I gained a family.Every case is personal and I felt they understand the hardship any injury imposed on an individual. I would definitely recommend this prestige organization--fighting for not only justice but for the all people.They have exceeded my expectations and Im pleased with the outcome. Thank you Montlick & Associates-Sara Root, Chris and Kahn.
This is from Terri Dodd a friend of mine and client of Motlick and Associates. She would like to express her sincere appreciation to Scott Patterson and his team for their remarkable work on her personal injury case. They have given 100% attention to her needs and concerns, and their work has been exemplary. She and I both highly recommend anyone and everyone searching for legal assistance to contact Montlick and Associates.
SEE IF YOU QUALIFY
Do you have a case?
Fighting for our clients is our purpose. Maximizing their compensation comes with the territory.

SEE IF YOU QUALIFY
Do you have a case?

What To Expect
Free Consultation
Wherever you live, our team can help. Our free consultation will help to determine if false imprisonment occurred and the next steps.
Fighting For You
We will gather evidence to support your claim, including witness testimony, security footage, etc. We will fight vigorously to get the justice you deserve.
Our Attorneys Are:
Experienced
Detail-oriented
Compassionate
Determined
What to Know
Acting Fast After a False Imprisonment is Critical
It's critical to act fast. Different states have different statutes of limitations, with some as short as 6 months.
The statute of limitations is a specified period of time a victim has to bring a suit or criminal charges. In many states, for example, a victim has two years to decide whether to press charges or bring a suit. After that time runs out, they typically cannot bring forward a case for that event. False imprisonment is both a crime and a tort. This means if someone has committed false imprisonment, they can face a fine or jail time and owe the plaintiff damages in the form of monetary compensation. If someone has been held against their will and without cause, it's important to contact the authorities and seek legal assistance. The sooner someone is able to act, the more information can be gathered to build a case.
What is False Imprisonment?
General False Imprisonment Law
Legal definitions and codes vary by state, but generally, false imprisonment is a broader offense than false arrest. False Imprisonment occurs when one person restrains or confines another person without that other person's consent and without the authority to do so. This can happen when someone is falsely accused of shoplifting and then detained or otherwise restrained by the store. While simply threatening to imprison someone is not typically false imprisonment, a threat of violence or force may raise it to false imprisonment.
What Can Clients Recover in a False Imprisonment Case?
The Road to Financial Recovery Starts Here
No matter where you are, we are just a phone call or message away.
Contact Montlick Now
If one of our clients has been falsely imprisoned, we will pursue damages for the harm they've experienced like:
Humiliation
Harm to their Reputation
Past, Present, and Future Medical Expenses
Past, Present, and Future Lost Income
Pain & Suffering
Emotional Distress
Punitive damages depending on the egregiousness of the defendant's conduct
A client may have experienced one or all of these harms, and we will fight to make our clients as whole as possible. Damages are most frequently awarded to our clients through monetary payments to help ease their recovery.
What is Shopkeepers' Privilege?
Shopkeepers' Privilege is a common defense employed by shopkeepers when accused of false imprisonment. The defense asserts that a store owner or employee who reasonably believes a customer has shoplifted may detain the alleged perpetrator while the store owner investigates the situation. The store owner typically can only detain the person briefly and cannot confine, bind, or lock a person in a room or area. The purpose of the Shopkeeper's Privilege is to allow time for law enforcement officials to arrive to investigate the situation and determine whether the person being detained committed theft.
How Do I Know If I Was Falsely Imprisoned?
It can vary, but the key element to any false imprisonment case is the victim's innocence. If a client committed no crime, we will work ceaselessly in their false imprisonment case. As mentioned, threats of imprisonment may not qualify, but using threats of violence to keep someone from leaving might qualify. False imprisonment can also include placing a person in a bound area, such as a locked room in the back of a store.
What are Punitive Damages?
In instances where the shopkeeper or other defendant acts in an unconscionable and outrageous manner, a client may be awarded punitive damages. Punitive damages are intended to not only make our clients whole but to punish the offender and prevent future similar behavior.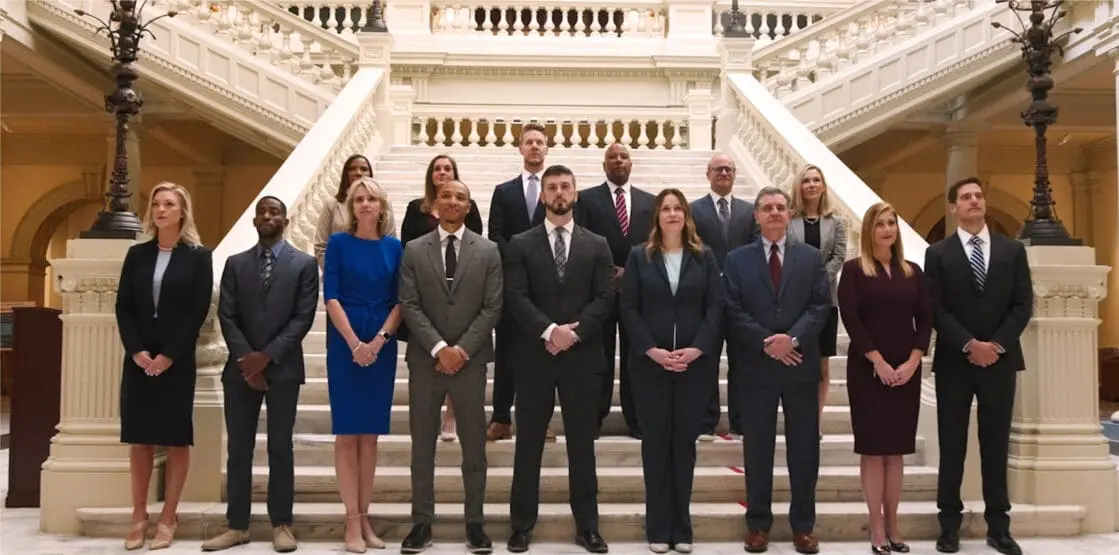 Because we can't stop accidents from happening, we do what we can to help minimize their long-term impact. We put more money in your pocket, where it belongs.