Dog Bite Settlement Lawyers Nationwide
Compensation for Dog Bite Victims
A dog bite claim can help victims injured by aggressive dogs and their negligent owners secure compensation for injuries sustained, medical bills, pain and suffering, emotional damage, lost wages, and more. 
When you step out of your home and into the community, you are inherently entitled to a certain degree of safety. When that safety is compromised because of someone else's negligence, you shouldn't have to bear that burden on your own.
Our dog bite personal injury lawyers draw on our experience successfully representing dog bite and animal attack victims since 1984. We understand the ways careless and distracted dog owners threaten the safety of their neighbors, visitors, and the public. We hold negligent owners accountable for the harm their dogs inflict on others while pursuing the fullest financial recovery for our clients.
When it comes to personal injuries being handled with upmost quality care, professionalism and determination to resolve all legal woes quickly and successfully. I'll be the first in a very long line of satisfied customers to say that Monica Pearson, (one of Atlanta's great Black female broadcast journalists and the first, former WSB-TV evening anchor at Channel 2 Action News) who I truly admire was right on the money (meaning trustworthy) for informing all victims of negligence to seek legal help from a proven law firm such as Montlick & Associates, who I call the best of the best LEGAL STRONG ARMS in the personal injury business!I'm a client of this wonderful establishment who truly took care of all my needs relating to my unfortunate accident, all due to a distracted driver who paid dearly for his poor driving ability.In saying that, I must recognize two important people at the firm. One is legal assistant Amber Starks (a marvelous paralegal) who kept my spirit up while I dealt with my personal recovery. Amber Starks is fantastic person to know, and second is my attorney, the incredible Nick Vocino. I call him a "legal eagle battling ram" for the underdog against vicious insurance companies. He's terrific! Nick "The Battle Ram" Vocino is "no joke" when it comes to him protecting his clients, he's fabulous! And last but also first is the entire staff at Montlick, who made me feel like one of their family members, just splendid! Alright people, I stated I was recognizing two, but I ended up acknowledging four. Monica Pearson, Amber Starks, Nick Vocino and the staff at Montlick; thank you for all that you have done and still do. All of you have earned my respect and deserve a round of applause from your clients. Ladies & gentlemen, I appreciate you for a job well done. Many blessings I send to you.
Very professional staff. Amber was always professional and empathetic about my injuries. I would refer my attorney Nick V. To others who need a personal injury lawyer!
This is from Terri Dodd a friend of mine and client of Motlick and Associates. She would like to express her sincere appreciation to Scott Patterson and his team for their remarkable work on her personal injury case. They have given 100% attention to her needs and concerns, and their work has been exemplary. She and I both highly recommend anyone and everyone searching for legal assistance to contact Montlick and Associates.
I was extremely pleased with Montlick and associates. My attorney Ellen and legal assistant Dayna kept me updated every step of the way. Their customer service was top notch and I would highly recommend them to anyone who is in need of a personal injury attorney.
I spoke with Attorney Douglas Glosser about my accident case and the outstanding personal injury circumstances. He took the time to read many emails WITHOUT ANY LEGAL COST and gave me the best legal advice! Thank you Attorney DOUG of Montlick and Associates! Awesome work and advice! Please use this law firm folks for your PI cases, etc. I will send referrals!!! Dr. Vinson
They were easy to talk to, honest and upfront about any questions we may of had. I would recommend using them if anyone has any issues and may need a personal injury lawyer.
Best personal injury firm in Georgia.
Douglas Glosser is my attorney and he's doing a great job with my case. He's like a bull dog...I love it! I'm confident if it's there to be gotten he's going to make sure I get it. His support team has been extremely resourceful, caring and helpful as well. 5 stars for sure and will definitely recommend.
Mike Moran of Montlick and Associates is a pro in every sense of the term. He represented me in a personal injury case stemming from an auto accident which caused me to have an extensive multi-layer lumbar fusion revision.He took on one of the largest insurance companies in the country and secured a six-figure settlement for me. I trust Mike completely and recommend him without reservation. There is no doubt in my mind that a less accomplished attorney would have settled for much less.In fact, I would welcome the opportunity to work with him anytime anywhere (let's just hope I don't need him again!).
Incredible experience while handling my personal injury case. I was updated and my associate was very timely and considerate.
This the second time I have used Motlick & Associates. The first time was for an an auto accident. Michelle Mumpower was my attorney for this case. The insurance to cover this type injury was not enough to cover medical injury and lost wages. Miss Michelle got every possible penny.The second time was a workmen's complaint.My lawyer was FarisZejnelovic's. After the interview Faris suggested that I wait until after decision was made if the company would pay for hip and knee. When workmen's comp. refused to pay for hip surgery I hired Faris. He not only told me he had my best interest at heart more importantly he showed me. When ever a question came up about my case all it took was one call to either Faris or his assistant BrendaCampbell and the question or concern was immediately addressed. Resolving this injury was a lengthy process but Faris always kept me informed and had my interest at heart. When the time came to settling my case Faris negotiated a settlement through mediation that I have no doubt was the best amount I could have gotten. Even after my case was settled and I received my settlement Faris and Brenda reached out just to see how I was doing.I would recommend Motlick for any personal injury case. They don't just care about the money but they truly care about the client personally.
I want to thank attorney Jason Saltzman and his amazing team. His work is unparalleled, so thorough, so professional, so complete I was proud to have him represent me. He kept communication channels open and flowing. He fought for me with all his might and we got outstanding results. I was treated with respect and was heard. That is so important when you are going through a traumatic experience such as a car accident where you were badly hurt. I talked to many lawyers before I found Jason and if I ever need a personal injury attorney again (hopefully not) it will be Jason the one I hire to represent me again. Thank you Jason! Thank you, Esmeralda!! You are the best!!!
Very professional very thorough a great firm to have in your corner if you have a personal injury
Atty Mumpower and her assistant were very responsive to any calls and questions I had about my case. I would refer them again to anyone w/ a personal injury case.
My wife (Janice Dickerson) and I (Ron Dickerson) would like to thank Michelle G. Mumpower, Esq., Sarah McAllister and Margaret Grenleski, Esq., for taking our cases and for representing each of us in our personal injury cases. Michelle, Sarah and Margaret were very responsive each time we needed to discuss our cases. Although we haven't received our settlement checks, we have agreed to the settlement figures and we are standing by for notification of the checks clearing and mailing.Great job Montlick & Associates. We will be glad to recommend Montlick & Associates to our friends. Thank you, again.Stay Safe!!!
Jennifer Fleming and her team were honest, transparent and consistent! She made navigating uncharted waters in personal injury easy to understand after my fiancée were in an accident last year that could've taken our lives.
Ruben an his staff handled my personal injury settlement an won my case in a timely manner and kept me up to date on status the entire process I would like to thank them for their service :Tt
As you can imagine I was involved in an accident and was injured. I had no idea on how to pursue getting medical treatment and my vehicle repaired. My personal injury lawyer Sara Root advised me on what steps I needed to take and made sure the insurance company was being held responsible for my medical care and compensation. thanks Montlick and Associates.
I was extremely satisfied by the staff and my lawyer at Montlick and Associates they were very personal and friendly they stayed in touch with me on a weekly basis and did everything they could to get me the best settlement I could get,I truly truly am thankful to the staff at Montlick & Associates and will definitely recommend them to anyone who has a law need or personal injury claim. Thank you all again sincerely a satisfied customerThank you Ms. Nives and staff
Sarah Neeland, Alan Salzman and the whole team did a great job representing me in my personal injury case. I would highly recommend Montlick and Associates. They are very professional, have empathy for what their clients are going through and get satisfactory results.
My entire experience with Montlick & Associates was wonderful. My attorney was the consummate professional. He and his para actually cared about my wife and my injuries and our well-being. We were kept up-to-date and abreast of the current status of our case the entire time I couldn't ask for anything more. I hope to never need a personal injury law firm again but should that need arise I will never call anyone other than Montlick and Associates.
We had never had the need to hire an attorney for a personal injury before my husband had an accident at work and felt that our best interest were not being considered.We were very happy with the way our case was handled.I would recommend this firm above any of the others that we checked out.They were prompt and thoughtful about returning calls ,coming to us instead of us having to go to them. When you are dealing with an injury and feel like you are being blamed for it the best thing you can do is hire someone who knows how to deal with these companies so you can focus on getting back to work!
My attorney at Montlick & Associates was very helpful and hands on with my case. I was very impressed. Would not choose another personal injury lawyer if ever needed.
"Montlick & Associates is one of the best personal injury law firms in Georgia. They make you feel special and really care about you and your family, They work very hard for you. They also give back so much to the community. That's why I recommend them to anyone who needs a good injury attorney."
The fact that they will come visit you is a big plus, as far as I am concerned. Their personal injury attorneys listen and care. They also give back to the community, which means a lot to me. Keep up the outstanding work Montlick & Associates.
Anyone who said anything other than that Montlick & Associates has the best attorneys in the state for personal injury must be a competitor. They are truly the cream of the crop. Always professional and ahead of the curve. A plus.
I was incredibly impressed with the responsiveness of everyone I spoke with here. Each person I spoke with was incredibly caring and gave me their full time and attention. It was a very personable approach and makes you feel like family. They showed great professionalism in the care they took to see all of the little details and get all issues resolved. I am very happy with the results, and despite the circumstances that led me to need legal help, I am quite pleased to have been led to the best Georgia personal injury attorneys. If you are in need of a personal injury attorney, I highly recommend Montlick and Associates!
SEE IF YOU QUALIFY
Do you have a case?
Real Legal Help Begins Here®

SEE IF YOU QUALIFY
Do you have a case?

You focus on healing, we'll focus on winning
Fighting for you
No injury is too severe and no case too complex for us to handle. We relentlessly pursue the justice our clients deserve and fight for maximum recovery.
Lawyers you can rely on
When you're hurt, stressed, and unsure of where to turn, lean on Montlick. We'll take charge of your claim for you. When you're injured and overwhelmed, we've got you.
At Montlick, We Promise to Always:
Handle your case as if it were our own
Treat you with dignity and respect
Maintain clear and consistent communication
Always act in your best interest
Dog Bite Injury Attorneys
Even "Minor" Bites Can Have Major Consequences
Dog bites often cause scarring even if a bite is considered minor. In many cases, animal bite wounds are not stitched when treated due to the increased risk of infection, often leading to more serious scarring and disfigurement.
Dog bites become more severe when they penetrate through a person's skin into the muscles or bones, or when one bite turns into, two, three, four, or more bites, essentially becoming a full-out dog attack.
Additionally, when dogs are in groups or packs, they can join in biting or attacking a person. Such incidents typically do not happen with an average family dog, but some dog owners train dogs to attack in groups, something that is unfortunately still rampant throughout the United States. Regardless of what causes an unprovoked dog bite or attack, the damage can be catastrophic and life-threatening.
Dog Bite Lawsuit Attorneys Nationwide
Why You Should Pursue Your Dog Bite Claim
Dog bite injuries not only cause substantial physical injury and emotional harm, but they are also expensive. According to dogsbite.org, the average cost per dog bite claim nationally rose more than 103 percent from 2003 to 2018. The reason for such an increase in the cost of dog bite claims is the increase in medical costs, as well as amounts recovered as part of a settlement, judgment, or winning verdict at trial. Additionally, in 2018, almost 27,000 people underwent reconstructive surgery because of dog bites.
Emergency room and hospital care are extraordinarily expensive, and in a recent report, the average cost of a dog bite-related hospital visit was approximately $18,000, which is approximately 50% more than the average injury-related hospital visit. Additionally, there were four times the number of dog bite-related emergency room visits and three times the number of hospital stays in rural areas than in urban areas.
Montlick Is Here for You After a Dog Bite
Contact Us
Long-Lasting Injuries
A dog bite happens every 75 seconds in the United States, demonstrating that far too many people are sustaining severe and debilitating injuries that are likely preventable. Because of the significant damage that can be caused by dog bites, it is not surprising that victims of dog bites sustain damages that exceed $1 billion each year in the form of medical expenses and lost wages. However, because not all dog bites are reported, this number may be significantly higher.
In addition to the physical damage caused by a dog bite injury, a victim may sustain severe emotional trauma, such as post-traumatic stress disorder (PTSD). Such a condition may make it difficult for the victim to ever be around a dog again, and the person may become panicked every time they see a dog in the future.
The substantial medical expenses and lost wages are additional damages that harm not only the victim but also the victim's family and the workforce. If victims must be out of work to recover from dog bite injuries, businesses may feel the consequences of being short-handed.
Dog Bite Laws
Overall, dog bite injuries can have far-reaching consequences that can spiral out of control. While dog bite laws exist, they differ by city, county, and state, and not all dog bite laws are enforced.
Some communities or businesses ban specific breeds, such as pit bull mixes, that are deemed dangerous. However, such a ban on certain breeds does not do anything to stop the dog bite injuries that are caused by breeds with better reputations, such as Labrador Retrievers and Golden Retrievers.
As such, the legal system allows dog bite victims to pursue lawsuits against dog owners and other parties responsible for their dog's conduct.
Proving Dog Owner Negligence
Generally, depending on the state (or even the city or municipality in which a dog bite occurred), the ability for a dog bite victim to pursue damages against the dog's owner turns on how much the owner knew about the dog. For example, many states require that the owner knew or had reason to know that the dog was vicious or otherwise violent when the attack occurred. Whether a plaintiff must prove actual or constructive knowledge (knew or should have known) of the dog's violent tendencies is dependent on the applicable state's laws. For example, a dog that bit someone before will likely do so again, and if the owner does not take the appropriate steps to protect the public from the animal, they can be held accountable. Additionally, many cities have ordinances concerning leash laws as well as obligations to restrain their pets on and/or off their own property.
Prevelence of Dog Bites
Dogs can be amazing companions that provide love, attention, and protection as a member of the family. However, dogs can also be very dangerous, even if they have never bitten a person or other animal before. Anything can trigger even the best-behaved dog to react unpredictably. As such, dog owners have a responsibility to take precautions to ensure their dogs do not bite or attack another person or animal.
According to the Centers for Disease Control and Prevention (CDC), a stunning 4.5 million people sustain dog bites each year, with more than 800,000 dog bites requiring medical intervention to treat infections.
Frequently Asked Questions
All Your Dog Bite Questions, Answered.
What is Georgia's "one bite" rule for dogs?
The "One Bite Rule" is based on the idea that an owner who has no reason to believe their dog is dangerous should not be held liable if the dog surprises everyone by suddenly biting someone.
Read more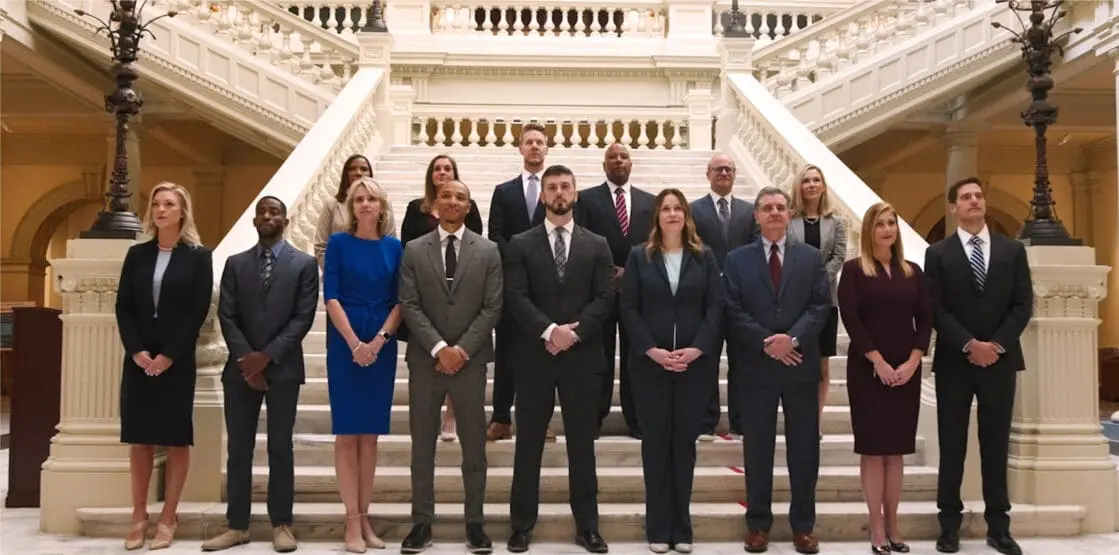 Because we can't stop accidents from happening, we do what we can to help minimize their long-term impact. We put more money in your pocket, where it belongs.