Atlanta Truck Accident Lawyer
---
Why Truck Accident Lawyers Can Make a Huge Difference in the Amount of Your Financial Recovery
Have you or a loved one been injured or did you lose a family member in a truck accident in Atlanta, Georgia or anywhere in the United States? If so, it is essential that you preserve crucial accident evidence immediately before it disappears or is altered, and have your case evaluated at no cost by our experienced Atlanta truck accident lawyers. In Georgia, and nationwide, individuals with accident or wrongful death claims have a limited period of time to file for monetary compensation. Failing to meet legal time deadlines will prevent you from being able to pursue money damages for your injuries- so do not delay in speaking to one of our attorneys about your legal rights, and the steps that are necessary to protect those rights.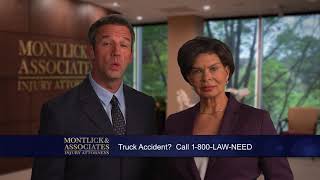 Protect Your Legal Rights After a Truck Accident
Ensure You Receive Full Compensation
The economic burden of a tractor-trailer truck crash and accompanying medical expenses adds tremendous amounts of stress to accident victims. Insurance companies understand how the stress affects claimants, and they regularly try to take advantage of the claimant's state of mind. Insurance claims adjusters' top goal is to pay out as little as possible or avoid paying anything on a claim. According to an Insurance Research Council (IRC) study :
85% of personal injury victims who received a payout were represented by legal counsel.
On average, injury victim claimants who retained attorneys received 300% more financial compensation than those who did not retain legal representation. In our experience, when it comes to serious trucking accidents, the numbers can be many times greater.
No Upfront Legal Fees
Montlick Injury Attorneys handles trucking accident cases on a contingency fee basis. That means that you do not owe us any legal fees up front. If we represent you, you will not owe us any money unless or until we secure a monetary recovery on your behalf.
Why People Choose Montlick Injury Attorneys: The Powerhouse Firm That Puts You First™
Montlick Injury Attorneys is AV-rated for the highest level of professional excellence, ethics, skills and integrity. This rating, from Martindale-Hubbell® Law Directory, is the gold standard in attorney ratings for over 150 years, and it is only awarded to a small percentage of lawyers. The award is considered the most reputable and credible evaluation of attorneys because the award cannot be purchased or manipulated
Billions of Dollars recovered for our clients: Our Experience Pays.TM Our law firm has been assisting injured people and their families in recovering the monetary compensation their case deserves for over 38 years, and we have recovered billions of dollars.*
We fight hard to maximize the monetary value of your case. Trucking insurance companies will often attempt to offer monetary compensation before you understand the full scope of your injuries. Additionally, insurance company adjusters might try to discourage accident victims from obtaining legal advice from a truck accident attorney. In fact, insurance company claims adjusters often pressure claimants to accept fast, "low ball" offers to settle their truck accident claims. Once your truck accident case is settled, it can never be reopened to increase the payout. Montlick Injury Attorneys fights hard for our clients to recover the maximum monetary compensation to which Georgia law entitles them.
Our clients are our highest priority. We are dedicated to providing exceptional service.Since 1984, Montlick Injury Attorneys has provided exceptional service to our clients. We work for you, not the other way around. Our attorneys are highly skilled and treat each client with the dignity and respect they deserve.
Personal Injury law is our expertise.At Montlick Injury Attorneys, we strongly believe that by focusing exclusively on personal injury/accident law our attorneys have developed the most skills and expertise, enabling them to do the finest jobpossible for our clients. Our law firm only represents injured people, never insurance companies or corporations.
Real Legal Help Begins Here®
If you or a family member have been injured in a truck accident or any other type of crash, contact us today, nationwide, for your free consultation at 1-800-LAW-NEED (1-800-529-6333) or use our 24/7 Live Online Chat or our Free Case Evaluation Form.
Montlick Injury Attorneys has been fighting for people injured throughout Atlanta, Georgia and across the United States for 38 years. Your free consultation with one of our truck accident lawyers can answer your important questions. It doesn't cost you anything to see if we can help you or your loved one. No matter where you are located, in Georgia, or nationwide, we are just a phone call away, and we will even come to you.
The Next Step: Free Case Review & Consultation with Montlick Injury Attorneys
Working with one of our friendly and qualified Atlanta truck attorneys on your or your loved one's case is a critical step to maximizing your financial compensation following a truck accident. If you or a family member has been harmed in a tractor-trailer, big-rig, 18-wheeler or any other commercial truck crash and need a trustworthy, dedicated attorney who will fight for your rights, contact Montlick Injury Attorneys to protect your valuable legal rights. We are available 24/7 at 1-800-LAW-NEED (1-800-529-6333). You can also use our 24/7 Live Online Chat or our Free Case Evaluation Form.
Why a Truck Accident Lawyer Makes a Difference in Your Case
Tractor-trailer truck accident victims and their loved ones are at a disadvantage after being involved in collisions caused by these commercial vehicles. The first few days after an 18-wheeler accident can be overwhelming, emotionally trying, and physically painful. Trucking companies and their insurers know how to capitalize on victims' trust and their lack of knowledge and experience of the accident claims process.
Delay can be costly
Preserving evidence in a trucking accident is critical. Unfortunately, a collision between a tractor-trailer which could weigh as much as 80,000 pounds can cause catastrophic injuries to the occupant of a smaller vehicle. The trucking companies can potentially have massive financial exposure if their driver is at fault, and these companies will go to great lengths to try to minimize the claim. Often, they will dispatch a team to the scene of an accident to begin collecting evidence.
The sooner you hire an attorney to protect your rights the better. Your attorney will fight to preserve evidence favorable to you. This includes evidence such as the truck's "black box" which, similar to an airplane's black box, records certain information about the truck's speed, use of brakes, and other details about the trucker's actions that could be critical to your case.
Additionally, there are legal time frames that must be complied with to avoid losing valuable rights. Insurance policies can also contain notification requirements and time deadlines.
The goal of trucking insurance companies, as for-profit corporations, is to increase revenues and grow profitability by collecting monthly premiums while their accident claims adjusters work hard to delay, deny and minimize the amounts paid in claims. The sooner you get an experienced truck accident attorney involved in helping you with your case, the greater your chance of success.
Talking Directly to Insurance Companies Without Consulting a Lawyer Can Be Detrimental
Some trucking accident victims who directly communicate with insurance carriers unwittingly jeopardize the monetary value of their claims. Trucking accident insurance companies do not want you to communicate with or retain an experienced personal injury attorney, as their own insurance industry research proves that they statistically pay out significantly larger monetary compensation to accident claimants who are represented by a lawyer.
Recorded Statements - Insurance accident claims representatives often attempt to record phone calls when speaking to trucking accident victims in order to uncover information they can later use against the injured person. It is inadvisable to agree to a recorded statement before speaking with a knowledgeable trucking accident attorney.
Quick/Low Ball Settlement Offers - Insurance companies and commercial trucking companies will sometimes try to exploit an injured person's stress following an accident by offering a settlement quickly. While the idea of a quick settlement might seem appealing as medical and repair bills add up, these fast settlements are often "lowball" offers, made before the extent and long-term effects of injuries are known. Once a case is settled, it cannot be reopened, and should a person's injuries prove more severe and expensive than initially thought, they would be left without recourse.
Fighting for Your Maximum Financial Recovery - It is crucial for injury victims to remember that the insurance companies do not typically have your best interests at heart. Insurance company adjusters might make settlement offers during the early stages of an injury and property damage claim – well before the full extent of the person's injuries are diagnosed. Insurance company adjusters' primary goal is to minimize the value of your claim and provide you with as little money as possible. You should never accept a settlement from an insurance company before consulting with an experienced, licensed Georgia truck accident attorney.
At Montlick Injury Attorneys, our experienced Atlanta truck accident lawyers will take all actions necessary to protect your valuable legal rights, and fight hard to get you the maximum compensation you deserve. Do not tackle the insurance company alone; put our firm's 38 years of legal experience to work for you.
If you have been injured in a large truck accident in Atlanta, Georgia, or anywhere in the United States, you may have the right to compensation for your medical bills, lost wages, and pain and suffering. In some cases, you could also pursue additional compensation in the form of punitive damages, or against multiple defendants. The experienced Atlanta trucking accident attorneys will explore every possible avenue for your case. Contact us today, 24/7 nationwide for your no obligation free consultation.
Montlick Injury Attorneys Is a Top-Rated Firm for Legal Excellence by the Most Reputable Evaluation of Legal Professionals
For more than 150 years, the Martindale-Hubbell® Law Directory has identified and recognized attorneys and law firms who uphold high ethical standards, and who show strong legal ability and competence. The award is based on the confidential opinions of the Judiciary and members of the bars. Montlick Injury Attorneys received the highest possible peer rating of AV Preeminent®. An AV Rating is only awarded to attorneys and law firms "who are ranked at the highest level of professional excellence for their legal expertise, communication skills, integrity and ethical standards by their peers."
An AV Rated attorney or law firm is part of an elite group of the top 10% of all rated attorneys. This designation is trusted worldwide by legal professionals who want to make referrals to colleagues, and most importantly, by individuals seeking to identify, evaluate and select the most qualified legal counsel.
Montlick Injury Attorneys earned top marks in both the General Ethical Standards evaluation and the Legal Ability evaluation.
Montlick Injury Attorneys received top ratings in all five key areas that constitute the Legal Ability evaluation. The key areas are:
Analytical Capabilities: Lawyer's creativity in analyzing legal issues and applying technical knowledge.
Communication Ability: Lawyer's capability to communicate persuasively and credibly.
Judgment: Lawyer's demonstration of the salient factors that drive the outcome of a given case or legal issue.
Legal Knowledge: Lawyer's understanding of the laws governing their specific area of practice(s).
Legal Experience: Lawyer's degree of experience in their specific area of practice(s).
The Martindale-Hubbell® Peer Review Ratings are considered the "Gold Standard" of ratings and reviews for attorneys. The award is considered the most reputable and credible evaluation of attorneys because the award cannot be purchased or manipulated.
Common Causes of Tractor-Trailer Accidents in Atlanta, Georgia
Some factors that can contribute to truck accidents include:
Unsafe operation by the truck driver, including distracted driving and cell phone use
Poor truck maintenance
Truck driver inexperience
Mechanical failure
Truck driver fatigue
Truck Driver Fatigue
A particularly common problem among long-haul truck drivers is fatigue. Fatigue is defined as the tired, sleepy feeling a driver experiences while operating a commercial motor vehicle. Long hours spent on endless stretches of road, tight deadlines and demanding schedules all contribute to this condition and can result in impaired judgment of the truck driver behind the wheel.
Overloaded Trucks
Another common problem in the trucking industry is overloaded trucks. Exceeding the mandatory weight requirements leads to unsafe driving, making the tractor-trailer difficult to control and brake in time to avoid an accident. In addition, overloaded trailers, shifting loads, or trucks improperly loaded can cause problems such as flying debris, jackknifing, or overturning. Jackknifing and rollovers, though not as common as other types of truck accidents, can result in critical injury to the driver or other motor vehicle operators, as well as massive damage to the vehicle.
In 2021, more than 5,200 motor vehicles were involved in large-truck accidents on Georgia roads, resulting in more than 2,200 injuries to motorists and passengers.
Our Promise to You
We will treat your case as if it were our own. Our team is committed to treating our clients and their cases in the way we would want an attorney to treat us: with respect, integrity, and dedication.
We will protect you from powerful insurance companies. Insurance companies know that on average, personal injury victims with lawyers received 300% more financial compensation than those who did not have a lawyer by their side. With over 38 years of experience navigating insurance companies, we can help you maneuver through the insurance company minefields and avoid any traps.
We will analyze your claim free of charge. Our truck accident attorneys will evaluate your claim and advise you and/or your loved one on how to protect your valuable legal rights, at no cost to you. Call us 24 hours a day, including weekends and holidays, at 1-800-LAW-NEED or use our 24/7 online chat right here on our website to request a free consultation with one of our Atlanta truck accident lawyers.
We willvigorously fight on your behalf. Following a serious injury, individuals and families have a lot at stake. We know our clients come to us for help, and we take that decision seriously. We work hard for our clients and we keep them informed of important case updates. Our clients can trust us to always do the right thing for them.
We willgive your case our personal attention. We want you to focus on getting well while we handle the complex legal and insurance matters. Our legal professionals are dedicated to recovering the maximum amount of monetary compensation on behalf of our clients.
We willpromptly return phone calls and keep you informed. We keep our clients well informed and routinely send copies of correspondence regarding their case.We will promptly return phone calls and answer any questions you have. With Montlick, you will never have to wonder what is going on with your case.
We will be there for you when you need us most. With Montlick Injury Attorneys, you don't have to handle your claim on your own. We will take on the accident insurance company on your behalf, and work hard to get the money your case deserves for your medical treatments, lost earnings, auto repairs, and pain and suffering. That's the kind of legal assistance we have provided for over 38 years.
We will always treat you and your loved ones with respect and dignity. Our promise is to always operate with honesty, integrity, high moral character and unquestionable ethics. We will treat you with kindness and give you and your family the dignity and respect that you deserve.
If you or someone you love has been injured in a truck collision, contact Montlick Injury Attorneys today. No matter where you are located, we are just a phone call away. For your Free Consultation contact Montlick Injury Attorneys, nationwide 24/7 at 1-800-LAW-NEED (1-800-529-6333), dialing #WIN(#946) from your mobile phone, submit a Free Case Evaluation Form 24/7, or chat with us right now using our 24-Hour live online chat.
38 Years of Atlanta Truck Accident Expertise
The Georgia truck accident lawyers of Montlick Injury Attorneys have the experience you need. We have recovered billions of dollars for our clients.* Our passionate and knowledgeable staff is ready to fight for your rights to get you the compensation you deserve. At Montlick Injury Attorneys, we take care of the complicated legal issues so that you can get back to what is really important: healing and returning to your day-to-day life.
The number of tractor-trailers, semi-trucks, and big rigs on Georgia roadways has risen drastically in recent years. Sadly, as more and more large trucks take to Georgia highways, the rate of accidents and fatalities related to these tractor-trailers continues to climb. In recent years more than 5,000 large trucks have been involved in fatal injury crashes.
Large truck accidents account for over 4,800 fatalities across the U.S. each year. According to the National Highway Traffic Safety Administration (NHTSA), more than 10% of traffic fatalities are the result of collisions involving a large truck. In addition to the alarming rate of fatalities, another 100,000 individuals are injured in tractor-trailer accidents every year.
We Know What It Takes to Win
TM
Truck Accident Cases
If you or someone you love has been injured or if you lost a loved one in a truck accident, our truck accident lawyers are ready to advise you or your family member about the steps necessary to protect your or their legal rights and how to ensure a full recovery. This important consultation is free and without obligation. Call Montlick Injury Attorneys today for your free consultation at 1-800-LAW-NEED (1-800-529-6333). You can also use our 24/7 Live Online Chat or our Free Case Evaluation Form.
Please Note:
All information provided about the law is very general in nature and should not be relied upon as legal advice. Every situation is different and should be analyzed by a lawyer who can provide individualized advice based on the facts involved in your unique situation, and a consideration of all of the statutes and case law that are apply.
*Dollars recovered are cumulative and not indicative of individual case results. Each case is unique. Results depend on the facts and applicable law.
Montlick Injury Attorneys
17 Executive Park Dr NE
Atlanta, GA 30329
(404) 529-6333
(800) LAW-NEED
Hours: Open Today · Open 24 hours
Plus Code: RMH6+38 Atlanta, Georgia, USA
Directions
Montlick is the powerhouse firm that puts you first!TM