Serving Families of Wrongful Death Victims Nationwide 
Justice for Your Loved One. Peace-of-Mind for You. 
Though we know nothing we do can ever replace the joy your loved one brought into your life, we can help you move forward by easing your financial burden and honoring their legacy. 
When families lose loved ones because of the negligent or reckless actions of others, they deserve justice. Montlick provides the compassionate and aggressive representation our clients deserve in these difficult situations. Let our attorneys help you navigate this difficult time, answer your questions, and tell you how we can help.
Fighting Hard & Winning Cases® Since 1984
If you lost a family member in any type of accident caused by someone else's negligence, you need a caring ear and a bold voice. Contact us for a free consultation to learn about your legal rights and options.
I just want thank God for Mr Scott Paterson and his secretary Sarah for their patience and always encouraging me to hold on when it was really hard going through all this pain mentally and physically. I am so greatfull for all you all have done for me. I really didn't expect all that I received but by the grace of God you all made it happen. Thanks again and God blessed. I will definitely recommend you to anyone. I would give you all 10 stars if I could.
Montlick and Associates at Executive Park in Atlanta, Ga have been the most professional and customer service oriented firm I've had the pleasure of working with despite the circumstance I was in. They were able to assist me with 1 case successfully in December 2019.I recently needed additional assistance in October 2023 for a 2nd case. This time Montlick and Associtates could not directly assist me due to the nature of my request, but they were able to point me into the right direction on where I can receive attorney services.That was such a huge relief! Thank you to Nick Vocino and his office and team!
I couldn't have chosen a better law firm to handle the case of my accident which was not my fault! Jason Saltzman was my attorney and he was amazing and he didn't leave any stones unturned! He worked for the absolute most for me and got me the care I needed ! And Esmeralda, his senior legal assistant, was always there when I had questions and would always email me back very quickly if I had questions and she and Jason really put my mind at ease while going through all of this ! He got me the maximum of what I deserved and worked hard on my case! I'd give them 100 stars if I could because they are the best! I'd recommend them anytime any day for anyone who needs an attorney who cares and one that will answer you no matter what and answer any questions that you may have ! Thank you so much Jason and Esmeralda !!!!⭐️⭐️⭐️⭐️⭐️⭐️⭐️⭐️⭐️⭐️⭐️⭐️⭐️⭐️⭐️⭐️⭐️⭐️⭐️⭐️⭐️⭐️⭐️⭐️⭐️⭐️⭐️⭐️⭐️⭐️⭐️⭐️⭐️⭐️⭐️⭐️⭐️⭐️⭐️⭐️⭐️⭐️⭐️⭐️⭐️
Amber and Nick have been an outstanding team. They guided me through the legal process after my accident and always kept me up-to-date with progress on my case. Amber was always available to answer any questions, and was so polite and professional. Both Nick and Amber really did an amazing job of making me feel like I was their priority. Thanks so much to both of you!
Although the circumstances that led me to Montlick and Associates were not pleasant, this firm was a joy to work with. Nick Vocino and his team, especially "Amber Starks: ("AmberfromMrVocinosoffice"). They were very friendly, knowledgeable, and professional at all times. They paid close attention to items that I thought were "little things" and answered all of my concerns. They made my family feel important and treated us as such. Thank you for your hard work. I would certainly recommend this firm to others, especially my family and friends.
Getting into a car accident is traumatic but, having Orlando Mara and Micheal Boyd handle my uninsured motorist case reduced my stress levels by a lot. They kept me up to date the entire time and very considerate of the outcome and settlement! I HOPE I never get into an accident again but if I do, I know who to call! Thank you all!
I Appreciate Mrs Juric and her team.. They are the best.. My favorite by far.. Thank you
I have dealt with a few attorneys, but I can truly say that my experience with Montlick and Associates were the best. I didn't have to chase them for updates, they kept me well informed during the whole process. Thanks guys, job well done.
Thank you for the professional and family felt service that you have given me , I couldn't have asked for more satisfaction and awesome service that Montlick and Montlick provided me. again, thank you so very much.😊……
Attorney Liu is good at what he does, he's on point and tells you what is and what is not. Bree Warner his assistant personalizes the word awesome. Thank you both.
Thank you Nives and team!
I really appreciate the hard work they did. They were right on it. Made sure I received all the necessary treatment and therapy. Everything could be done online, which made it convenient. Kept me informed in the process. Grateful for the blessing of what I received! Thanks to Àttorney Monick and his assistant, Sara.
Thank you to Jeff and Chris for taking care of my dad's case so well, and thank you to Faris for bringing us to Montlick and helping with everything along the way! We really do appreciate you guys so much.
My attorney Paula Molano and her assistant have been very informative and professional. Paula always has the boxing gloves on: looking for the knockout. I appreciate what they're doing for me during this difficult time. Thank you.
I would like to say that the Commercials we see on television was so True. I've dealt with a couple of Attorneys before but (Nothing) Can Compare the Royal treatment and the Customer Service I received from Attorney Glauser and his staff like never before. I "Will" Refer my family and friends to Montlick and Associates anytime anywhere.Thank you guys for your support.I Promise I will not go nowhere else
When I was involved in a Automobile accident, my wife said you have to called Montlick & Associates. That was the best called I have ever made. Attorney Jason took my case and he did an exceptional Job from start to finish. He kept me informed throughout the process. Thanks Montlick & Associates for providing excellent service.
I had the pleasure of working with Attorney Scott Patterson who truly went above and beyond for my case. He's so amazing! His expertise and dedication were evident throughout the process, and I couldn't be happier with the outcome. Thanks to the hard work and patience put into my case. I received a fantastic and fair settlement that exceeded my expectations. Furthermore, his assistant, Sarah Duncan, played an integral role in the success of my case. Her professionalism and support were outstanding. She consistently demonstrated a genuine concern for my needs and was always there to provide assistance whenever I needed it.Overall, I am incredibly grateful for the outstanding service provided by Attorney Scott Patterson and team. I wholeheartedly recommend Montlick & Associates law firm to anyone in need of legal representation. Thank you so much!
Michael Moran and his team took good care of me. They kept me in the loop of everything that was going on. All I did was do what they wanted me to do and kept them updated. I'm very satisfied with the outcome of my settlement. Thanks.
From day one to the end, I was kept informed about the status of my case. They answered all my questions I had and never made me feel that I was bothering them. I am very satisfied with the end result of my case and will recommend them to others. Thank you Attorney Jennifer and your Assistant Rachel for making me feel right at home as a part of the family. The Lord bless you both and your families in Jesus name Amen.
Mike Moran was very open and frank about how presented the case to me and his suggestion were on point. Thank you
On November 30, 2022 I experienced the worst injury that I have ever experienced at fault not my own, while on a quick out of town trip. Not only was I severely burned at an establishment, but I was denied representation by several firms where my incident happened. Unbeknownst to me just because an incident happens in a certain state doesn't mean you have to obtain representation there, which is how I had a turn around in defeat. Not only did Montlick & Associates instantly take my case, Ellen Forrester provided candor from the start on the pros, cons, and how she could deliver her services with the goal of fighting for me as her client being one that was truly heartfelt. From constant check ins from Dayna Clark (Ellen's Senior Legal Assistant), to pertinent information delivered directly from Ellen, I felt the utmost service with care was provided. Ellen was diligent in getting the best results no matter the fight. In the end I had a successful outcome and hopefully raised enough awareness for an incident this traumatic not to happen to anyone else. I Thank Ellen & Dayna for all their hard work and would recommend more stars if I could based on their client care alone.
This is an amazing company! I couldn't have chose a better attorney for this car accident.Thankyou Kaylee Wiley & Nives Juric ❤️
SEE IF YOU QUALIFY
Do you have a case?
Justice Starts Here

SEE IF YOU QUALIFY
Do you have a case?

Winning Is What We Do. Caring Is Who We Are.™
Decades of experience 
For nearly 39 years, our firm has recovered billions for our clients. We are dedicated to providing our clients with exceptional service, and maximizing the value of their cases.
Caring representation
We understand the devastation you and your family face after losing a loved one. That's why compassion is our guiding principle at Montlick. When you've been through the unimaginable, you need a kind hand guiding your financial recovery.
Montlick Attorneys Are: 
Empathetic
Reliable
Driven
Patient
Accidental Wrongful Death Attorneys You Can Trust
We Know What It Takes to Win® Wrongful Death Cases
According to CNBC and John Hopkins University, over 250,000 people die from medical errors every year in the United States, making it the third leading cause of death. Other common causes of accidental or wrongful deaths include:
Car accidents
Trucking and bus accidents
Pedestrian accidents
Bicycle accidents
Motorcycle accidents
Building fires
Workplace accidents
Slips/trips and falls
Defective consumer products
Contaminated food
Defective medical devices
Dangerous/contaminated prescription drugs
The presence of negligent, reckless, or intentional conduct by an individual or company is most commonly the cause of wrongful deaths.
Accidental/wrongful death compensation
The rights of plaintiffs to pursue wrongful death claims are subject to the law of the state they occur in, and the types of damages recovered can significantly. Compensation that may be available includes:
Full economic and non-economic value of the life of the victim
Loss of companionship
Value of support and services
Punitive damages
Burial and funeral expenses
Medical expenses
Pain and suffering of the deceased
Lawsuits associated with wrongful death, because of their enormous value, require thorough investigation. At Montlick we have extensive experience pursuing wrongful death cases from start to finish, and we know what it takes to secure the compensation grieving families need.
Don't Make a Costly Mistake--Call Montlick. 
Act Now
Montlick works hard to gather all necessary evidence for a solid case within the statute of limitations. Contact us today to get started.
Contact Montlick Now
The clock begins ticking on the statutes of limitations in wrongful death cases on the date of the incident that caused the victim's death, but the amount of time a person has to file the claim varies significantly depending on the relevant state laws.
We advise clients to take action as soon as possible as some states have shorter statutes of limitations than others. In auto accident cases, insurance policies owned by the victim or the victim's family often also have timely notification requirements. This means if a claim is not filed in the time given in the insurance policy, the family of the deceased may lose valuable compensation.
Important evidence necessary for a case can disappear or become destroyed, and witnesses can go missing or forget what happened as more time passes as well, increasing the importance of acting quickly.
Our Results
Our Accident & Injury Case Results
Your Questions Answered
FAQs Accidental Wrongful Death
How long do I have to pursue a wrongful death claim?
The period of time can be as short as one year or as long as eight years
Read more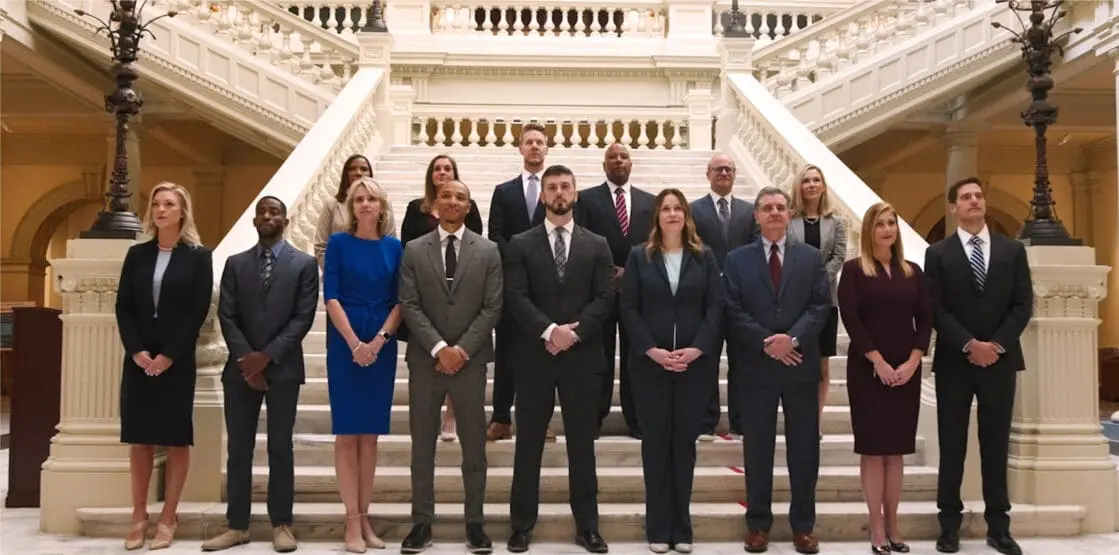 Because we can't stop accidents from happening, we do what we can to help minimize their long-term impact. We put more money in your pocket, where it belongs.