Legal Advocates for Victims of Drunk or Intoxicated Driver Crashes
We're Here to Help & Here to Win
The aftermath of a car accident caused by an intoxicated driver is filled with physical and emotional pain and financial uncertainty. 
Despite strict DUI laws, some people across the nation still decide to get behind the wheel. Their dangerous decision could impact the rest of your life. Unfortunately for victims like you, a complicated insurance and legal battle for the money you need is in store. Insurance companies will likely try to take advantage of your vulnerable state, while you should really be focused on healing.
That's where Montlick comes in. When you're injured by a drunk or drugged driver, we're here to level the playing field and get you the money you deserve so you can prioritize your recovery.
If you or someone you love has been injured or killed in a DUI car crash, you may seek compensation for your injuries, including medical and funeral expenses, lost wages, diminished earning capacity, loss of consortium (loss of support and services of a spouse or sometimes child), pain and suffering, mental anguish and replacement value or repair costs of the car, as well as punitive damages.
SEE IF YOU QUALIFY
Do you have a case?
During Life's Most Difficult Moments, Montlick Is There

SEE IF YOU QUALIFY
Do you have a case?

During Life's Most Difficult Moments, Montlick Is There
Billions of dollars recovered
We have won billions of dollars on behalf of our clients and that number increases every day. With over 39 years of experience, Montlick knows what it takes to win.
Representation you can trust
For 39 years injured people have trusted us to secure their finances and their future after an accident. Let us help you, too.
We Are Your Advocate When: 
A drunk driver has permanently altered your life
Your injuries interfere with your daily life
Your medical bills and unanswered questions are overwhelming you
You need help navigating the complicated insurance and legal systems
Accident Attorneys for Victims of Drunk and Intoxicated Driving Wrecks
Drunk Driving Accident Victims Deserve Justice
Drunk driving accidents are entirely preventable. Yet driving while intoxicated is on the rise nationwide. Every day, people recklessly decide to get behind the wheel after too many drinks– and when they do, the consequences are devastating. You shouldn't have to pay for someone else's carelessness. When a drunk driver disrupts your health and future, Montlick can fight for the compensation you need to move forward.
Your case's outcome will impact the rest of your life. That's why our goal is always to put the most money in your pocket – where it belongs. That way you can prioritize your recovery without the burden of financial uncertainty.
DUI Crash Injury Lawyers Helping Victims Nationwide
The Consequences of Drunk Driving 
Evidence Is Everything
It is important following a DUI auto accident that key evidence regarding the at-fault driver's intoxication or impairment by drugs is preserved. Our legal and investigation teams will take all steps to ensure that critical evidence is not lost or destroyed, so that your case remains as strong as possible.
Evidence we may investigate could include speaking to witnesses at the scene, 911 tapes, police reports, criminal DUI court records, Breathalyzer and field sobriety test results, law enforcement body and car camera footage and more.
There are massive amounts of important evidence to comb through in order to maintain a strong case. Let us handle the many man-hours it takes to put together your claim while you focus on healing from your injuries.
This type of evidence can be compelling and understandably inspire a sense of outrage in members of a jury. Insurance companies are understandably reluctant to take auto accident cases involving drunk drivers to court and may be inclined to reach a favorable settlement without going to trial.
What are Dram Shop Laws (and When Do They Apply)?
The importance of preventing drunk drivers from taking the road has led several states to enact laws imposing liability on businesses (called "dram shop liability"). This means that some businesses such as liquor stores, restaurants and bars that sell or serve alcohol, as well as social hosts that serve alcohol to their guests could be found partially liable if the person they overserved injures someone while driving drunk.
These drunk driving laws treat social hosts, such as people hosting a party, the same as a business that serves alcohol to customers. Dram Shop Law allows a person to sue a business or social host in two situations:
(1) where alcohol was sold or furnished to a person who is underage with knowledge that the person would soon be driving.
(2) where alcoholic beverages are sold or furnished to a person who is in a "state of noticeable intoxication" with knowledge that such person will soon be driving.
Whether the person injured is in another vehicle, a pedestrian, or a passenger in the vehicle with the drunk driver, the law allows the injured person to bring a claim against the person or business that provided the alcohol to the drunk driver.
When a client is injured in a DUI related car wreck, we carefully investigate the source of the alcohol to determine if the person or business responsible for providing alcohol to the drunk driver may be liable. This may include interviewing witnesses at the business or social gathering and reviewing security video to determine that an ID was not checked or an obviously false ID was accepted or that the drunk driver was obviously intoxicated when they were served. States with Dram Shop laws permit recovery for all damages that result from a DUI auto accident.
The law provides criminal liability for operating a motor vehicle when a driver's normal faculties are impaired. Anyone who drives when his or her blood alcohol content (BAC) exceeds .08 is presumed to have his or her driving ability impaired by alcohol. There is no minimum threshold for operating a vehicle when the substance causing impairment is a drug, whether illegal narcotic, over-the-counter medication or prescription drug.
A driver who is driving under the influence of drugs or alcohol when involved in an auto accident engages in reckless behavior that can be the basis for punitive damages in addition to the compensation available for injuries suffered in other types of car accidents. Punitive damages are specifically intended to punish a defendant for particularly egregious conduct and to discourage such conduct in the future.
If you are involved in such an accident you should seek immediate medical attention and report all symptoms to the medical provider, no matter how minor they may seem in the moment. Minor symptoms are sometimes connected to significant injuries or medical conditions that do not become completely apparent until later.
Contact Montlick Now
Drunk Driving Crashes Result in More Serious Injuries
Drivers who are operating a motor vehicle under the influence of alcohol or drugs are not only more likely to cause a car wreck but also tend to be involved in more serious accidents.
DUI auto accidents often involve excessive speed by the impaired driver, and the increased speed can result in more significant injuries including traumatic brain injuries (TBI), spinal cord injuries, severe internal organ damage, paralysis and wrongful death.
Because impaired drivers often receive a DUI conviction, our attorneys use information and evidence from the criminal case to establish a basis for punitive damages in a claim or lawsuit to recover compensation for the injuries and damage caused by a drunk driver. Ironically, most drivers who are involved in DUI auto accidents are repeat offenders with prior convictions for DUI.
Many drivers assume that they can drive safely after having a few drinks. This assumption has no basis in fact as alcohol slows reaction time and affects depth perception, coordination and judgment. Studies show that the risk of a driver being killed in a crash with a blood alcohol content (BAC) of .08 is at least 11 times that of drivers without alcohol in their system. A BAC of .10% increases the risk to 29 times higher. In excess of 20% of alcohol-related auto accident fatalities involve BAC levels which exceed .10%. Some studies conclude that a blood alcohol level as low as .02 affects one's ability to drive and increases the likelihood of an accident.
What are punitive damages?
Punitive damages, also known as exemplary damages, are a type of damages awarded in a civil lawsuit, intended to punish the defendant for their wrongful conduct and deter them and others from engaging in similar conduct in the future. A common example of where punitive damages can be awarded is in a case involving drunk driving. Punitive damages are awarded in addition to compensatory damages, which are intended to compensate the plaintiff for their actual losses.Punitive damages are typically awarded in cases where the defendant's conduct was particularly egregious, such as intentional misconduct or gross negligence. The purpose of punitive damages is to send a message that such behavior will not be tolerated, and to deter others from engaging in similar conduct.
In determining the amount of punitive damages, the court will consider a variety of factors, including the severity of the defendant's conduct, the harm suffered by the plaintiff, and the defendant's financial resources. Punitive damages are usually calculated as a multiple of the compensatory damages awarded, with the exact multiple varying depending on the facts of the case.
It is important to note that punitive damages are not awarded in every case and are generally reserved for the most serious cases of wrongdoing. The availability and amount of punitive damages vary by state and may be limited by state law or court decisions.
Contact Montlick Now
Drinking and driving FAQs
Comprehensive Drinking and Driving Accident Attorney FAQ and Guide
Drunk Driver Case Results
Our Accident & Injury Case Results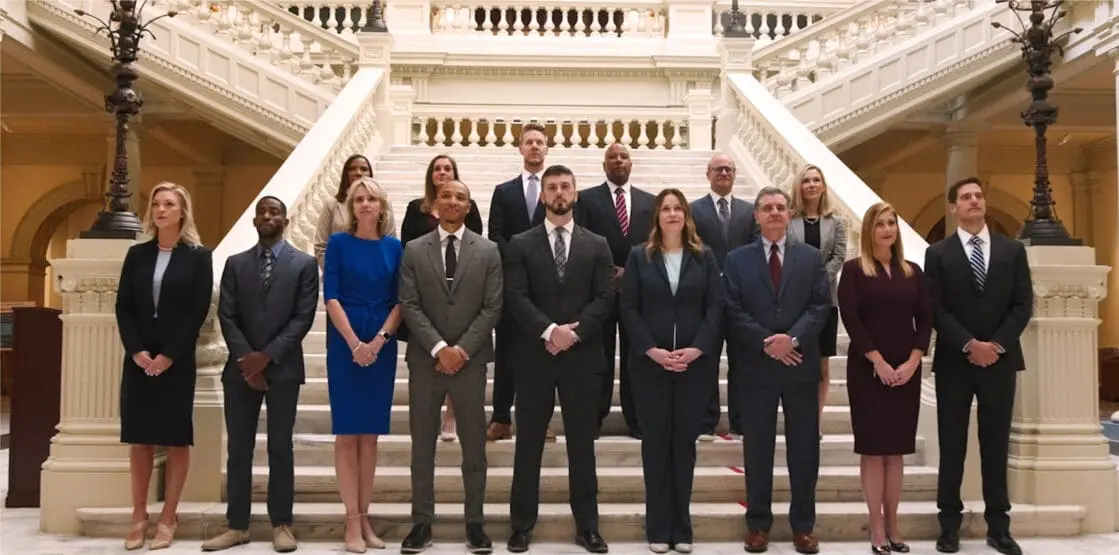 Because we can't stop accidents from happening, we do what we can to help minimize their long-term impact. We put more money in your pocket, where it belongs.