Atlanta Car Accident Lawyer
---
Serving Clients Throughout The State of Georgia
Billions Recovered Since 1984. Our Experience Pays.TM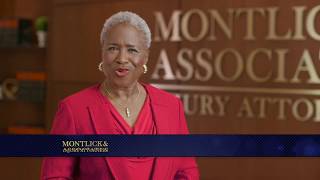 Car Accident Injury? "Montlick & Associates has earned my trust."
If you have been injured in a Georgia automobile accident, you need the assistance of an experienced car accident lawyer, whose knowledge in the field will help you obtain the maximum recovery to which you are entitled. Automobile accident law is complex and can be difficult to navigate. There are numerous factors that can lead to an auto collision, including speeding, intoxication caused by alcohol or drugs, driver fatigue, weather conditions, and driver distraction. In recent years, distracted driving (caused mainly by the use of cell phones to text, chat, or surf the web) has greatly increased the dangers on our roads and highways. These many possible contributing factors to an accident can add to the complexity of automobile injury claims.
Serving Clients Throughout Georgia
At Montlick and Associates, we tirelessly fight to protect the legal rights of each and every client injured in a Georgia automobile accident. Our experienced automobile accident attorneys consider and weigh complicated legal issues on a daily basis. We ensure clients are in compliance with the numerous legal time deadlines and filing requirements. On behalf of each of our clients, our trained lawyers and staff navigate a virtual insurance minefield to protect their legal rights.
Our Atlanta car accident lawyers place particular significance on the importance of an initial investigation into the facts of a car crash. We recognize that crucial evidence can be obtained during this investigatory period that will greatly impact our client's right to recovery. As such, we act quickly to gather and preserve vital evidence. Using our years of experience with the law, our attorneys also skillfully analyze statutes, case law, and alternative legal theories to present a client's case in a way that will maximize the results. We never fail to consider the best way to document a client's injuries and the impact on their day-to-day life, along with the tax consequences of client recoveries. Our Atlanta auto accident attorneys ensure your compliance with all legal time deadlines and notice requirements, so that you do not loose valuable legal rights.
We Work For You! Protecting Your Interests, Not The Insurance Companies.
Sadly, far too many accident victims fail to recognize that the insurance adjuster does not have their best interests at heart. The insurance adjuster works for the insurance company and will do all in their power to minimize payouts. Often, insurance adjusters will make initial settlement offers in the very early stages of an automobile injury claim - before the full extent of a person's injuries are even known. As with all of their actions, the insurance company's goal is to provide you with as little money as possible.
The experienced and knowledgeable attorneys at Montlick and Associates understand the nature of the insurance company. We strive above all else to protect your interests because the adjuster will not do so. Do not rely on the insurance adjuster to treat you in a fair manner; allow the automobile accident professionals at Montlick and Associates to fight for your maximum recovery.
Ensuring You Receive Proper Medical Treatment
For any injury stemming from a car accident, it is critical that you receive immediate and appropriate medical attention. The automobile accident attorneys at Montlick and Associates deal routinely with serious client injuries, including broken bones, herniated discs, the psychological impact of scarring and the importance of scar revision, head and closed head injuries, and back injuries, to name a few. While we have vast experience representing clients with severe injuries such as these, we also recognize that even "soft tissue injuries," such as a bulging disc, muscle tear, whiplash or pinched nerve can be very serious, sometimes debilitating, and often time-consuming to treat.
Pain from any automobile injury can last for an extended period of time, frequently resulting in restriction of physical activities and the inability to fulfill work duties. It can also effect enjoyment of life and your day-to-day activities. In some instances, permanent damage that will last a lifetime ensues. At Montlick and Associates, we understand the importance of proper medical treatment. We encourage and guide all clients to make sure that they receive a prompt diagnosis of injuries and symptoms, and appropriate treatment. Additionally, we ensure all clients develop a written record documenting all injuries, as this will be critical to any claim.
Fighting For the Benefits and Compensation You Deserve
If you have been injured in an automobile accident in Georgia due to the carelessness of another driver, you may have the right to compensation for pain and suffering, loss of quality of life, reimbursement for medical bills and lost wages incurred, and payment for property damages. When the responsible party's conduct was particularly egregious, you may additionally be eligible to receive punitive damages. There are several different sources of possible recovery for people hurt in car crashes, including auto liability insurance, resident relative automobile insurance, uninsured/underinsured motorist coverage, medical payment coverage on auto policies, umbrella coverage, health insurance and disability insurance to name a few.
It is important to recognize that even if the driver responsible for your accident was uninsured or underinsured, you may still be able to pursue a claim under uninsured motorist coverage. Uninsured motorist insurance also provides protection if the driver did not have enough insurance. Further, any accident involving an intoxicated driver could lead to a viable claim, even if the property damage or injuries appear to be minor. In addition, individuals hurt in automobile accidents on-the-job may have a third party claim as well as a claim for workers' compensation benefits. These are just a few examples that illustrate why it is vital to hire an attorney who can tackle complex issues, identify all sources of potential recovery, fight tirelessly for your rights and protect your interests.
Put Our Firm's Over 36 Years of Legal Experience to Work for You
The Atlanta car accident lawyers at Montlick and Associates have the knowledge and experience you need. At Montlick and Associates, we take care of the complicated legal issues and insurance company minefields so that you can concentrate on the important things in life, such as regaining your health and returning to normal activities.
If you or someone you love has been injured in a car accident, please call us today for your free consultation at 1-800-529-6333. You can also use our 24/7 Live Online Chat or our Free Case Evaluation Form. It won't cost you anything to see if we can help. No matter where you are located in Georgia, we are just a phone call away, and we will even come to you.
Related Articles