Georgia Abdominal Injury Lawyers in Atlanta
---
Georgia Accident Attorneys Who Fight Hard to Get You the Compensation You Deserve
Put Our Firm's Over 39 Years of Legal Experience to Work for You
If you were the victim of an accident that left you with abdominal injuries, you should contact a qualified attorney at Montlick and Associates as soon as possible. Our highly seasoned team of Atlanta Personal Injury Attorneys are available now to explain your rights and the steps necessary to help safeguard those rights. Call us today at 1‑800‑LAW‑NEED to learn more about your legal options and how we can make a difference for you.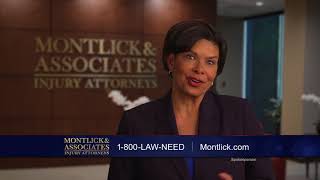 Get the Compensation You Deserve for Your Blunt Abdominal Injury
What is abdominal trauma?
Abdominal trauma also called Blunt Abdominal Trauma, or BAT, occurs when a person's abdomen collides with another object, leading to the compression of the abdomen and surrounding organs (i.e., the pancreas, kidneys, stomach, intestines, spleen, liver, etc.) and excessive pressure exerted on the abdominal wall. This type of injury most typically arises in car accidents, especially those involving high speeds, where the force of the crash causes the body to propel sideways or forward, either into a seatbelt, the steering wheel, dashboard, or the frame of the actual vehicle. BAT is serious and can be fatal if not treated immediately following an automobile collision. In fact, BAT, if left untreated, is a leading cause of death to accident victims of all ages.
Although car accidents are the primary cause of BAT, additional common causes include, without limitation, the following:
Motorcycle crashes
Collisions involving recreational vehicles such as ATVs, boats, jet skis, etc.
Bicycle accidents
Pedestrian-related accidents
Slip and falls
Abuse or battery
Signs & Symptoms of BAT
The signs and symptoms of BAT vary, and range from minor bruising to serious internal bleeding. Generally speaking, people injured in a motor vehicle collision might present with a "seat belt sign" which is bruising on the abdomen along the site of the lap belt. Other signs and symptoms include, without limitation, the following:
Low blood pressure
Lightheadedness or dizziness
Syncope (fainting)
Pain, pressure, or fullness in the abdomen or surrounding areas
Nausea and/or vomiting
Abdominal bloating
Difficulty passing stool
Blood in the urine or stool
Muscle weakness
If you are experiencing any of these symptoms, you must seek medical attention immediately, as a lack of treatment can result in, among others:
Ruptured organs, most often the spleen
Intestinal tears or fissures
Liver damage
Damage to the pancreas
Injury to major blood vessels
Damage to reproductive organs
Internal hemorrhaging
Kidney damage
Death
If you sustained a BAT, you should contact a knowledgeable Atlanta Abdominal Injury Attorney at Montlick and Associates as soon as possible for your Free Consultation about your legal rights, in the steps that need to be taken to protect those rights.
At Montlick and Associates, Attorneys at Law, We Know What it Takes to Win.TM
If you or a loved one is injured in any sort of accident involving abdominal trauma, contact the Georgia Personal Injury Attorneys at Montlick and Associates, Attorneys at Law. Our law firm is dedicated to assisting injured accident victims across Georgia and in the Southeast. We bring over 39 years of experience to your personal injury accident case, striving to provide you with the exceptional representation you need to obtain the best possible outcome.
No matter where you are located, we are just a phone call away, and we will even come to you. Call Montlick & Associates, Attorneys at Law, 24 hours a day/7 days a week for your Free Consultation at 1-800-LAW-NEED (1-800-529-6333). You can also visit us online at www.montlick.com and use our Free Case Evaluation Form or 24-hour Live Online Chat.
--
Montlick & Associates, Attorneys at Law
17 Executive Park Dr NE
Atlanta, GA 30329
(404) 529-6333
(800) LAW-NEED
Hours: Open Today · Open 24 hours
Plus Code: RMH6+38 Atlanta, Georgia, USA
Directions