Atlanta Social Security Disability Attorney
---
Georgia Social Security Disability Attorney Helping Injured People Throughout Georgia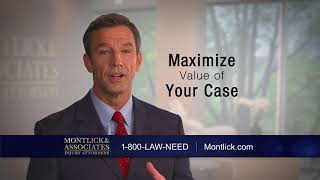 We Fight Hard to Get Our Clients the Social Security Benefits They Deserve
Social Security has very specific guidelines to determine eligibility. Eliciting the right information from your doctor is often crucial to winning a Social Security claim. It is often necessary to have a hearing before an Administrative Law Judge in order to obtain benefits. That is why it is important to hire an attorney who is familiar with the Social Security laws and guidelines and can help you to obtain the benefits to which you are entitled. Montlick and Associates, Attorneys has the knowledge and experience you need. We have an experienced and qualified staff that is ready to fight for your rights.
Social Security Disability is a program designed by the Federal Government to provide monthly payments to disabled individuals. Disability, according to the Social Security Administration, is the inability to engage in any substantial gainful activity due to any physical or mental impairment(s) which are medically determinable and expected to last for a period of not less than 12 months. In order to collect Social Security Disability benefits, in addition to being "incapable of engaging in substantial gainful employment," you must have earned wages and paid into the Social Security system in at least 20 of the last 40 quarters. The amount of the payment you are eligible for is based upon your income while you were able to work. In addition, you may receive a yearly cost of living adjustment depending upon how long you collect Social Security Disability benefits. Eligibility for the benefits ceases if your condition improves and you are able to return to substantial gainful activity. However, if you return to work in spite of a disabling condition, you should notify the Social Security Administration as it may be possible to continue receiving benefits.
There are some other related programs. SSI is a program that is financed through the general tax revenues and not through Social Security trust funds. SSI disability benefits are paid to people who have a disability and who have limited income and financial resources. You may be able to receive SSI and Social Security benefits if your Social Security benefit amount is low. Social Security Disability Insurance (SSDI) is a program that workers, employers and the self-employed pay for with their Social Security Taxes. These benefits are based on your work history and the amount of your benefits is based on earnings over your lifetime. The amount of your SSDI benefit is determined by the Social Security Administration using a very involved formula that is based on your covered earnings, your age and the date you became disabled.
If you become eligible for SSDI, Social Security will automatically enroll you in Medicare after you get Social Security disability benefits for 2 years. This 2 year period begins the month you are entitled to receive disability benefits as opposed to when you receive your first check.
You can receive Social Security disability benefits until you turn 65, which is retirement age. At that time your disability benefits automatically convert to retirement benefits, but the amount stays the same. After 65 you cannot draw additional benefits due to disability.
If you can't work due to a disability, you may be entitled to benefits. Contact us for a free consultation to determine your eligibility. Montlick and Associates, Attorneys will work hard to protect your interests and get you the compensation you deserve.
---