Drunk Driving Accident Lawyer in Atlanta Georgia
---
We Serve Clients Throughout Georgia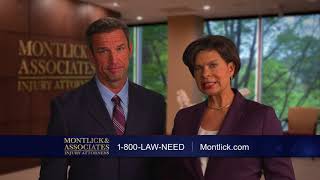 Our Don't Drink & Drive Public Service Message
Georgia drunk driving (DUI) auto accidents are widespread and take an enormous and completely avoidable human and financial toll on Georgia residents. Drivers under the influence of alcohol account for almost 12,000 motor vehicle fatalities per year nationally, which amounts to 32% of all auto accident fatalities. The numbers in Georgia are comparable with almost 490 DUI auto accident fatalities annually amounting to 29% of the total number of Georgia auto accident fatalities. Another 248,000 Americans are injured each year in DUI related auto accidents, which means a person is hurt in a drunk driving accident every two minutes and killed every 45 minutes.
An accident involving a DUI driver in Georgia is complex and involves both potential criminal and civil liability for the at-fault driver. Drunk drivers are also responsible for enormous financial costs to the public, estimated at $114.3 billion per year. Many of us have lost a family member or friend to a tragic car accident involving a drunk driver and understand that such accidents are all the more disheartening because they are avoidable. Montlick and Associates, Attorneys at Law, has been representing drivers, pedestrians and passengers who suffer serious injuries and wrongful death caused by drunk drivers for over 39 years.
Georgia law provides criminal liability for operating a motor vehicle when a driver's normal faculties are impaired. Anyone who drives in Georgia when his or her blood alcohol content (BAC) exceeds .08 is presumed to have his or her driving ability impaired by alcohol. There is no minimum threshold for operating a vehicle when the substance causing impairment is a drug, whether illegal narcotic, over-the-counter medication or prescription drug. A driver who is driving under the influence of drugs or alcohol when involved in a Georgia auto accident engages in reckless behavior that can be the basis for punitive damages in addition to the compensation available for injuries suffered in other types of car accidents. Punitive damages are specifically intended to punish a defendant for particularly egregious conduct and to discourage such conduct in the future.
Drivers who are operating a motor vehicle under the influence of alcohol or drugs are not only more likely to cause a car wreck but tend to be involved in more serious accidents. DUI auto accidents often involve excessive speed by the impaired driver, and the increased speed can result in more significant injuries including traumatic brain injuries (TBI), spinal cord injuries, severe internal organ damage, paralysis and wrongful death. Because impaired drivers often receive a DUI conviction, our attorneys use information and evidence from the criminal case to establish a basis for punitive damages in a claim or lawsuit to recover compensation for the injuries and damage caused by a drunk driver. Ironically, most drivers who are involved in DUI auto accidents are repeat offenders with prior convictions for DUI.
Many Georgia drivers assume that they can drive safely after having a few drinks. This assumption has no basis in fact as alcohol slows reaction time and affects depth perception, coordination and judgment. Studies show that the risk of a driver being killed in a crash with a blood alcohol content (BAC) of .08 is at least 11 times that of drivers without alcohol in their system. A BAC of .10% increases the risk to 29 times higher. In excess of 20% of alcohol-related auto accident fatalities involve BAC levels which exceed .10%. Some studies conclude that a blood alcohol level as low as .02 affects one's ability to drive and increases the likelihood of an accident.
It is important following a Georgia DUI auto accident that key evidence regarding the at-fault driver's intoxication or impairment by drugs be preserved. Critical evidence we may seek can including the following:
Witnesses at the Scene
911 Tapes
Police Reports
Criminal DUI Court Records
Breathalyzer and Field Sobriety Test Results
Law Enforcement Squad Car Video
This type of evidence can be compelling and understandably inspire a sense of outrage in members of a jury. Insurance companies are understandably reluctant to litigate auto accident cases involving drunk drivers and may be inclined to reach a favorable settlement particularly because they fear the prospect of massive punitive damage awards for their insured's reckless conduct.
The importance of preventing drunk drivers from taking the road also led Georgia to enact laws imposing liability on businesses (called "dram shop liability"), such as liquor stores, restaurants and bars that sell or serve alcohol, as well as social hosts that serve alcohol to their guests. Georgia drunk driving law treats social hosts, such as people hosting a party, the same as a business that serves alcohol to customers. Georgia's Dram Shop Law allows a person to sue a business or social host in two situations: (1) where alcohol was sold or furnished to a person who is underage with knowledge that the person would soon be driving or (2) where alcoholic beverages are sold or furnished to a person who is in a "state of noticeable intoxication" with knowledge that such person will soon be driving. Whether the person injured is in another vehicle, a pedestrian, or a passenger in the vehicle with the drunk driver, the law allows the injured person to bring a claim against the person or business that provided the alcohol to the drunk driver.
Whenever a person in Georgia is injured in a DUI related car wreck, we carefully investigate the source of the alcohol to determine if the person or business responsible for providing alcohol to the drunk driver may be liable. This may include interviewing witnesses at the business or social gathering and reviewing security video to determine that an ID was not checked or an obviously false ID was accepted or that the drunk driver was obviously intoxicated when they were served. The Georgia Dram Shop law permits recovery for all damages that result from a Georgia DUI auto accident.
If you or someone you love has been injured or killed in a Georgia DUI car crash, you may seek compensation for your injuries including medical and funeral expenses, lost wages, diminished earning capacity, loss of consortium (loss of support and services of a spouse or sometimes child), pain and suffering, mental anguish and replacement value or repair costs of your car, as well as punitive damages. If you are involved in such an accident you should seek immediate medical attention and report all symptoms no matter how minor they may seem. Minor symptoms are sometimes connected to significant injuries or medical conditions that do not become completely apparent until later.
Montlick and Associates, Attorneys at Law, represents clients throughout Georgia who suffer serious injuries and wrongful death. Our experienced Georgia drunk driving auto accident attorneys are available to assist clients throughout all of Georgia and the Southeast, including but not limited to Albany, Athens, Atlanta, Augusta, Columbus, Gainesville, Macon, Marietta, Rome, Roswell, Savannah, Smyrna, Valdosta, Warner Robins and all smaller cities and rural areas in the state. No matter where you are located we are just a phone call away, and we will even come to you. Call us 24 hours a day/7 days a week for your Free Consultation at 1-800-LAW-NEED (1-800-529-6333). You can also use our Free Case Evaluation Form or 24-hour Live Online Chat.
---