Atlanta Whistleblower Attorney Georgia False Claims Act ("Qui Tam") Claims Attorney
---
GEORGIA WHISTLEBLOWER ATTORNEY (QUI TAM CLAIMS)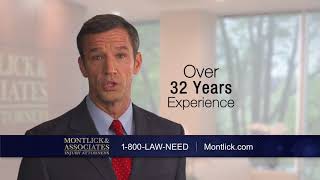 Why Choose Montlick for Your Whistleblower Claim/Qui Tam Case
The federal government, as well as the state of Georgia, has developed statutes designed to encourage conscientious employees to expose wrongdoing by companies that conduct business with the government, as well as those within the government, who engage in fraud, waste or marketing of defective medical devices that place the public in danger. These laws protect employees who expose fraud as well as certain other illegal or unsafe actions from retaliation by their employer. These acts, collectively referred to as "Whistleblower Laws," allow a person who exposes certain fraud and illegal or unsafe conduct to receive compensation for prosecuting such claims. At Montlick and Associates, Attorneys at Law, we know that whistleblowers have saved the federal government billions of dollars and helped protect the public from dangerous medical devices and the waste of public funds. If you are aware of illegal activity or fraud by your employer, such as Medicare or Medicaid fraud, Montlick and Associates can help you file a whistleblower claim under the appropriate federal or state statutes.
What Is the False Claims Act ("Qui Tam")?
The False Claims Act was originally enacted during the Civil War by President Lincoln to prevent war contractors from submitting fraudulent claims for providing supplies for the war effort. This law has become an important mechanism for preventing businesses that conduct business with the government from defrauding U.S. taxpayers. The False Claims Act contains qui tam (whistleblower) provisions prevent retaliation against employees who expose such illegal, dangerous or fraudulent conduct. The term "whistleblower" refers to a person who exposes conduct that the person reasonably believes constitute any of the following:
Gross waste of public funds
Illegal activity or conduct that violates regulations
Substantial potential danger to the health and safety of the public
Abuse of authority
There are a number of types of fraud claims that frequently give rise to whistleblower claims, including the following:
Medicare or Medicaid fraud
Pharmaceutical marketing fraud
Fraud involving defective medical devices
Environmental law violations, including illegal dumping of toxic materials
Over-billing or fraudulent billing by defense contractors
Misuse or abuse of corporate funds by company directors and officers
Tarp Fraud
Tax Fraud (this is done through the IRS, not the False Claims Act)
Right to Compensation under the False Claims Act
Any party who knowingly submits a false claim for payment of public funds is liable for three times the amount of the fraudulently obtained funds plus civil penalties of $5,500-11,000 per false claim. Any whistleblower who files the qui tam lawsuit may be awarded 15-25 percent of the amount recovered. If the Department of Justice elects not to intervene in the case and chooses to allow you to proceed with the lawsuit, the amount of your award may be increased to between 25-30 percent. Many qui tam claims result in the whistleblower being awarded multi-million rewards for preventing and discouraging fraud and protecting the public. The False Claims Act also provides that you may recover your attorney's fee and costs associated with bringing the lawsuit.
How Does a False Claim Act Claim Work?
A whistleblower claim under the False Claim Act is filed by the whistleblower who is referred to as the "relator." The lawsuit is filed under seal for sixty days, and the party alleged to have committed the fraud or illegal activity is not notified while the Department of Justice investigates and decides whether they want to intervene and pursue the lawsuit. If the Department of Justice chooses not to intervene during this period, the relator may proceed with the lawsuit.
When a private citizen comes forward to expose illegal or fraudulent activity directed toward the government, they protect the public and avoid the inappropriate waste of public funds. Montlick and Associates, Attorneys at Law represents whistleblowers who expose corruption and illegal activity throughout the state of Georgia and in the Southeast. We will work directly with the Department of Justice on your behalf. We will prepare and file the lawsuit confidentially and make sure that all procedures are complied with throughout the investigation process. Whether you are filing a claim under the federal False Claims Acts or the Georgia equivalent for false billing submitted with the State, Montlick and Associates will seek the maximum compensation under your claim.
Other Whistleblower Claims under OSHA & Sarbanes-Oxley Act
There are other acts besides the federal and state False Claims Act that authorize whistleblower lawsuits. Two of the most significant are OSHA and the Sarbanes-Oxley Act. The Occupational Safety and Health Act (OSHA) protects employees who blow the whistle on OSHA violations including unsafe working conditions. If you blow the whistle on an employer for violating rules for not supplying required safety equipment or unsafe handling of hazardous chemicals, you may file a whistleblower claim and be protected from retaliation by your employer.
The Sarbanes-Oxley Act also frequently gives rise to a whistleblower claim. The Sarbanes-Oxley Act is comprised of a number of federal securities laws that were enacted in the wake of the Enron scandal that mandates certain disclosures of financial information by publicly traded companies. The law protects you against retaliation for exposing information you reasonably believe constitutes a violation of SEC rules in an investigation by a law enforcement agency or to a Member of Congress or a Congressional Committee.
There are other laws that also protect whistleblowers from retaliation by their employer. Many whistleblower laws have very short statutes of limitations or legal time deadlines, including 30 days for an OSHA claim. If you have discovered someone that is cheating the government with false or inflated invoices or hiding evidence of dangerous medical products, you may want to do the right thing but fear retaliation by your employer. Montlick and Associates, Attorneys at Law, can advise you of your rights to pursue a whistleblower claim. Our experienced and dedicated attorneys will give you sound legal advice, help you comply with complex statutory requirements and aggressively protect your rights, including your rights against retaliation.
Our experienced Georgia whistleblower qui tam claims attorneysare available to assist clients throughout all of Georgia and the Southeast, including but not limited to Albany, Athens, Atlanta, Augusta, Columbus, Gainesville, Macon, Marietta, Rome, Roswell, Savannah, Smyrna, Valdosta, Warner Robins and all smaller cities and rural areas in the state, as well as throughout the Southeast. No matter where you are located we are just a phone call away, and we will even come to you. Call us 24 hours a day/7 days a week for your Free Consultation at 1-800-LAW-NEED (1-800-529-6333). You can also visit us online at www.montlick.com and use our Free Case Evaluation Form or 24-hour Live Online Chat.
---