Asbestos Related Mesothelioma Claims Attorneys
---
We Serve Clients All Over Georgia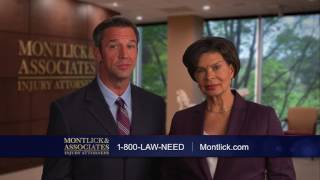 Why Choose Montlick & Associates for Your Mesothelioma – Asbestos Case
If you have been diagnosed with Mesothelioma or another asbestos-related disease, your legal rights and remedies may be the last thing on your mind. Anyone diagnosed with mesothelioma is likely to experience anxiety, fear and anger. While dealing with legal issues may not seem important, mesothelioma and other asbestos-related diseases often cause permanent disability and far too often death. The staggering medical costs associated with mesothelioma treatment, as well as the accompanying loss of income to your family, can create for a difficult and uncertain future. Mesothelioma results in the death of thousands of people in the U.S. annually. Studies show that this deadly form of cancer is caused almost exclusively by exposure to asbestos. Moreover, data from the National Cancer Institute (NCI) indicates that 70-80% of all patients who develop mesothelioma are a victim of occupational exposure to asbestos.
If you or a loved one has developed mesothelioma or other asbestos related diseases, such as other forms of cancer, pulmonary hypertension, asbestosis or other serious medical conditions, you may be entitled to financial compensation for your injuries. At Montlick and Associates, our Georgia personal injury lawyers are dedicated to providing exceptional service, as part of our goal of being the best personal injury law firm in Georgia. We work hard for our clients in order to obtain the best results possible.
Asbestos is a mineral fiber that was used extensively in many commercial industries including construction trades and many other industries prior to the 1980s. While it is no longer commonly used due to the risk associated with exposure to asbestos, it is still present in many homes, apartments and commercial buildings constructed during that period. The health hazards related to asbestos occur when asbestos fibers are inhaled into the lungs. Individual asbestos fibers are microscopic and very aerodynamic so they are easily breathed into the lungs, and once inhaled, they remain in the body permanently. The most common disorders caused by exposure to asbestos are physical damage to the lungs and digestive system.·
Mesothelium is a protective membrane that surrounds and protects organs in the body. A layer of the cells immediately encompasses the organ and another layer envelops the organ in a sac. The layers of cells release a lubricating fluid between the membranes, which permit the organs to move (i.e. the heart and lungs). The most common locations of mesothelioma in the body are in the abdominal cavity, which is protected by peritoneum mesothelial cells and the lungs and chest cavity, which is protected by the pleura membrane of mesothelial cells. Mesothelioma is a form of cancer that is characterized by malignant cells in the membrane lining of the pleura or peritoneum. It is believed that when asbestos fibers are inhaled they become implanted in the air sacks of the lungs and may penetrate the membrane around the lung. This irritation of the mesothelial cells is presumed to cause the cells to become malignant. The rapidly dividing cells may then spread and invade other cells in the body.
Certain people are more at risk for developing mesothelioma than others including men presumably because of frequent exposure in building trades and heavy industry, as well as those who are in their fifties because mesothelioma often takes thirty years to manifest symptoms. Even when a person does not suffer occupational exposure to asbestos, a person can develop mesothelioma from occupying buildings that have had asbestos disturbed freeing the particles to circulate in the air. The longer and more intense one's exposure to asbestos the higher the probability of developing mesothelioma and other asbestos-related diseases. However, even short-term exposure to asbestos can cause mesothelioma or other asbestos-related diseases. Family members can even develop mesothelioma as a result of "second hand" exposure to asbestos. In a recent case, a woman was awarded $1.2 million after developing mesothelioma following years of doing her husband's laundry, which had asbestos fibers on the garments.
If you have developed Mesothelioma from asbestos exposure, Montlick and Associates will work in your best interest to help you obtain the compensation that you deserve. Georgia mesothelioma lawsuits pose unique challenges because of the long delay between exposure to asbestos and the manifestation of symptoms. Companies may have changed names, business form or have relocated or closed their doors. This means that it make take extensive research and examination of documents to determine who the potentially responsible parties are in a Georgia mesothelioma lawsuit. These cases also may require extensive research and investigation of business records, legal documents, prior litigation, photographs and witnesses that may have disappeared 30 or 40 years earlier. The long delay between the development of asbestos-related diseases like mesothelioma also can make proving causation complex and necessitate the testimony of medical experts.
We represent those who have suffered asbestos-related diseases like mesothelioma throughout Georgia and the Southeast. Our experienced Georgia mesothelioma lawyers will diligently pursue the best possible outcome in your case. Our experienced Georgia mesothelioma lawyers are available to assist clients throughout all of Georgia and the Southeast, including but not limited to Albany, Athens, Atlanta, Augusta, Columbus, Gainesville, Macon, Marietta, Rome, Roswell, Savannah, Smyrna, Valdosta, Warner Robins and all smaller cities and rural areas in the state. No matter where you are located our attorneys are just a phone call away, and we will even come to you. Call us 24 hours a day/7 days a week for your Free Consultation at 1-800-LAW-NEED (1-800-529-6333). You can also visit us online at www.montlick.com and use our Free Case Evaluation Form or 24-hour Live Online Chat.
---