Montlick & Associates, Attorneys
---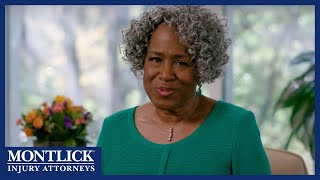 A Powerhouse Law Firm with the Experience Your Case Needs
Were you or a loved one injured in an accident? Do you want a law firm who will fight hard to recover the most compensation possible in your case? You have come to the right place! At Montlick & Associates Our Attorneys Know What it Takes to Win™, and we have the track record to prove it. With Billions of dollars recovered since 1984, our attorneys work hard to help accident victims recover the monetary compensation they deserve.* Our dedicated, and hard-working attorneys handle all types of cases involving personal injuries and wrongful death.
Hire the Powerhouse Firm that Puts You First™
Why do more and more families choose Montlick & Associates?
Because we:
Work extremely hard for our clients;
Treat each case like it was our own;
Navigate the insurance company minefield;
Worry about all the legal issues so that our clients can focus on their health and family;
Make sure all legal time deadlines (Statutes of Limitations) and other legal requirements are met;
Have a proven track record for results;
Treat each client with the kindness and respect that they deserve; and
Are there for people when they need us the most.
Our personal injury attorneys and our entire legal team is committed to providing exceptional service to every client throughout the legal process.
No matter where you are located, if you've been hurt in an accident, contact Montlick & Associates. We will provide you with a Free Consultation to discuss your legal rights, as well as the steps that must to be taken to protect those rights. Get the compensation You deserve. Contact us nationwide today, toll free, at 1-800-LAW-NEED (1-800-529-6333), or by dialing #WIN(#946) from your cell phone. You may also use our Free 24/7 Live Chat or free case evaluation form at www.montlick.com.**
WARNING: Legal Time Deadlines and Other Reasons Why Delay Can Be Costly!
While many cases are settled without the necessity of litigation, one of the most common reasons why car accident cases are not successful is because accident victims do not take the necessary steps or pursue legal action within the required time period.
Every state has laws that limit the amount of time an injury victim has to file or settle a car accident lawsuit or any type of personal injury lawsuit. Delaying in seeking legal assistance can have a negative effect on you and your family's ability to recover damages against the person or company responsible for your injuries. It is important to know that legal time deadlines, called statutes of limitations, apply to all types of cases, including personal injury claims. Missing a deadline can result in the loss of your right to make a claim for compensation. It is important to note that these statutes of limitations can vary significantly depending on the type of claim being asserted as well as the state in which the claim is brought (in some cases federal law will control). For example, a personal injury claim may have a different statute of limitations in a given state than, for example, a breach of contract claim. Additionally, when making claims against governmental entities, depending on the laws of a particular state, much shorter time deadlines can apply as well as special notification requirements to the appropriate governmental entity. Many insurance policies also have timely notification requirements, where if a claim is not filed in time or appropriate notice is not given, the injured victim loses the ability to make the claim against the policy.
DELAYS Can Sabotage Your Claim and Prevent You From Ever Being Paid!
In addition to these legal and contractual deadlines, there are other reasons to act without delay: important evidence necessary for your case can disappear or become destroyed, and witnesses can go missing or forget what happened. Our attorneys act appropriately to preserve important evidence. We also ensure that required notices are given, and that all necessary actions are taken to preserve your rights to compensation.
At Montlick and Associates, Attorneys at Law, We Know What it Takes to Win.TM
The attorneys at Montlick & Associates are dedicated, professional, and genuinely care about our clients. We know that you are going through a difficult time, that accident victims usually experience a great deal of pain and suffering, and that there can be significant disruption to daily life. When you contact us for a Free Consultation, our attorneys can analyze the facts involved in your personal injury, along with the applicable law, provide you with an honest assessment, and discuss your legal options. If you hire us, we will be there for you, returning phone calls and keeping you informed of all important developments.
Montlick & Associates handles All types of personal injuries cases, including:
Auto Accidents
Other Types Of Personal Injury
Post-Traumatic Stress Disorder (PTSD)
Social Security Disability
Veterans Benefits
Put Our 36 Years of Experience to Work For You
Call Montlick & Associates today to learn how we can help. No matter where you are located, we are just a phone call away. For your free consultation call us Nationwide at 1-800-LAW-NEED (1-800-529-6333), or by dialing #WIN (#946) from your cell phone. You may also use our Free 24/7 Live Chat or free case evaluation form at www.montlick.com.
Montlick & Associates: Caring, Dedication, Experience…Results.™
*Dollars recovered are cumulative and not indicative of individual case results. Each case is unique. Results depend on the facts and applicable law.
**Legal Services are provided by Montlick & Associates, P.C. and when appropriate local associated law firms at no additional cost to you depending on the jurisdiction, and any specialized expertise required. For more information, click here.