Burn Injury Lawyers in Atlanta, Georgia
---
Our Compassionate Georgia Burn Injury Attorneys Serve Burn Injury Victims Through the State of Georgia and the Southeast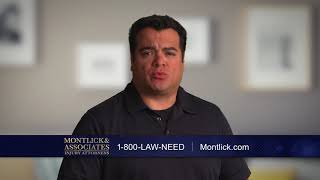 Protect Your Rights after a Burn Injury
It is hard to fully comprehend the level of emotional and physical pain that is associated with severe burn injuries. In other words, the degree of pain that people experience when they have been seriously burned is unlike any other, and if they were caused by some other person(s) or company(s) negligence, it can be even more difficult for victims to bear. Tragically, burn injuries are becoming all the more common, and when negligence is involved, they can be caused by a number of different sources, as discussed more fully below.
At Montlick and Associates, we have helped thousands of our clients receive the compensation they need to afford the often extensive medical treatments and rehabilitation necessary to help them heal from their burns. While no amount of money can fully compensate burn victims for the disfiguring scars, painful medical treatments, and emotional suffering associated with severe burns, it can at least give them the financial resources they deserve to move forward with their life. If you or a loved one sustained severe burns due to another person or company's negligence, contact Montlick and Associates today at 1-800-LAW-NEED to learn more about your legal rights and options.
Types of Burn Injuries
Burn injuries can generally be classified into four different types, which are as follows:
First degree burns are superficial burns that tend to be moist and red in color and only affect the first layer of the skin, also called the epidermis. A burn of this nature typically heals within a week or less.
Second-degree burns involve damage to a second skin layer, known as the dermis, and typically present as moist and pink in color. Oftentimes, second-degree burns take approximately two weeks or less to heal, depending upon their severity.
Third-degree burns go beyond the epidermal and dermal layers of the skin and extend down to the subcutaneous tissues underneath. These severe burns appear physically depressed and inflict a white, leathery appearance, often requiring skin grafting or other reconstructive procedures to treat. Further, they are typically associated with severe, often disfiguring scars.
Fourth-degree burns, a rarer category or burns, extend beyond the skin and into the bones and tendons of the body. These can lead to severe damage to limbs and other body parts, resulting in potential surgical amputations, painful therapies, the need for prosthetic devices, and other serious treatments.
Common Causes of Burns Due to Negligence
While the causes of burns can vary, those involving negligence typically include, without limitation, defective products/devices, vehicular accidents (especially car and/or truck accidents), house fires, faulty electrical wiring/equipment, workplace accidents involving explosions or the release of chemicals, and the accidental release of scalding liquids.
Scarring and Compensation for Burn Injuries
In burn cases, the victim typically experiences painful wounds to the skin and body, which require extensive skin grafting and other plastic surgery/medical procedures to treat. Despite these measures, people are often left with scars and disfigurement from their burns that serve as lifelong and painful reminders of their accident. As a result, burn victims can pursue compensation for a wide variety of damages, including rehabilitation, reconstructive surgeries and other medical treatments, long-term care, loss of earning capacity, and lost wages, among others.
Pursuing a Personal Injury Claim for Your Burn Injuries
If your burn injuries were caused by the negligent actions of another person or company, you should be entitled to receive compensation. You can file a personal injury action against the at-fault party with the assistance of a licensed personal injury lawyer. While each case can vary, you should be able to seek compensation for your medical expenses, lost wages, pain and suffering, and permanent disfigurement in the action. Contact an experienced and knowledgeable Atlanta Burn Injury Lawyer today to learn more about your rights and options. If you have a viable case, your attorney can take the necessary steps to protect your rights. Do not delay seeking legal assistance, as your time to pursue a personal injury claim is limited.
Montlick and Associates, Attorneys at Law: Put our Firm's Over 37 Years of Experience to Work on Your Case!
If you or a loved one sustained burn-related injuries in any sort of accident involving negligence, contact the Atlanta Personal Injury Attorneys at Montlick and Associates, Attorneys at Law, today. Our law firm is dedicated to assisting burn accident victims across Georgia and in the Southeast and brings over 37 years of experience to your personal injury case, striving to provide you with the dedicated representation you need to obtain the best possible outcome. The sooner you act after your accident, the greater your chances of obtaining a full recovery. As such, it is important that you seek the assistance of a licensed lawyer as soon as possible. Call Montlick & Associates, Attorneys at Law, 24 hours a day/7 days a week for your Free Consultation at 1-800-LAW-NEED (1-800-529-6333). You can also visit us online at www.montlick.com and use our Free Case Evaluation Form or 24-hour Live Online Chat.